twista one chop manufacture/nicer dier plus/slice o matic/s seen on tv twista one chop,nicer dier plus as seen on tv:


Features:
Perfectly prepare fruits & vegetables
Slice, Dice, Chop and prepare Wedges
Spring loaded for continuous cutting
Interchangeable stainless steel blades
Quick and easy to use
Fits into itself for compact storage
30 day money back guarantee
Detailed Description:
kitchen sensation – the Twista One Chop from Verimark! This amazing new machine will slice ..... dice ..... and chop quicker and easier than ever before!
Twista is so easy to use - the unique "V" shaped blade holds your food securely in position, then push down on the lid for perfect slices everytime! The super strong Stainless Blades are tough enough for even hard fruits and vegetables. With its interchangeable blades, simply snap in the dicer bade or the wedge cutter and press plate for all your food preparation needs.
The spring loaded design allows for continuous chopping straight into the built in container, so Twista is guaranteed to save you time and effort in the kitchen! It's easy to clean and when you're done it all fits conveniently into itself for compact storage.
Twista is the most versatile food processor you'll ever own.
twista one chop manufacture/nicer dier plus/slice o matic/s seen on tv twista one chop,nicer dier plus as seen on tv: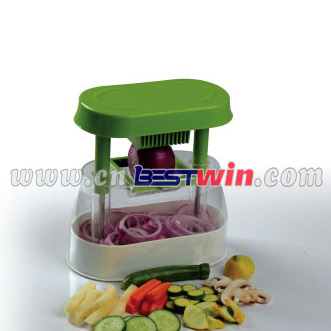 twista one chop manufacture/nicer dier plus/slice o matic/s seen on tv twista one chop,nicer dier plus as seen on tv: