DST(Drill Stem Testing) Tools 9 5/8"CHAMP IV Packer

Working pressure: 10000psi ~ 15000psi
Condition: New
Size:9 5/8"
Standard: NACE MR0175
Operate: ANNULAR PRESSURE OPERATED
Working condition: High pressure high temperature(HPHT)
Type: full bore drill stem testing
Application: oil well testing
product model:CHAMP Packer High Pressure High Temperature
CHAMP V Packer,CHAMP IV Packer
Service:H2S, CO2
Briefly Introduce:
The CHAMP IVpacker is a hookwall-retrievable packer with a concentric bypass. As the tool is lowered into the hole,
a J-slot holds the bypass open and controls the setting of the packer. When the packer is set, a balancing piston activated by tubing pressure holds the bypass closed.

Each tool assembly includes a J-slot mechanism, mechanical slips, packer elements, hydraulic slips, and a bypass. Round, piston-like slips used in the hydraulic holddown mechanism prevent the tool from being pumped up the hole. The bypass allows fluids to pass around the bottom of the tool when it is removed from the hole. This design eliminates accidentally openingconventional bypass during circulation around the bottom of the packer.
Circulation around the CHAMP IV packer is not interrupted if the packer element temporarily seals unintentionally as when it passes through points of interference in the casing.
The CHAMP IV packer is well suited to tubing conveyed perforating applications where the firing head assembly is easily incorporated into the CHAMP IV packer. The CHAMP IV packer is ideally suited for horizontal applications due to its limited rotational requirements and integrated circulating valve. Just a quarter-turn is required, at the tool, to set the packer and close the circulating valve. A straight upward pull opens the circulating valve and unseats
the packer.
Features and Benefits
• The packer is used in highly deviated wells or where pipe manipulation is difficult.
• Picking the packer straight up (no torque required) opens the bypass.
• The tool is easily relocated in multiple zones during a single trip for treating, testing, or squeezing.
• The concentric bypass valve allows a larger bypass flow area.
• The CHAMP IV packer is used with a retrievable bridge plug for straddling zones during various operations.
• A CHAMP IV packer would be the tool of choice where positive circulation below the packer is required such as
in drillstem testing, TCP applications, using tailpipe, for shallow service, and as liner tools.

Operation
The tool is run slightly below the necessary setting position. If the packer is to be set, it must be picked up, and right-hand rotation must be applied so that a half-turn can be obtained at the tool. In deep or deviated holes, several turns with the rotary may be necessary. For the position to be maintained, the right-hand torque must be held until the mechanical slips on the tool are set and can begin taking weight.
Pressure applied below the packer forces the hydraulic holddown slips against the casing to prevent the packer from being pumped up the hole.
The concentric bypass valve is balanced to the tubing surface pressure, which prevents the bypass from being pumped open with tubing pressure. Straight, upward pull on the tubing string opens the bypass and unsets the packer.
Specifications:
1. Halliburton type, all could change with Halliburton parts.
2. All equipments are produced according to API standard NACE MRO175-2002

elow are specfor you reference: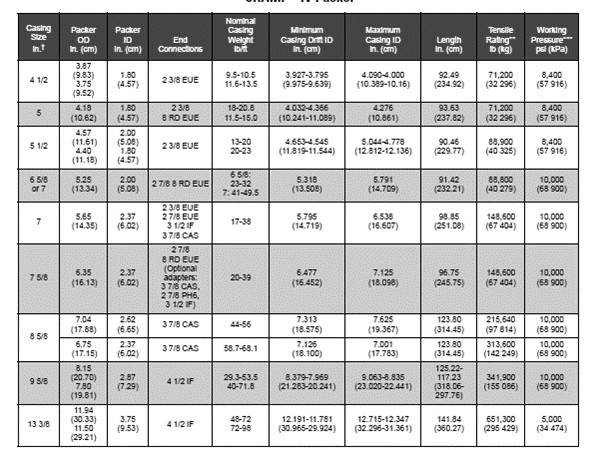 Company introduction
Xi'an KINGWELL OILFIELD MACHINERY Co., Ltd. (KINGWELL) is a highly reputable supplier for oilfield equipment and services to Oil & Gas industries and provides complete solutions.
With over 10 years developing, we were developed from the beginning drilling service to manufacture factory who produce OCTG, DST tools and Solid control products.
KINGWELL have experienced team, stronger enough to meet any challenge, we do believe honest is the base of business and cooperation; our aim is to build solid relationship with any part of honest. kingwell can provide highly efficient services to its clients resulting in accurate and timely deliveries at the best prices. Our products have been exported to Europe, American and Middle East.
Here we got some prise as follows.

Manufacturing Facility
Equipped with latest machining facilities like CNC 3-axis Turning centers, CNC 4-axis milling centre, high temperature heat treatment furnaces, Centre lathe machines, Deep Hole Drilling, Boring & Honing machines, our company could meet long term production target and be governed efficiently by well-qualified and experienced Board of Directors and Engineers.
The following is the manufacturing workshop.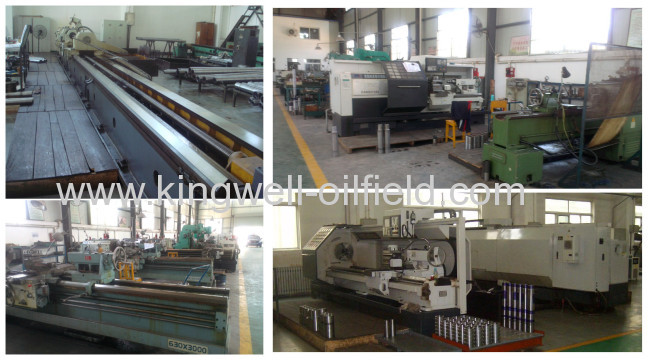 Inspection and Test Facilities
We own the world-class facilities with professional laboratory technicians. The main facilities are Surface Testing (Hydraulic Testing Unit), high temperature heat treatment furnaces, API Gages (Master & Working), Profile Projector, tensile testing machine, pressure sensor and data acquisition system, Universal Testing Machine, Hardness Tester, Nitrogen Pump, Function Test Pump, Ultrasonic Thickness Tester etc. All the goods must be tested by several processes and must be qualified when packed.
The followings are some pictures of Test Facility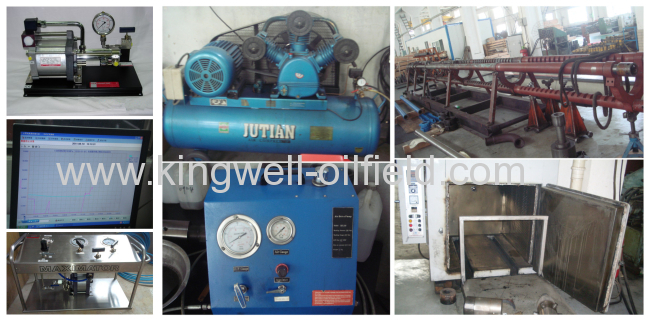 Related products
We also provide accessories and other related products, which you can find in this website.
The following is the pictures about products accessories and some other related products
Product delivery
Payment:TT/LC:30% advance payment.70%before shipment
Warranty: Warranty period is 1 year after installation.
Origin: China
Minimum order: 1 set
Packaging: wood case or steel carton
Delivery Date: within 1-2 month(s) after receiving prepayment
Logo: KW, we can produce according to customer requirements.
Technical Documents: We can provide technical documents according to your requirements.
Additional service: Customers are served to test our products in our factory upon request.
The followings are some pictures about product packaging


Service
Kindly let me know if you have any interest or enquiry about our products. You are also always welcomed to come to our factory for a visit at your convenient time.
We will offer you a good price and show you our best service.