Neodymium (NdFeB) magnets are the third generation of rare earth magnets and are the most powerful and advanced commercialized permanent magnets today. Since made from Neodymium, one of the most plentiful rare-earth elements, and inexpensive iron, Neodymium magnets offer the best value in cost and performance. The sintered Neodymium magnets can offer the highest magnetic properties (33 MGOe to 51 MGOe).


1. Chemical composition: Nd2Fe13B.
Neodymium magnets are hard, brittle and easily corrode.
2. Moderate Temperature Stability
Neodymium magnets lose -0.09 ~ -0.13% of Br/°C. Their working stability is under 80°C for low Hcj Neodymium magnets and above 200°C for high Hcj Neodymium magnets.
3. Excellent Strength Value
The highest (BH)max can up to 51MGOe.
4. Advanced Technology
The choice of Strip casting and HDDR technology in our factory allows us to manufacture the higher performance Neodymium magnets which are over N52 grade possible.
5. Extremely resistance to demagnetization with Hci
The intrinsic coercive force is over 33,000 Oe.
6. Effective Surface Treatment to Prevent Corrosion.
Surface treatments have been developed which allow the Neodymium magnets can be used in most applications. The surface treatments include nickel, Ni-Cu-Ni, zinc and tin plating and epoxy resin coating.

7. Pictures of China Sintered N38SH Grade Neodymium Cylinder Magnets Supplier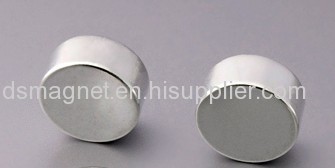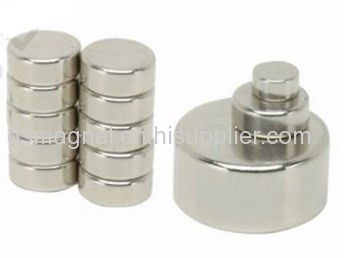 Production Process



The detail information ofGrade

Grade

Br mT (kGs)

Hcb kA/m (kOe)

Hcj kA/m (kOe)

(BH)max kJ/m3
(MGOe)

Working Temperature (Tw)

N33

1130-1170(11.3-11.7)

≥ 836 ( ≥ 10.5)

≥ 955( ≥ 12)

247-271(31-34)

80 ℃

N35

1170-1220(11.7-12.2)

≥ 868( ≥ 10.9)

≥ 955( ≥ 12)

263-287(33-36)

80 ℃

N38

1220-1250(12.2-12.5)

≥ 899( ≥ 11.3)

≥ 955( ≥ 12)

287-310(36-39)

80 ℃

N40

1250-1280(12.5-12.8)

≥ 907( ≥ 11.4)

≥ 955 ( ≥ 12)

302-326(38-41)

80 ℃

N42

1280-1320(12.8-13.2)

≥ 915( ≥ 11.5)

≥ 955( ≥ 12)

318-342(40-43)

80 ℃

N45

1320-1380(13.2-13.8)

≥ 923( ≥ 11.6)

≥ 955 ( ≥ 12)

342-366(43-46)

80 ℃

N48

1380-1420(13.8-14.2)

≥ 923( ≥ 11.6)

≥ 876( ≥ 12)

366-390(46-49)

80 ℃

N50

1400-1450(14.0-14.5)

≥ 796( ≥ 10.0)

≥ 876( ≥ 11)

382-406(48-51)

60 ℃

N52

1430-1480(14.3-14.8)

≥ 796( ≥ 10.0)

≥ 876( ≥ 11)

398-422(50-53)

60 ℃

30M

1080-1130(10.8-11.3)

≥ 796( ≥ 10.0)

≥ 1114 ( ≥ 14)

223-247(28-31)

100 ℃

33M

1130-1170(11.3-11.7)

≥ 836( ≥ 10.5)

≥ 1114( ≥ 14)

247-263(31-33)

100 ℃

35M

1170-1220(11.7-12.2)

≥ 868( ≥ 10.9)

≥ 1114( ≥ 14)

263-287(33-36)

100 ℃

38M

1220-1250(12.2-12.5)

≥ 899( ≥ 11.3)

≥ 1114( ≥ 14)

287-310(36-39)

100 ℃

40M

1250-1280(12.5-12.8)

≥ 923( ≥ 11.6)

≥ 1114( ≥ 14)

302-326(38-41)

100 ℃

42M

1280-1320(12.8-13.2)

≥ 955( ≥ 12.0)

≥ 1114( ≥ 14)

318-342(40-43)

100 ℃

45M

1320-1380(13.2-13.8)

≥ 995( ≥ 12.5)

≥ 1114 ( ≥ 14)

342-366 (43-46)

100 ℃

48M

1360-1430(13.6-14.3)

≥ 1027( ≥ 12.9)

≥ 1114( ≥ 14)

366-390(46-49)

100 ℃

50M

1400-1450(14.0-14.5)

≥ 1033 ( ≥ 13.0)

≥ 1114( ≥ 14)

382-406(48-51)

100 ℃

30H

1080-1130(10.8-11.3)

≥ 796 ( ≥ 10.0)

≥ 1353( ≥ 17)

223-247(28-31)

120 ℃

33H

1130-1170(11.3-11.7)

≥ 836 ( ≥ 10.5)

≥ 1353( ≥ 17)

247-271(31-34)

120 ℃

35H

1170-1220(11.7-12.2)

≥ 868 ( ≥ 10.9)

≥ 1353( ≥ 17)

263-287(33-36)

120 ℃

38H

1220-1250(12.2-12.5)

≥ 899 ( ≥ 11.3)

≥ 1353 ( ≥ 17)

287-310(36-39)

120 ℃

40H

1250-1280(12.5-12.8)

≥ 923( ≥ 11.6)

≥ 1353( ≥ 17)

302-326(38-41)

120 ℃

42H

1280-1320(12.8-13.2)

≥ 955 ( ≥ 12.0)

≥ 1353( ≥ 17)

318-342(40-43)

120 ℃

45H

1300-1360(13-13.6)

≥ 963( ≥ 12.1)

≥ 1353 ( ≥ 17)

326-358(43-46)

120 ℃

48H

1370-1430(13.7-14.3)

≥ 995( ≥ 12.5)

≥ 1353( ≥ 17)

366-390(46-49)

120 ℃

30SH

1080-1130(10.8-11.3)

≥ 804( ≥ 10.1)

≥ 1592( ≥ 20)

223-247(28-31)

150 ℃

33SH

1130-1170(11.3-11.7)

≥ 844( ≥ 10.6)

≥ 1592( ≥ 20)

247-271(31-34)

150 ℃

35SH

1170-1220(11.7-12.2)

≥ 876 ( ≥ 11.0)

≥ 1592( ≥ 20)

263-287(33-36)

150 ℃

38SH

1220-1250(12.2-12.5)

≥ 907( ≥ 11.4)

≥ 1592( ≥ 20)

287-310(36-39)

150 ℃

40SH

1240-1280(12.5-12.8)

≥ 939( ≥ 11.8)

≥ 1592( ≥ 20)

302-326(38-41)

150 ℃

42SH

1280-1320(12.8-13.2)

≥ 987 ( ≥ 12.4)

≥ 1592 ( ≥ 20)

318-342(40-43)

150 ℃

45SH

1320-1380(13.2-13.8)

≥ 1003 ( ≥ 12.6)

≥ 1592( ≥ 20)

342-366 (43-46)

150 ℃

28UH

1020-1080 (10.2-10.8)

≥ 764 ( ≥ 9.6)

≥ 1990 ( ≥ 25)

207-231(26-29)

180 ℃

30UH

1080-1130 (10.8-11.3)

≥ 812( ≥ 10.2)

≥ 1990( ≥ 25)

223-247(28-31)

180 ℃

33UH

1130-1170(11.3-11.7)

≥ 852( ≥ 10.7)

≥ 1990 ( ≥ 25)

247-271(31-34)

180 ℃

35UH

1180-1220 (11.8-12.2)

≥ 860 ( ≥ 10.8)

≥ 1990( ≥ 25)

263-287(33-36)

180 ℃

38UH

1220-1250(12.2-12.5)

≥ 876 ( ≥ 11.0)

≥ 1990( ≥ 25)

287-310(36-39)

180 ℃

40UH

1240-1280 (12.5-12.8)

≥ 899( ≥ 11.3)

≥ 1990( ≥ 25)

302-326(38-41)

180 ℃

28EH

1040-1090(10.4-10.9)

≥ 780( ≥ 9.8)

≥ 2388( ≥ 30)

207-231(26-29)

200 ℃

30EH

1080-1130 (10.8-11.3)

≥ 812 ( ≥ 10.2)

≥ 2388 ( ≥ 30)

223-247 (28-31)

200 ℃

33EH

1130-1170(11.3-11.7)

≥ 836 ( ≥ 10.5)

≥ 2388 ( ≥ 30)

247-271 (31-34)

200 ℃

35EH

1170-1220(11.7-12.2)

≥ 876 ( ≥ 11.0)

≥ 2388( ≥ 30)

263-287(33-36)

200 ℃

38EH

1220-1250(12.2-12.5)

≥ 899( ≥ 11.3)

≥ 2388( ≥ 30)

287-310(36-39)

200 ℃
Our packing: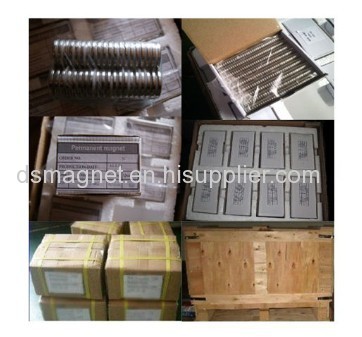 Quick Introduction on How to Send an Inquiry:

(1) Grade
(2) Size
(3) Magnetization Direction
(4) Surface Coating
(5) Quantity