Product Name:Non-slip Spikes Crampons Ice Snow Shoes Chain Cleat for Climbing Walking Hiking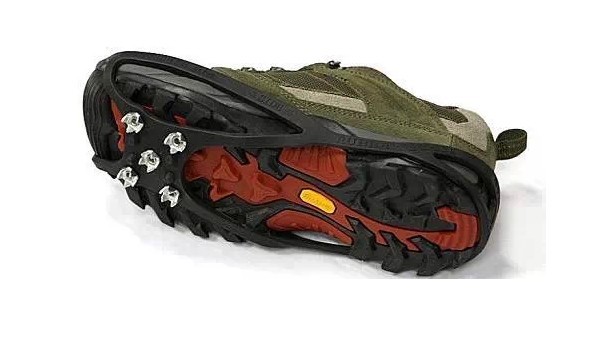 Packaging & Delivery
Packaging detail: 1. opp bags
2.blisters
3.opp bags and color paper
Delivery detail: Depending on your quantity
Blister packing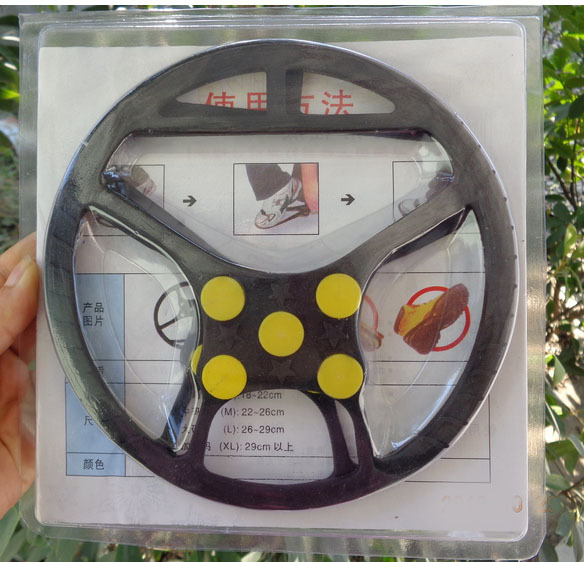 •Pair of anti-skidding overshoes for skiing
•It can reduce the risk of injury from slips and falls when walking on ice, snow, mud and wet grass or other poor conditions
•The special non-slip studs offer excellent traction on ice and snow
•Walk naturally with the crampons
•Easy to put on and take off
•Simply fit your outdoor shoes or boots
•This product is a necessity for outdoor activities in winter
•It is easy to take along and use
•The material is flexible to -40 degrees
•Material: thermoplastic elastomer
•Net Weight: 111 g / 3.92 oz
•Color: mainly black as shown in the picture
•Note: The snow shoes could only walk on flat and thin icy or snow ground
3.CE NO:CE-11-0607-02
4.PATENT NO:ZL201130262237.4
SNOW SPIKES USAGE:
When you walk, work or run in a pair of Ice Cleats on snow or ice, you will feel the same solid predictable grip you are accustomed to feeling on dry surfaces. There is nothing new to learn, it helps prevent slips and falls, reducing the risk of possible pulled muscles, fractures and back problems
1,material is:TPE, no bad smell
2. Ice shoe spikes provide excellent traction on slick surfaces
3. Cold Resistance: -40C
4. Provide excellent traction on slick surfaces
5. ice spikes fit all kinds of shoes
6. spikes offer excellent traction on ice and snow
7.Snow & Ice shoe spike is also great for: ice fishing, walking, sledding, hiking, stream fly fishing and hunting. Use anywhere traction is needed
8.spike Safety Treads. Sure footing on any surface! No more slip-ups on the frozen lake or icy sidewalk.
9. Ice spikes Lightweight, put on and take off just 5 seconds.
10.Products: Ice Cleats, Shoe Spikes, Snow Grips, Magicspike, Ice Grips, Schuhspike, Ice Spikes
11.MARKET: UK, Russia, USA, Canada,Australia supermark
HOW TO CLEAN?
if the snow spikes are dirty just wash use water, then keep dry. too easy.
HOW TO KEEP
pls keep in a cool and dry place, out of sunshine.
HOW TO DO INDOOR
you can take away the spikes if you want to use in the room, easy can put on and take off the snpikes.
WISH YOU CAN TO BE OUR SALE AGENT IN YOUR COUNTRY!