Custom Destructible VinylLabels With Logo,Custom Warranty Void If Seal Broken Labels Placed On Speedometers,Warranty VOID Label :
Thislabel size is 15x10mm customized by a customer from Morocco for 100,000pcs,hesaid they used hologram labels for theirSpeedometers before andnow realized that destructible tamper evidentlabels are the suitable as warranty void ifseal broken labels.
Becausethe destructive labels are specially for the warranty seal stickers with strongadhesive.
they willshow tampered evident as soon as someone try to remove them.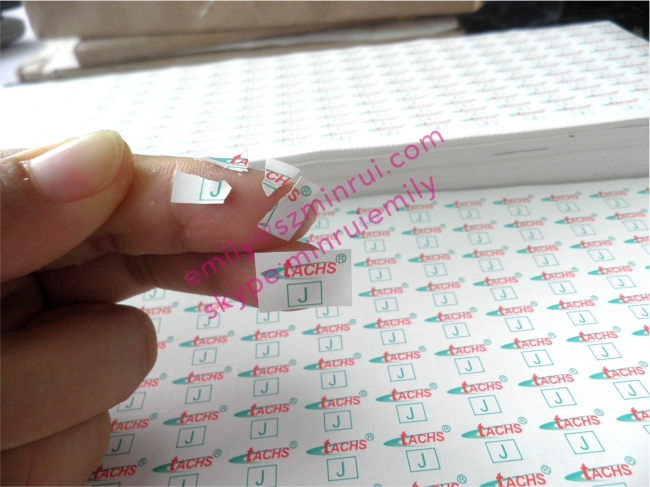 You could custom the similar labels for your productswith your logo,company name or warrranty dates ,even your contact details,especially for the electronics,wines, Cigarette,which you do not want others open without permit for warranty purpose for keep original purpose!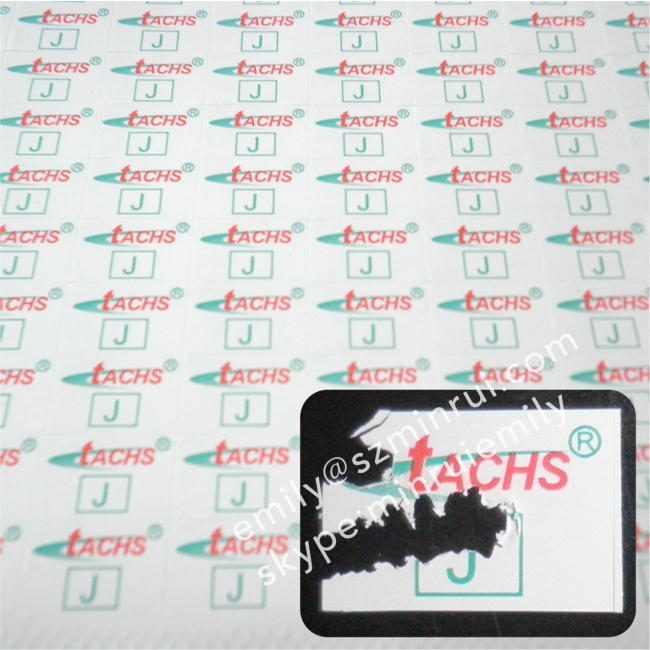 Custom Warranty VOID If Removed Labels,Destructible Fragile Warranty Seal Stickers,Warranty VOID Stickers with Numbers:




Theselabels were customized by a customer from Iran and he ordered for 100,000pcsbefore,but this time ordered again with serials numbers.


They are fragiledestructible tamper proof seal labels, also called eggshellstickers.These labels can only removed after thousands of times and will showthe destructible evidents immedietey once tamperd.
These labels could be in rolls or in sheets and youcould custom the designs for spot colors or full colors printing, any shape isok,we will confirm the final design and with you before youordered.


these labels below are the first time he ordered from us:

Custom Full Color Printed Frangible WarrantyStickers,None Removable Warranty Stickers,Destructive PaperLabels: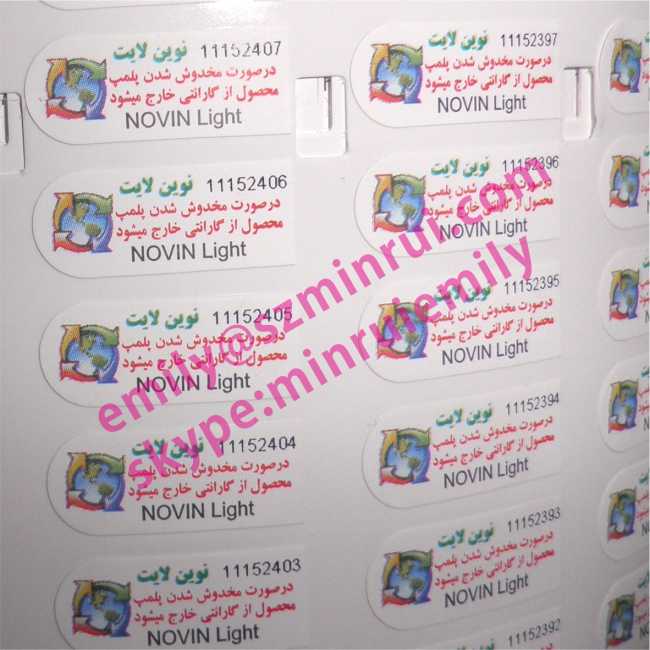 Thislabel size is 20x8mm for a customers from Iran with 100,000pcs as tamperevident seal stickers with full colors printed the custom art work.

Some other destructible tamper proof seal sticker shows:

CustomEggskin Tamper Evident Labels,Destructible Fragile Warranty Labels,BreakableSecurity Labels: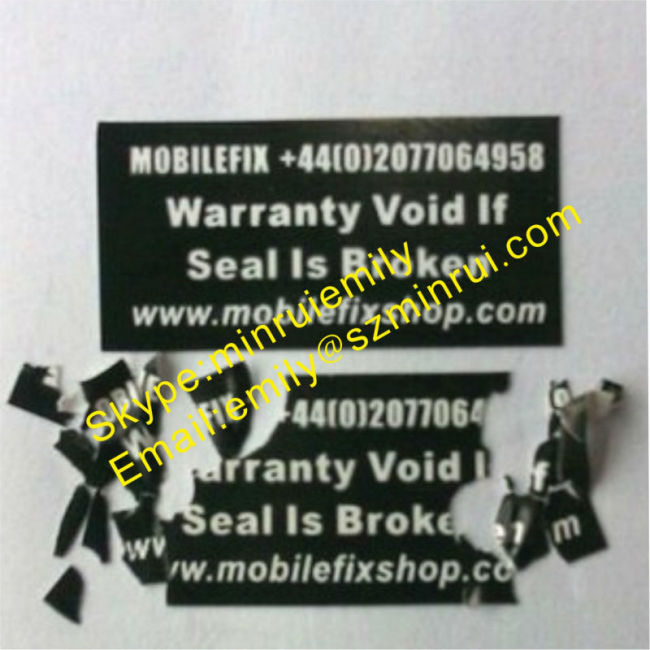 CustomDestructive label breaks,Self Destructive Label,Destructible Vinyl Label,TamperEvident Breakable Stickers:

Warranty Void If Seal Broken, Destructible Vinyl Label,Custom Date Warranty Sticker
We are offering our client anexcellent quality range of Matte/Glossy Ultra Destructible Vinyl Labels,Warranty Void If Seal Broken Labels, Custom Date Warranty Stickers.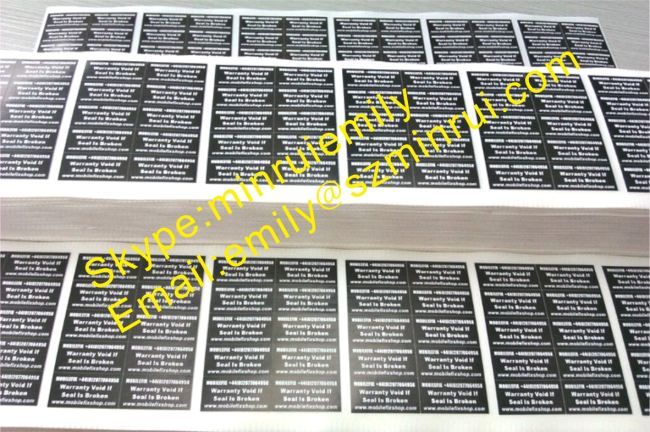 Destructible label breaks apart into small pieces when removal is attempted, thus providing complete protection to goods against pilferage or tampering.
The technique works by using a very weak and brittle substrate and aggressive adhesive to ensure that the label disintegrate into many components if any attempt is made to remove it.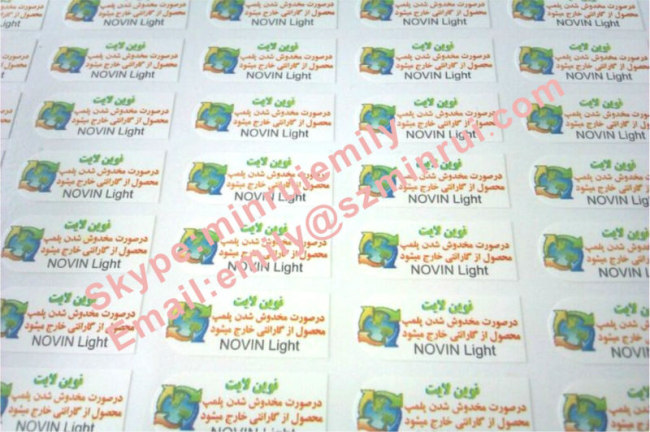 Products Features:
The destructive materials will be broken into pieces once being removed.
The materials can be manufactured into easiest destructible, medium destructible and hard destructible materials according to customers' needs.
Color, size, thickness, and destructible effect can be customized.
The smooth surface is suitable for printing process.Resist for aging and high temperature, no crack and no discoloration.
Strong acrylic adhesive provides high bond and excellent destructibility on most substrates, including metals, power coated surfaces, and plastics, including many low energy surface materials.
Customised Label :


1. Any size is available for us
2. Any customer order request is accept for us
3. Any colors printing is available for us
4. Bar code printing , serial number printing both are available for us
5. Packing in rolls or sheets
6. Fast lead time : 3-4days (based on 100000 pcs)
| | |
| --- | --- |
| Material | DestructibleVinyl |
| Usage | Custom Sticker |
| Type | Adhesive Sticker |
| Feature | Anti-Counterfeit |
| Custom Order | Accept |
| Place of Origin | Guangdong, China (Mainland) |
| Brand Name | MINRUI or OEM |
| white ,or other color optional | 25,36,50 Microns optional |
| warranty:one year | accept for customer' s logo printing |
Ultra DestructibleVinyl Lables


Destructible VinylLabels is a kind of tamperevident labels. This label will break into pieces(bit by bit) when someone triesto remove it.Common uses include asset tracking or warranty marking such asUltra Destructible Vinyl Asset Labels, Warranty Stickers. We could printdifferent Destructible Vinyl Labels for you,Destructible Address label,Data label,VOID sticker,Warranty tags,BrandLabels,BarcodeLabels and so on.
Tamper evident securitylabels using ultra destructible materials, typically PVC(vinyl) or acetate are one of the most established techniques to ensure that alabel cannot be removed and reapplied at all. If you are looking for labelscannot be easily tear off one time,please choose these labels.
We are a manufacturer and leader ofdestructible vinyl material and own 70% market in China.
We could produce many different customadhesive labels for you, quality and timeliness can be promised !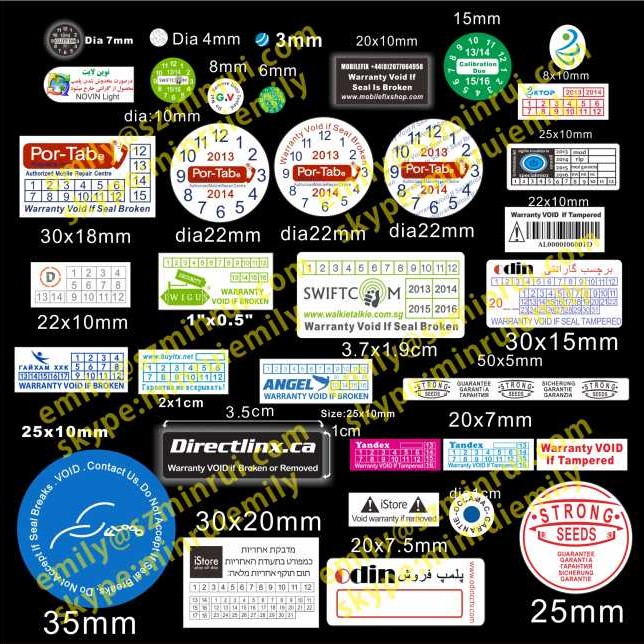 Below different brittle grade for yourreference:
Frangile grade
Models
Suitable conditions
A
11A,11A0,DO,D4
for small sizes labels and for the straightcorners labels.These models

cannot be die cutting,because the facestockis too frangible

B
11CA2,D3
can be die cutting by hands (not bymachine)
C
11CA4,D2
can be die cutting by MACHINE
D
12A3
for coldtemperature
But it is not the absolutly situation,because the temperature also affect thegrades for the same models. Please just contact with us,we will introduce youthe suitable models.
In common sitiation,thetraditional models,like 11A0,11A,11CA,1CB and 12A3,these models have large SQsin storage,please don't worry the supply timeliness.We wil try our best topromise you quality and the timeliness.

Jumbo Rolls


We always have many square materials of raw paper stored in ourmanufacturing facility, and converted into labels for our customers.We offerdirect destructible security label materials and their ribbons as well aswax/mixed ribbons. Our labels come in different solid colors, and you can tellus the core sizes. We offer labels designed for both hand application as well asauto-apply labels.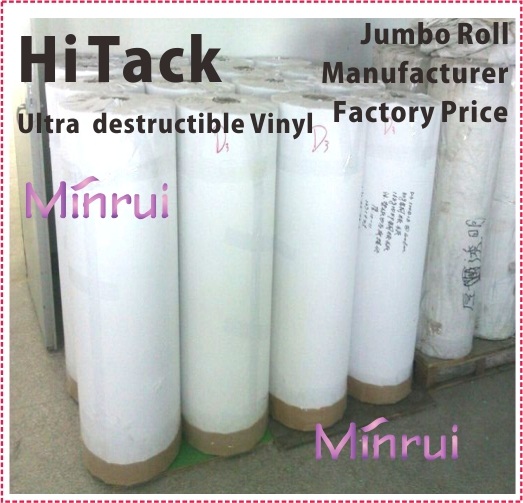 A4 Sheet in stock


We are a manufacture of self adhesivedestructible security labels.
Unlike the vast majority of our competitors,we produce this kind of special facestock by ourselves and coat the label paperwith silicone and adhesive, we slit our own rolls and we diecut our labels.
We accomplish all this in our 20,000 squarematers manufacturing facility located just in Bao'anDistrict,ShenzhenCity,China.
This backward integration allows us to sellour product for good quality and less price than our competition and gives usgreater control of the supply chain to ensure our customers receive only thehighest quality goods.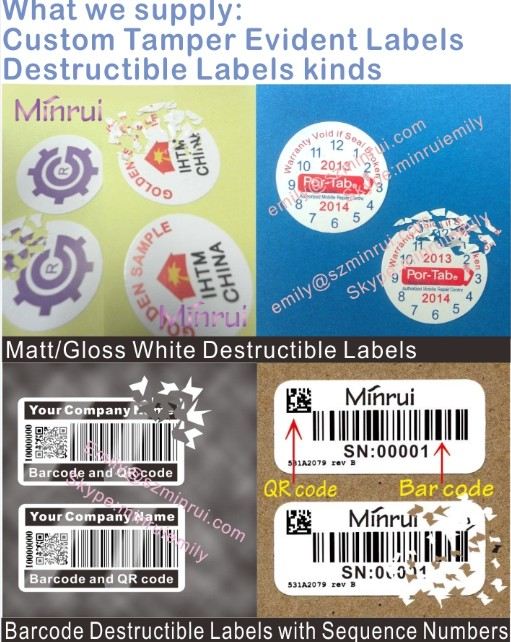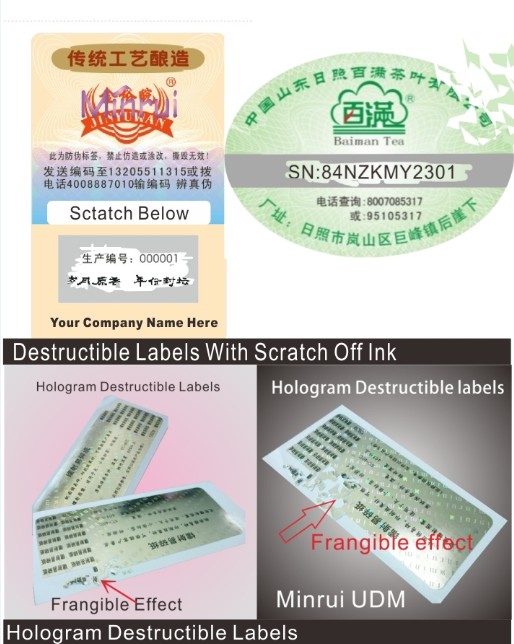 Ordering Process:
enquiry
→email reply(realize yourdesigns or your ideas about the design,the size,the quantity and theect)
→draft design
→make sure the design
→valid quotation
→afteryour make sure(calculate express expense)
→formal quotation or PI
→wiretransfer
→leading time(produce)
→send out
→to bereceived
Please check the left catalog for more labels!We couldoffer you many different adhesive labels printing!