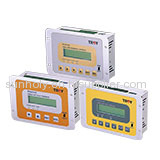 Characteristics:
■ P601C provides 8 kinds of relative coordinates about the points of position.P601P/P602C have 8 sets program input and can choose position of relative or absolute coordinate position.
■ Regard pulse as a unit; the speed, position, and slope can be set individually. Besides, The highest speed can up to 60Kpps.
■ It can control stepping or servo motor, composing completelysystem.control
■ Interactive input, and easy to operate.
■ Two choices of acceleration, straight line or S curve line, ensure the motor operate smoothly.
■ Self-test function and easy circuit inspection.
Usage:
■ Use to control single/double axes positioning for Stepping/Servo Motor individually or with PLC or PC.