Neodymium magnets are the world's strongest magnets. All magnets are not created equal! Applied Magnets offers the highest quality neodymium magnets with consistent performance at lowest price. Our strong neodymium magnets are designed & manufactured to meet stringent quality standards using the latest technology.
| | | | |
| --- | --- | --- | --- |
| Grade | N33-N42 | Size | according to client's requirement |
| Shape | Disc | Density | 7.45-7.5 g/cm3 |
| Intrinsic Coercivity Hcj | >955 KA/m | Remanent FluxDensity Br | 11900-13400 Gs |
| Maximum Energy Product Bhmax | 263-342 KJ/m3 | Coercivity Hcb | >868-923 KA/m |
| Maximum Operating Temperature | 80oC | Curie Temperature | 310 oC |
| Material | Sintered Neodymium-Iron-Boron (NdFeB) | Coating | Zn, Nickle, silver, gold, epoxy and so on |


Ourproducts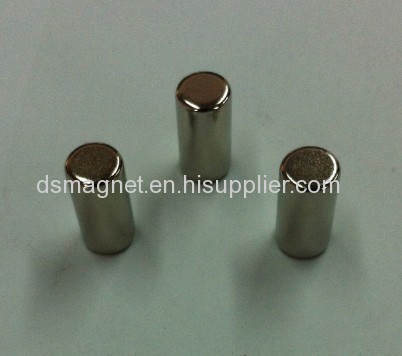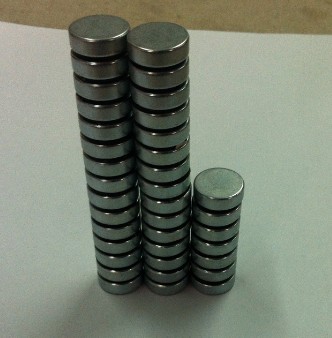 The Introduction of NdFeB Magnets' Applications:
1, Electro-acoustic field: such as loudspeaker, headphone, earphone, stage sound device, alarm, microphone and so on. Because of good performance, our magnets can provide sound equipments better sensitiveness and susceptibility.
2, Electric products: Permanent magnetic actuator vacuum circuit breaker, magneticlatchingrelay, watt-hour meter, watermeter, sensor, reed switch and so on.
3, Motor areas: VCM, CDVD-ROM, generator, electromotor, servo motor, vibration motor, step motor, DC motor, linear motor and so on. Our magnets with stable performance and high HCJ can work under high temperature which can guarantee your products work better.
4, mechanical equipment: magnetic separator, magnetic holder, and other magnetic machines.
5, Health care: nuclear magnetic resonance spectrometer, medical apparatus and instruments,
magnetic therapy and health care products, fuel-saving magnetizer and so on. Our stable permanent magnets used in health care areas will make people healthier.
6, Other fields: bags magnets, toy magnets, craft gifts and packaging, doors and windows magnets, magnetic locks, magnetic holding devices and so on.