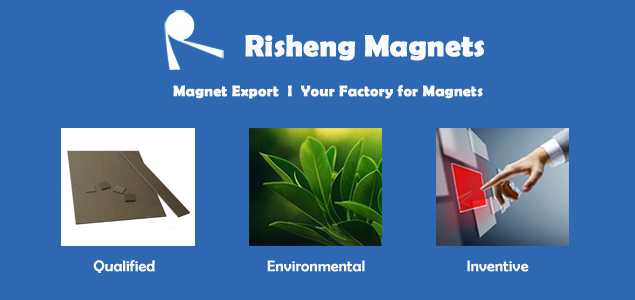 Flexible NdFeB magnet is a new type of flexible magnetic material. The material consists of neodymium (NdFeB) powder dispersed in plastic, flexible carrier, production process is calendering or extrusion.

Flexible NdFeB magnet can be magnetozed in many ways (most commonly used magnetizations are one side multipolar and axial magnetization). This material is much stronger than standard magne-tic foil and has higher working temperature 120 oC.

The main advantage to sintered magnets (ferrite, neodymium) is better workability and its flexibility - Flexible NdFeB magnet can be cut, drilled, milled. Magnetic parameters are between sintered ferrite and neodymium magnets. Flexible NdFeB magnet can replace hard ferrite magnets thanks to magnetic parameters while brings the advantages of rubber material - flexibility and workability. Main application areas are: flat speakers, sensors, miniature motors.

Technical Parameters of Flexible NdFeB Magnets:
Grade
Residual Induction
Coercive Force
Intrinsic Coercive Force
Maximum Energy Product
Br
Hcb
Hcj
(BH)max
mT
kA/m
kA/m
kJ/m3
[kGs]
[kOe]
[kOe]
[MGOe]
R2
250-350
120-200
150-320
12.0-20.0
[2.5-3.5]
[1.5-2.5]
[1.9-4.0]
[1.5-2.5]
R3
330-430
170-250
380-540
20.0-28.0
[3.3-4.3]
[2.1-3.1]
[4.8-6.8]
[2.5-3.5]
R4
380-480
210-300
540-700
28.0-36.0
[3.8-4.8]
[2.6-3.8]
[6.8-8.8]
[3.5-4.5]
R5
430-530
250-340
620-780
36.0-44.0
[4.3-5.3]
[3.1-4.1]
[7.8-9.8]
[4.5-5.5]
R6
480-580
290-380
630-800
44.0-52.0
[4.8-5.8]
[3.6-4.7]
[7.9-10]
[5.5-6.5]
R7
530-630
340-420
670-880
52.0-60.0
[5.3-6.3]
[4.1-5.2]
[8.4-11]
[6.5-7.5]
R8
570-670
350-440
670-880
60.0-80.0
[5.7-6.7]
[4.2-5.4]
[8.4-11]
[7.5-10]