Price of PE Plastic Sheet Extrusion Machine
Application:
This production line is capable of continuously producing mono-layer or multi-layer PVC/PP/PE/ABS/PMMA/PC/PS/HIPS plate and sheet with the width less than 3000mm and thickness of 0.5-3mm .The products are widely used in the fields of refrigerater ,air conditioner ,auto,advertisement ,and construction ,environment protection ,etc.
l The line includes many equipments ,such as :extruder ,screen changer and mould,three-roller calendaring machine,bracket of cooling roller,landscape orientation cutting machine and the winder
Extruder:
Appropriate single-screw extruder (exhaust or not) should be chosen on the basis of different materials. Specially designed screw and advanced temperature controlling system ensure the good plasticization, high output and stable extruding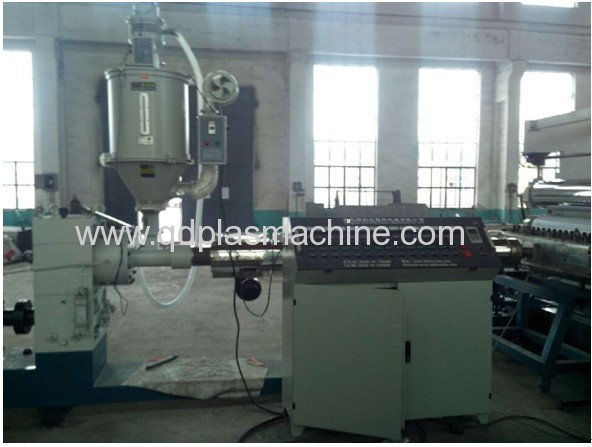 Screen changer and mould:
The quick screen changer of hydraulic system ensures the short course of screen changing without material-leakage. Reasonable structure of mould should be chosen in terms of material, whereas moulds of clothes-rack mode are widely accepted to regulate flow-distribution and guarantee even thickness of plates (sheets).
Three-roller calendaring machine:
Inclined and vertical three-roller calendaring machine should be chosen according to the thickness of the plates(sheets). Temperature controller operates separately and gap among the three rollers can be adjusted freely, and the central roller has special design of regulating angle. Both ensure the excellent calendaring effect and even thickness of plates (sheets)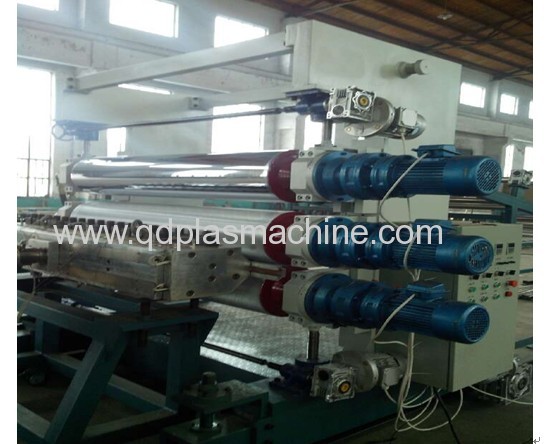 Bracket of cooling roller:
Equipped with corresponding guide roller, the cooling effect is better. In addition, the edge-shearing device equipped can guarantee fixed width of plates (sheets) and quality of edge