Plastic extruder screen filter

Hydraulic scren changer for plastic extruder

This kind of screen changer DHB series consists of
1, the body of the screen changer, the main body the slide plate ,and an oil cylinder are included
2, the hydraulic unit with accumulator
3, the electric controlling cabinet, thermo couple , pressure transducer, temperature and pressure controller meter , temperature meter are included.
4, the breaker plate , 2 pieces or more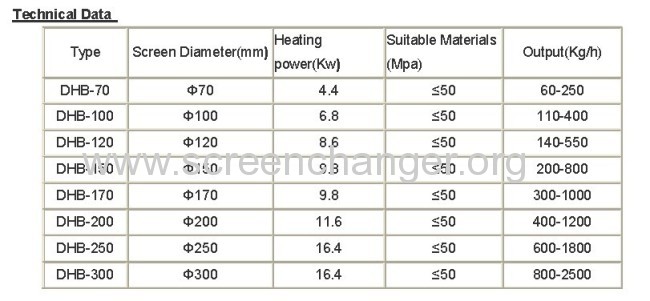 Features of this kind of plastic extruder screen filter

1. The screen changer works simultaneously: when one net works, the other one replaced.
2. Exhaust system device can fully defuse the gas mixed in the materials and improve the product quality.
3. Double channels expand the filtration area to produce more high-quality production which meets the customers' need.
4. Apply to extrusion production in a wide range of materials and product.
5. Good sealing system ensures perfect sealing effect.
6. The function of filling material exhaust and pollution discharge guarantee the process of replacing screen continuously.
7, All of our products are customer made.
8. A well-designed structure makes operation more convenient.

How to work

The plate has two screen cavities ,one of them work with the plastic machine at the same time, when a screen change is required, the cavity with dirty screen will be moved out by hydraulic in a minimum time, and at the same time, the other cavity with new screen will be moved into the working position . the screen replacement is very short and no need shut down the working machine

Applications

1,Applicable to the production of various thermoplastic, chemical fiber, rubber, colossal, adhesive, coating and finishing materials alike, mainly used for filtration of the material mixture.
2,Such as blow-molding machines, film blowing machines, GRP processing machinery, granulators, Styrofoam machines, extrusion machines, plastic product making machines