product name Nickel Coated N35 Sintered Neodymium NdFeB Ring Magnets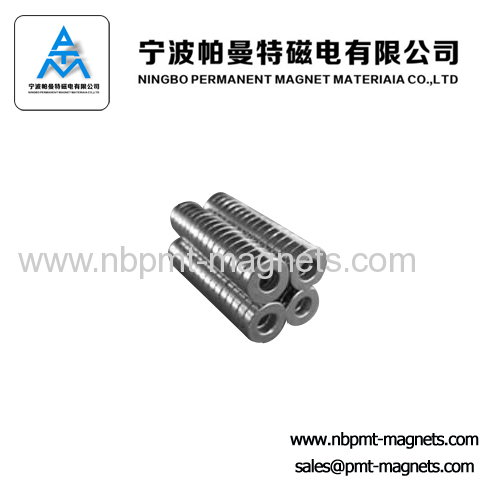 Sintered Neodymium NdFeB Magnets are one of the highest property and strongest permanent magnet by now, Sintered Neodymium (NdFeB) Ring Magnets are made through powder metallurgy manufacturing techniques. They are mainly composed of neodymium(32%), iron(64%), boron(1%), and a few rare earth material, such as Dy, Tb, Co, Nb, Ga, Al, Cu, etc.


Sintered Neodymium NdFeB Magnet is regarded as "Magnet King" due to its high magnetic performance, coercive force and maximum energy product. With the rapid development of Sintered Neodymium (NdFeB) Magnet , many high-tech products are developed. At the same time, because of its high magnetic performance, coercive force and maximum energy product, the Sintered Neodymium NdFeB Ring Magnet is widely used in servo motor, flat brushless motor, step motor, IT products, Nuclear Magnetic Resonance, speaker and other products.

The Sintered Neodymium (NdFeB) Magnets are easily rust and oxidated, so their surface must be plated with Ni-Cu-Ni, Zn, Ni, Silver, Gold or made phosphor and epoxy treatment.
We, Risheng Magnets has advanced scientific research and production equipments, strictly following ISO9001 Quality Management System to manufacture. We have continuously strengthened our inner management, from melting, milling, sintering and then process, all the working procedure are very perfect. Our manufacturing technique are excellent, we can supply various dimension Sintered Neodymium (NdFeB) Magnets with high magnetic property and with high temperature resistance. The mainly higher product Grade is N35-52,M,H,SH,UH,EH

The Main Application Fields of our High Quality Sintered Neodymium NdFeB Magnets:
Sonic Equipment:Earphone, Microphone, Loudspeaker.
Apparatus:Electricity Meter, Velometer, Flow-meter, Tachometer.
Medical Device: Magnetic Resonance Image Device, Water Magnetizer, Magnetic Therary Device.
Micro motor and special motor: Voice Coil Motor(VCM), Step Motor,Texture Motor, Geared down Motor, Disk Motor, Servo Motor, and Permanent-Dynamic System.
Industry installation: Magnetic Clamp, Magnetic Crane/Magnetic Lift, Magnetize Filter, CD-ROM, petrol dewaxing Equipment, Magnetic Coupler, Magntic Switch, Generator, Magnetic Separator.

factory picture