What is an Water pump bearing?
Water pump bearings are designed to support large axial loads but can also support moderate radial loads. They incorporate an improved internal design that enables it to operate at high speeds.
These bearings have self aligning characteristics. This is because the outer ring raceway is spherical and the center of the radius is located on the bearing axis.
Features
Unlike other double row bearings, water pump bearing do not have an inner ring but have raceways which are machined directly into the surface. This enables them to have more space available for the rolling elements hence improve its load carrying capabilities.
Due to its design, it is possible to use a suitable combination of both ball and roller rows economically.
Advantages
Our water pump bearings can support heavy loads and are easy to install because they come as ready to fix units.
Bearing types available at DEMY
They mainly consist of standard two row bearings and are of two types;
1. Ball-ball-these water pump bearing have two rows of balls and are used for moderate loads. This design is simplest and most economical.
They include WIB, BWF, WS , WK,885000 series etc.
2. Ball-roller-these water pump bearing have one row of balls and one row of rollers which enables them to support more load. Include WIR, WN, WKH,665000 Series etc.
Composition
The basic composition of water pump bearing is follows:
Shaft, which are mainly made of induction hardened steel.
Roller elements wets, which refer to either two rows of balls or one row of balls and one row of rollers.
Outer ring, which is usually made of hardened steel.
Where could we found DEMY angular contact ball bearings?
DEMY water pump bearing can be used in vertical pumps, automotive water pumps, and vane pumps. Additionally, they can also be applied in some other applications, like crane hooks, injection molding machine, washing machines, tension pulleys, fans, angle grinders, idler pullers, textile machines, etc.
Product Show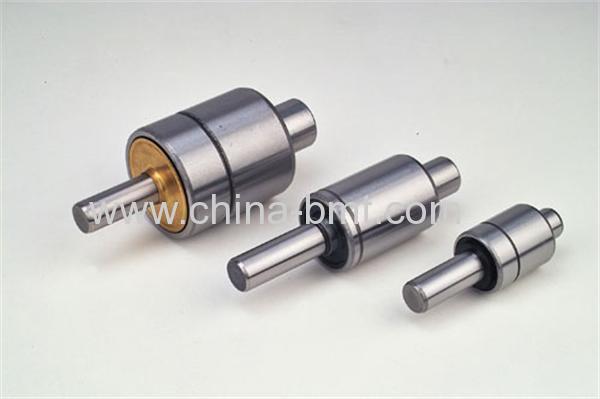 Our Factory
Ningbo Demy (D&M) Bearings Co., Ltd. is a leading manufacturer of ball & roller bearings and exporter of belts, chains and auto parts in China. We specialize in research and development of various kinds of high precision, non-noise, long-life bearings, high quality chains, belts, auto parts and other machinery & transmission products.