Tubular tripod aluminum alloy gin pole with manual winch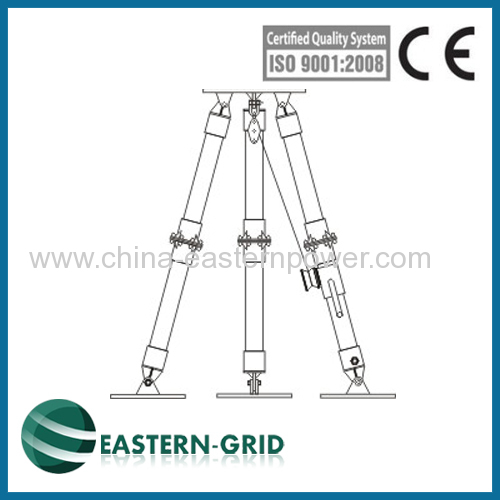 Ordernumber

Model

Footspan (m)

Allowablevertical load (kN)

Weight

(kg/m)

03451

LBGS120-7

4

30

8

03452

LBGS120-9

4.8

22

8
Note: Max output force of manual winch is 5 kN.
Model explanation:
LB X1 X2 - X3
LB : Aluminum alloy gin pole
X1: Stucture
NXG: inner-suspended tubular
NX: inner-suspended lattice
GT: tubular tower mounted
GR: tubular A shape
R: lattice A shape
GX: tubular tripod
X2: for lattice type it is side length, for tubular type it is diameter unit mm
X3: length of the entire gin pole unit: m
How to choose the right model:
1. check in the total capacity required according to the lifting tackle type to be used and the "C" lifting load required.
2. Identify the correct derrick type according to the total capacity, the length and the working position required.
Special design derricks are supplied on demand (e.g.in case of not standard lengths, internal rope passage with special suspended working position attachment etc.)