Features:
1,The tong is made up of master tong and backup tong, the master tong has a high and low gear train, the tong is compact, light and efficient.
2, The master tong and backup hydraulics operate on valve banks independent of each other.
3,The tong has incorporated a new system of disc brake to hold the jaws to connection more effectively.
4,Makeup and breakout are made easy with a simple turn to the reset knob on the tong and backup.
5,The backup has been supplied with quick coupling hoses and connections for quick and easy installation for jobs where you need a backup and the backup can be removed in seconds for jobs that a backup is not required.
SEPCIFICATION
1, Application:Tubing:73mm-114mm (2 7/8"to 4 1/2")
2, High gear rated torque:1.5 kN.m (1106 ft.lbs)
3, Low gear rated torque:6 kN.m (4425 ft.lbs)
4, high gear max rotation speed:85 RPM
5, Low gear max rotation speed:20 RPM
6, Opening of tong head:118 mm(4.65")
7, Overall dimension (L×W×H):750×500×600 mm(30"×20"×24")
8, Weight:220 kg(485lbs)
9, Rated system pressure:11MPa(1595 Psi)
10, Max oil supply:100 L/ min(26GPM)
INSTALLATION
A, Hanging: Connect lift with tong hanging rod and hang the tong on the derrick of workover rig, the hanging point is 15 m above ground and the hanging should be in free condition. The distance between the tong center and the center of the well is recommended to be 0.5m. The hanging height is proper when the backup tong could rightly grip the tubing collar.
B, Level: Adjust the screw (Z6-58)on the tong hanger to level the tong and backup, this should be done to ensure proper gripping of the jaws.
C, Back guy: Tie one end of back guy on derrick and the other end on back guide seat of power tong, back guy should be capable of bearing a load of 20 KN, when power tong is in make up position, the back guy should be at right angle to the tong and on the opposite side of operator who operates the control handles, this insures a safe operation.
D, Pressure hoses: Connect hoses from the hydraulic power source to the control valve bank of the power tong. The inlet and the outlet hoses can't be misconnected.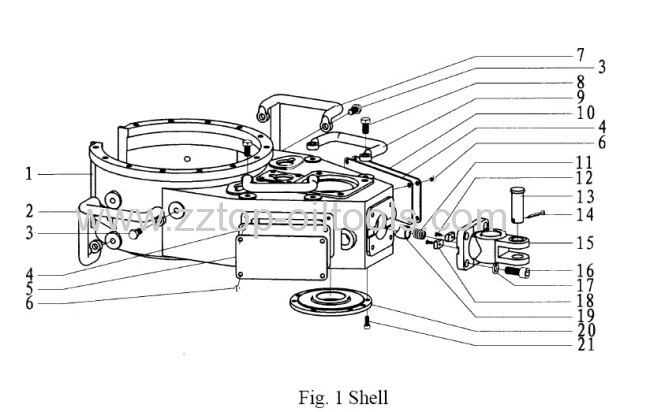 Shell Exploration Drawing.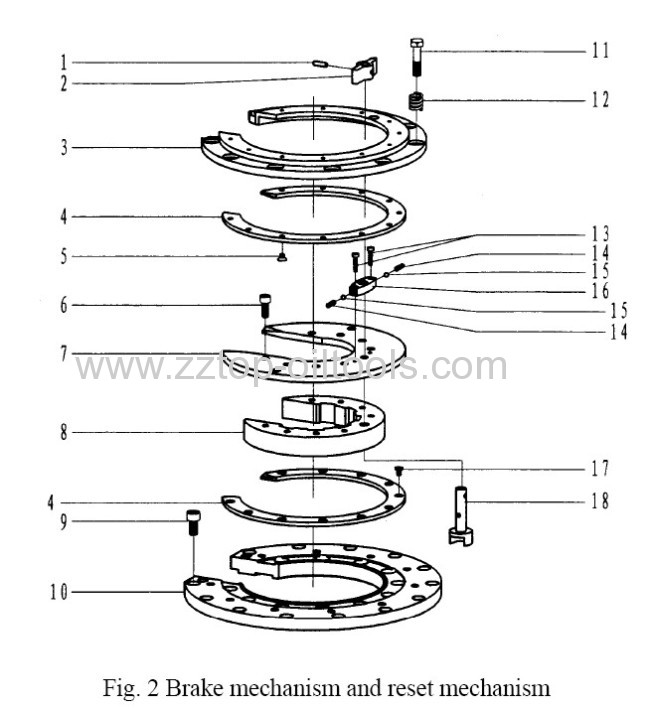 Brake mechanism and Reset Mechanism drawing.
ZZTOP is the professional manufacturer and supplier for the oilfield equipment
As the manufacturer, we produce below items:
-DST tools- Full bore retrievable packer, circulating valve, select tester valve,safety valve etc.
-Surface well testing equipment - Flowhead, SSV, ESD,Separator etc.
-Wellhead equipment such as BOP, X-mas tree, Choke manifold, kill manifold, drilling spool, casing head and other valve & flanges
-Downhole tools such as stabilizer, stabilizer forging, reamer, X-over sub and etc
As the distributor, we are working with large rig companies and heavy equipment manufacturers for the below products:
-Rig parts from RG,BOMCO,SJ,Hong Hua,KR etc,such as mud pump,rotary table, hook & block, swivel, crown block and consumable parts
- BOP and wellhead parts from Rongsheng,Shenkai
- Pipe- Tubing, Casing, seamless pipe
- Handling tools and Fishing tools
Should any items be of interest to you, contact me freely.