Cased Hole Drill stem testing tools gauge carrier DGA
Drill stem testing tool gauge carrier DGA Cased hole
The Gauge carrier will be designed as per testing requirements, for example to test Annular pressure or Tubing pressure, how many gauges will be carried, the carrier sizes will be also affected by gauges sizes,i.e. OD, Length.
Normally the gauge carrier connects with its adapter which will connect with carrier directly.


The designed gauge carrier is used for carrying four electric pressure gauge or temperature gauge, record annular pressure(Temperature) and tubing pressure(temperature) data.
The gauge carrier apply to the pressure or temperature gauge in 5 inch outer diameter, length in 28inch, the gauges connect with adapter which will be installed with carrier, the gauge protector ring will hold the gauge on to carrier, the gauge carrier is in full bore type easy for special downhole testing job.
The gauge carrier is composed by three mani parts which is top connector, bottom connector and carrier body, there are four slots in carrier body to hold total 4 gauges, each slot length is about 36" which is easy for gauge installation.
| | | |
| --- | --- | --- |
| No | Specification | 5″ |
| 1 | OD | 127.5mm |
| 2 | ID | 57mm |
| 3 | Length | 2768mm |
| 4 | Working pressure | 105MPa |
| 5 | Internal pressure strength | 196MPa |
| 6 | External pressure strength | 177MPa |
| 7 | Tensile strength | 1866KN |
| 8 | Torque strength | 43.4KN.M |
| 9 | Service | H2S as per NACE MR-0175(>175F°) |
| 10 | Woking Temperature | -29℃+204℃ |
| 11 | Connection thread | 3 7/8″CAS.B×P |
| 12 | Gauge size applicable | Φ33mmX680mm |
| 13 | Eccentricity | 10mm |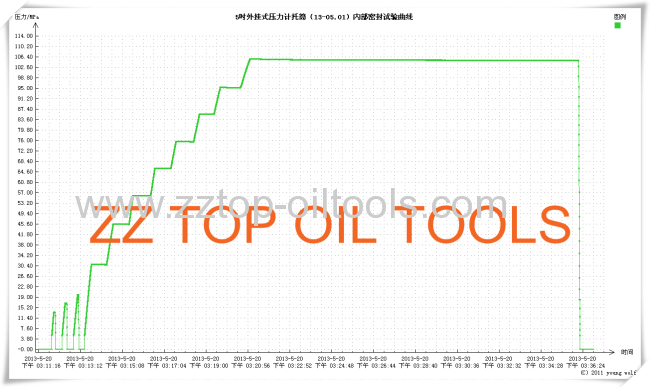 Testing Chart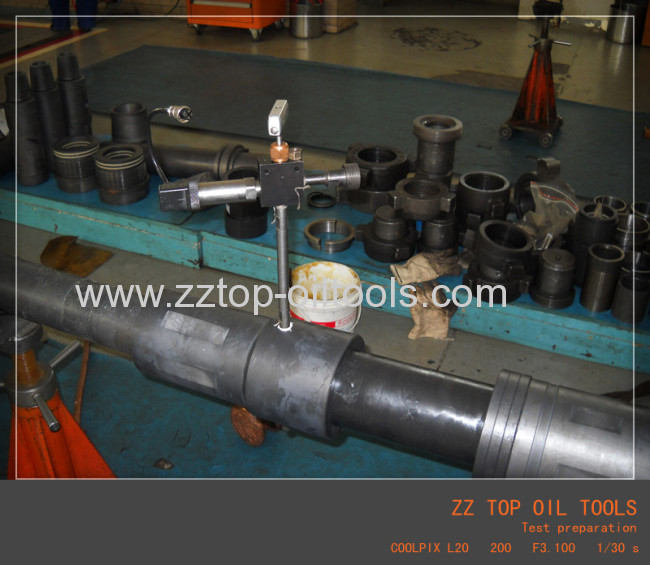 Testing Prepare


ZZ TOP OIL TOOLS is the professional manufacturer for the drill stem testing tools and surface testing equipment. All the DST tools are conformed with NACE MR 0175 with traceability,and the DST tools can be worked in H2S & CO2 above 175 F and full H2S, also with the skilled and experienced engineers, we can design the drill stem testing tools as per customer's well condition. Moreover, we supply the training in our factory and operation instruction at the well site. The DST tools are exported to USA, Colombia, India, Pakistan, Iran, Brazil etc. and enjoy the good reputation from the customers.

To shorten the delivery time, we proceeded the DST Tools in stock:
Packer,circualting valve,select tester valve,APR N-valve,OMNI valve,Hydraulic Jar,Tubing string tester
1. Full bore Packer, 7" Casing, working pressure 70Mpa, Working Temperature 400F, Connection: IF, 4set
2. Tester valve, 5", Working pressure 105Mpa, Working temperature 400F, Connection CAS. BXP, 4 sets
3. Hydraulic Jar,5", Working pressure 105Mpa, Working temperature 400F, Connection CAS. BXP, 4sets
4. Rupture disk Circulating valve, 5", Working pressure 105Mpa, Working temperature 400F, Connection CAS. BXP, 4sets
5. Flowhead (surface test tree), 3 1/16", working pressure 70 Mpa. 1set
Should you have any interest or inquiry on the Drill stem testing tools, contact us freely.