ZQ127-25Y-hydraulic power tongs
XYQ25 Hydraulic Power tong
XQ140/25Y Hydraulic Power tong

The Hydraulic Power Tong in the field workover operations on the dumping of 2 3/8"-3½"drill pipe, and 2 7/8"- 4½"tubing and 4½"-5½" casing of a dynamic open-clamp .
1, the clamp from the torque hydraulic motor driven back by clamp rack plunger drive, drive concise, compact structure.
2, Lord, forceps are used in the dorsal surface of clamping rollers climbing, cards tight, reliable and timely release.
3, the first with the upper and lower clamp Fuzheng outside agencies, rotating stable, long service life.
4, Lord, matching clamp back, reversing valve can be manually manipulated simultaneous release clamping or string.
5, friction braking institutions in the clamp heads of the adjustment, maintenance more convenient.
6, and reset manually reversing valve knob with, for the flexible and convenient.
7, equipped with a retractable security doors installed, the protective effect from security
Technical parameters
Adaptation of 23/8"-3½"Drill Pipe , 2 7/8"- 4½" Tubing , 4½"-5½"Casing
Rated oil pressure 16 MPa (2320 psi)
Rated Oil Supply 120 l/min
Rated high-end torque 5.1 kN.m (3792 ft-lbs)
Rated low torque 25 kN.m (18590 ft-lbs)
Speed rated premium 43 rpm
Rated low speed 8 rpm
Shipments quality 600 kg (1320lbs)
Portfolio clamp Dimension 1200*730* 730 mm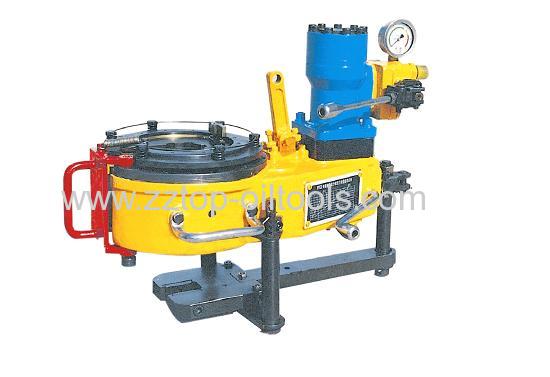 Power tong
The Power Tong is a well head tool for oil drilling apparatus, widely applied in making-up and breaking-out in drilling well and repairing well on offshore and land,Tongs are safe ,reliable ,and easy to handle with high mobility, The tongs are designed and manufactured according to API Spec 7K Specification for Drilling Equipment.
1. Casing Power Tongs are widely used for making up or breaking out pipes or casings diameters of 4"~13 3/8" ,The tong heads are designed open type and can freely clamp and escape from the casing. The tongs can be connected to computer controlling units and can serve as ideal well mechanical tool for surface operations in oil fields.
2. Drill Pipe Power Tong :The applicable pipe OD is 3 1/2"~8", 2 7/8"~5", 2 1/2"~3 1/2", and
the tong can take the long is a combination of spinning tong and torque tong instead of cathead manual tong and spinning rope for making-up and breaking-out.
3.Tubing power tong is used for quick make-up /break-out in well service operations .The tong is equipped with hydraulic back up tong and use inner curved cam to clamp.
ZZTOP is the professional manufacturer and supplier of oilfield equipment, and we insist of the traceability of each tools, all the equipment will be in high quality with reasonable price, and we make all our effort to provide the service to our customer. Should any item be of interest to you, contact us at any time.