High Quality Duplex Round Fiber Optic Indoor Cable.
GJFJV cabled with a PVC sheath.
GJFJZY cabled with a LSZH sheath.


GJFJV-2B1 duplex round indoor cable

Description:
The duplex round cable is cabled with a PVC sheath or LSZH material after the single-mode or multi-mode double-core tight-buffered optical fiber claded with a high-strength aramid yarn layer.
Applications:
Ideal for interconnect applications for instruments and communication equipments
Used in indoor cabling
Technical Parameters(Typical Values):

| | | | | | | | | |
| --- | --- | --- | --- | --- | --- | --- | --- | --- |
| Fiber Count | O.D. (mm) | Tensile Strength (N) | Tensile Strength (N) | Crush (N/100mm) | Crush (N/100mm) | Min.Bending Radius(mm) | Min.Bending Radius(mm) | Cable Weight |
| | | Short Term | Long Term | Short Term | Long Term | Dynamic | Static | (kg/km) |
| 2 | 4.5 | 500 | 300 | 1000 | 200 | 100 | 30 | 17.8 |
| 2 | 4.2 | 220 | 140 | 1000 | 200 | 100 | 30 | 15.2 |
| 2 | 3.6 | 200 | 130 | 500 | 100 | 100 | 30 | 9.0 |
| 2 | 3.2 | 200 | 130 | 500 | 100 | 100 | 30 | 7.1 |
| 2 | 3.0 | 150 | 80 | 500 | 100 | 100 | 30 | 6.6 |
| 2 | 2.5 | 150 | 80 | 500 | 100 | 100 | 30 | 4.8 |
Ordering Information:


1) Outer Jacket Material:
V - PVC
Z - LSZH

2) Outer Jacket Color:
Single mode- Yellow
Multimode- Orange
OM3- Aqua

3) Tight Buffer Color:
B- Blue
O- Orange
G- Green
N- Brown
S- Slate
W- White
R- Red
K- Black
Y- Yellow
V- Violet
P- Pink
A- Qqua

4) Fiber Type:
B1- G.652
B1.3- G.652.D
B4- G.655
E1- EasyBand G.657
E1.1- EasyBand Plus G.657
A1- 50/125um
A1b- 62.5/125um
A1H- HiBand 50/125um
A1bH - HiBand 62.5/125um
M1- MaxBand 150
M3- MaxBand 300
M5- MaxBand 550

5) Delivery Length:
Standard Reel Length is 2000meters, Other length available on request

6) Packing Image: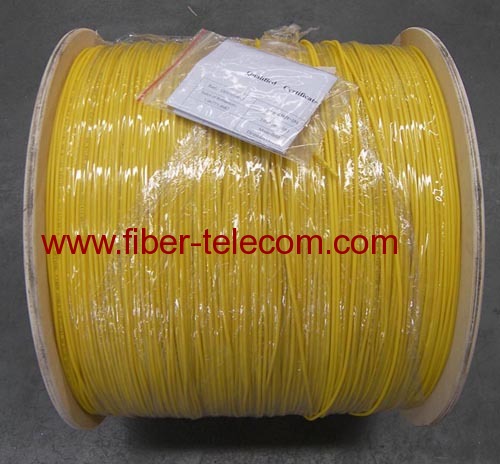 Duplex Indoor Fiber Optic Cable