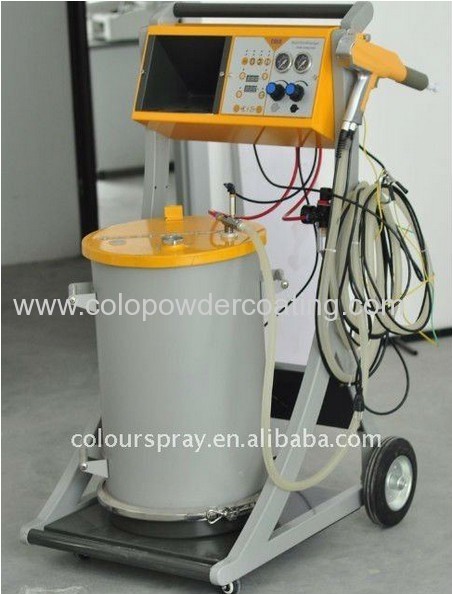 Specification
0-100 Digital Adjustable KV
Fully Adjustable Amperage
With three setting program,for flat shape workpiece,complicated shape workpiece,recoating,easy for operation.
Fully Adjustable Air for Pump on Pressure, Dosage and Nozzle Rinsing Air.
Comes with Full Array of Nozzle Assortment.
Field Tested and Proven to operate in the toughest environments.
Comes with different array of delivery systems:
Hope Feed - 55L
Because this system is specially balanced for the maximum spray capability with
the Smoothest Finish Possible.


Techincal data:
| | |
| --- | --- |
| Electrical data | |
| Mains input voltage | 100-240 VAC |
| Operating frequency | 50-60 Hz |
| Input power | 50W |
| Nominal output voltage (to the gun) | max. 12 V |
| Nominal output current (to the gun) | max. 1 A |
| | IP54 |
| Ambient temperature range | 0°C - +40°C (+32°F - +104°F) |
| Max. operating temperature | 85°C (+185°F) |
| Approvals | CE |
| | |
| Pneumatical data | |
| Compressed air connection | 1/4" male quick release |
| Max. input pressure | 10 bar / 145 psi |
| Min. input pressure (while unit in operation) | 6 bar / 87 psi |
| Max. water vapor content of the compressed | air 1.3 g/m³ |
| Max. oil vapor content of the compressed air | 0.1 mg/m³ |
| | |
| Packing Dimensions | |
| Length | 120CM |
| Width | 79CM |
| Height | 73CM |
| Weight | approx. 55kgs |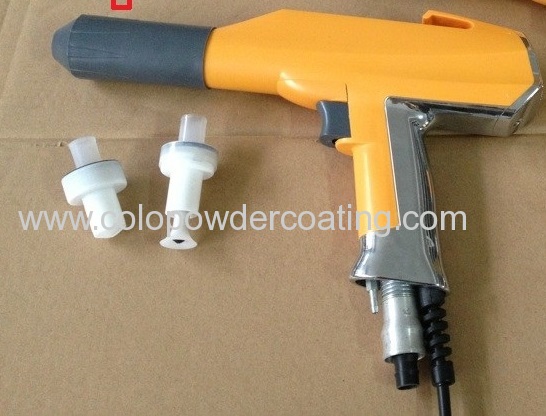 You could book the powder coating gun spare parts: