product name Permanent Motor Magnet For Sale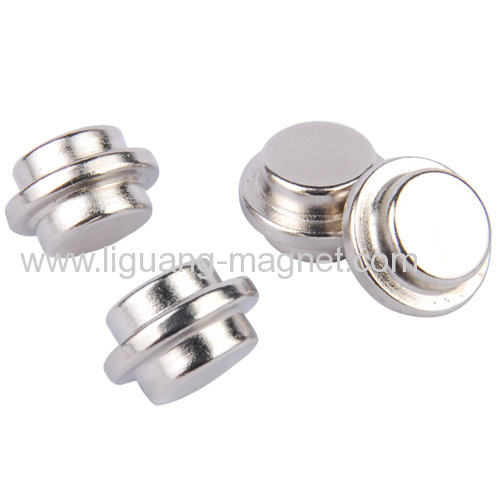 The character designation of sintered NdFeB magnets is composed of NdFeB, the chemical symbols of neodymium, ferrum and boron,and two magnetic properties. The number in front of the solidus refers to the maximum magnetic energy product, symbol BH max and unit kj/m. The number after the solidus refers to one-tenth of magnetic polarization intensity coercivity, symbol Hcj and unit KA/m, rounded to the nearest integer.

Required Information for Quotation:
1. Intend application and Material.
2. Shape, size dimensions and tolerance level.
3. Material Characteristic (i.e. Br, bHc, iHc, BHmaxK)
4. Environmental conditions and Inspection sampling plan.
5. Magnetized or unmagnetized.
6. Magnetic Polarity and magnetized direction.
7. Quantity per year and per shipment..
8. Special request method for packing.
PRODUCT ADVANTAGE:
1. The superlative strength magnets at present.
2. Used in mostly in smaller, lightweight and thinner design products.
3. The average energy product's cost is comparable to substitute the ferrite magnet.
4. Prompt Delivery and Competitive Price.

Magnetized direction:


Grade
Remanence
Coercive Force
Instrinsic Coercive Force
Max.Energy product
Working
Temperature


Br(KG)
bHc(Koe)
iHc(Koe)
BHmax.(GOe)
ºC
N-33
11.3~11.7
10.7~11.5
≥ 12
31~34
80
N-35
11.7~12.1
10.9~11.8
≥ 12
33~36
80
N-38
12.1~12.5
≥ 11.3
≥ 12
36~39
80
N-40
12.5~12.8
≥ 11.6
≥ 12
38~41
80
N-42
12.8~13.2
≥ 11.6
≥ 12
40~43
80
N-45
13.2~13.8
≥ 11.0
≥ 12
43~46
80
N-48
13.8~14.2
≥ 10.5
≥ 11
46~49
80
N-50
13.8~14.5
≥ 10.5
≥ 12
47~51
80
N-52
14.3~14.8
≥ 10.8
≥ 11
50~53
80
N-45M
13.2~13.8
≥ 11.0
≥ 14
43~46
100
N-48M
13.6~14.1
≥12.0
≥ 14
44~49
100
N-50M
14.0~14.5
≥ 13.0
≥ 14
48~51
100
N30H
10.9~11.4
10.1~10.9
≥ 17
28~31
120
N33H
11.3~11.7
10.7~11.5
≥ 17
31~34
120
N38H
12.1~12.5
≥ 11.3
≥ 17
36~39
120
N40H
12.4~12.8
≥ 11.6
≥ 17
38~41
120
N-42H
12.8~13.2
≥ 11.6
≥17
40~43
120
N-45H
13.2~13.5
≥ 12.0
≥ 17
42~46
120
N-48H
13.6~14.3
≥12.5
≥ 16
46~49
120
N30SH
10.9~11.4
10.1~10.9
≥ 20
28~31
150
N33SH
11.3~11.7
10.7~11.5
≥ 20
31~34
150
N35SH
11.7~12.1
11.0~11.8
≥ 20
33~36
150
N38SH
12.1~12.5
≥ 11.3
≥ 20
36~39
150
N-45SH
13.2~13.8
≥ 12.6
≥ 20
43~46
150
N30UH
10.9~11.4
10.1~10.9
≥ 24
28~31
180
N33UH
11.3~11.7
≥10.7
≥ 25
31~33
180
N35UH
11.7~12.1
≥ 10.7
≥ 25
33~36
180
N38UH
12.1~12.5
≥ 11.4
≥ 25
36~39
180
N28EH
10.4~10.8
≥9.5
≥ 30
26~29
200
N30EH
10.8~11.3
≥9.5
≥ 30
28~31
200
N33EH
11.3~11.7
≥10.2
≥ 30
31~33
200
N35EH
11.7~12.1
10.2
≥ 30
33~36
200
N30AH
10.8~11.3
≥10.2
≥ 35
28~32
220
N33AH
11.2~11.7
≥10.2
≥ 35
31~34
220
Applications:
*Hanging signs and lights
*Fastening antennas
*Holding tarps
*Making retrieval tools
*Holding through non-ferrous materials
*Use for fastening or holding steel doors
*Insertion into molds
*Insertion into fixtures