product name Industry Magnet,Stereos magnet,Magnetic Component
Applications:

widely used in automobiles, mobile phones, digital cameras, jewelry, clothing, all kinds of hardware accessories, electrical and laser heads, toys, gifts, speakers, packaging, leather goods, medical equipment and advertising industries.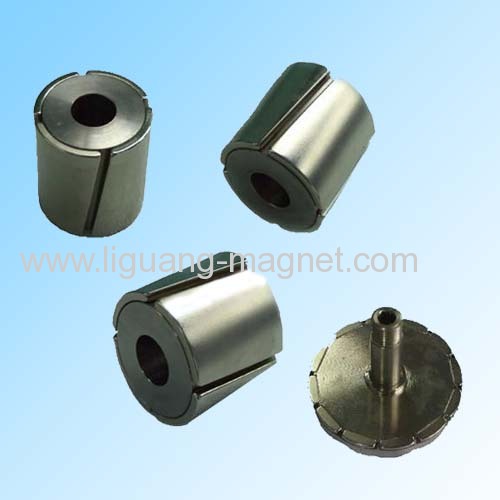 Target:
All products comply with Reach, RoHS and other environmental protection requirements and are exported to the United States, Europe, Africa, Southeast Asia and other countries and regions.
Strong Neodymium Pot Magnets with inner thread holes! Made from the strong Neodymium Iron Boron magnets, punching mild steel housing and plastic spacer that all are assemble to be a set of pot magnets and then they are magnetized to be magnetic before shipment, these pot magnets offer substantially more holding and gripping power than ferrite pot magnets.

This kind of configuration and design will keep the magnetic flux more concentrated and the products more powerful. These pot magnets are perfect for use in tooling and fixturing and holding field. Contact Us Now
Please if the size you need is not listed below and we will produce the products according to your requirement without a problem.

Applications:
*Hanging signs and lights
*Fastening antennas
*Holding tarps
*Making retrieval tools
*Holding through non-ferrous materials
*Use for fastening or holding steel doors
*Insertion into molds
*Insertion into fixtures
Magnetic assembly also called magnetic component is a kind of combination of
both permanent magnets and steel parts (or non-ferrite materials like plastic,
nylon, brass and aluminum). Due to the magnetic field design, a magnetic
assembly has a particular magnetic circuit which can concentrate magnetic power
at a target space around the magnetic assembly. In this way, magnetic assembly
can be used for holding, retrieving, moving, lifting and mounting steel parts in
different industrial applications.
1.Property of Magnet
1.Item: ARC motor magnet
2.Material: NdFeB permanent magnet
3.Grade:Magnet N-( N35, N38, N40, N42, N45, N48, N50),
Magnet M-(35M, 38M, 40M, 42M, 45M, 48M),
Magnet H-(35H, 38H, 40H, 42H, 45H),
Magnet SH-(30SH, 33SH, 35SH, 38SH, 40SH, 42SH),
Magnet UH-( 28UH, 30UH, 33UH, 35UH, 38UH),
Magnet EH-(28EH, 30EH, 30EH, 33EH, 35EH)
4.Coating: Nickel ,Zn,Black Epoxy,Ag,Au Etc
5.Max working Temp:80-230 Degrees.
The most important point is that we can design the size and shape
according your requests
All of the N series neodymium Magent has a 8% DISCOUNT.
Price is very competitive, any interest, pls feel free to contact us.
Contact person: Candy
eMail: candy@nb-lg.com
mobile: 0086-15967873267
Tel: 0086- 0574-88193097
Fax: 0086-0574-88193259
skype: lisinan117 Welcome to inquiry!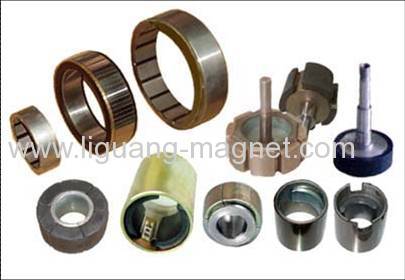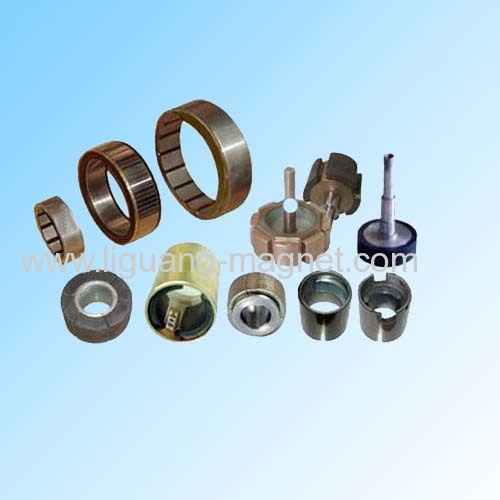 Grade
Br
Hcb
Hcj
(BH)max
(Tw)
mT
(kGs)
kA/m
(kOe)
kA/m
(kOe)
kJ/m3
(MGOe)
N35
1170-1220
(11.7-12.2)
≥868
( ≥10.9)
≥955
( ≥12)
263-287
(33-36)
80 ºC
N38
1220-1250
(12.2-12.5)
≥899
( ≥11.3)
≥955
287-310
(36-39)
N40
1250-1280
(12.5-12.8)
≥907
( ≥11.4)
≥955
302-326
(38-41)
N42
1280-1320
(12.8-13.2)
≥915
( ≥11.5)
≥955
318-342
(40-43)
N45
1320-1380
(13.2-13.8)
≥923
( ≥11.6)
≥955
342-366
(43-46)
N48
1380-1420
(13.8-14.2)
≥923
( ≥11.6)
≥876
366-390
(46-49)
N50
1400-1450
(14.0-14.5)
≥796
( ≥10.0)
≥876
( ≥11)
382-406
(48-51)
N52
1430-1480
(14.3-14.8)
≥796
≥876
398-422
(50-53)
30M
1080-1130
(10.8-11.3)
≥796
≥1114
( ≥14)
223-247
(28-31)
100 ºC
33M
1130-1170
(11.3-11.7)
≥836
( ≥10.5)
≥1114
247-263
(31-33)
35M
1170-1220
(11.7-12.2)
≥868
( ≥10.9)
≥1114
( ≥14)
263-287
(33-36)
38M
1220-1250
(12.2-12.5)
≥899
( ≥11.3)
≥1114
287-310
(36-39)
40M
1250-1280
(12.5-12.8)
≥923
( ≥11.6)
≥1114
( ≥14)
302-326
(38-41)
42M
1280-1320
(12.8-13.2)
≥955
( ≥12.0)
≥1114
318-342
(40-43)
45M
1320-1380
(13.2-13.8)
≥995
( ≥12.5)
≥1114
( ≥14)
342-366
(43-46)
48M
1360-1430
(13.6-14.3)
≥1027
( ≥12.9)
≥1114
366-390
(46-49)
50M
1400-1450
(14.0-14.5)
≥1033
( ≥13.0)
≥1114
( ≥14)
382-406
(48-51)
30H
1080-1130
(10.8-11.3)
≥796
( ≥10.0)
≥1353
( ≥17)
223-247
(28-31)
120 ºC
33H
1130-1170
(11.3-11.7)
≥836
( ≥10.5)
≥1353
247-271
(31-34)
35H
1170-1220
(11.7-12.2)
≥868
( ≥10.9)
≥1353
( ≥17)
263-287
(33-36)
38H
1220-1250
(12.2-12.5)
≥899
( ≥11.3)
≥1353
287-310
(36-39)
40H
1250-1280
(12.5-12.8)
≥923
( ≥11.6)
≥1353
( ≥17)
302-326
(38-41)
42H
1280-1320
(12.8-13.2)
≥955
( ≥12.0)
≥1353
318-342
(40-43)
45H
1300-1360
(13-13.6)
≥963
( ≥12.1)
≥1353
( ≥17)
326-358
(43-46)
48H
1370-1430
(13.7-14.3)
≥995
( ≥12.5)
≥1353
366-390
(46-49)
30SH
1080-1130
(10.8-11.3)
≥804
( ≥10.1)
≥1592
( ≥20)
223-247
(28-31)
150 ºC
33SH
1130-1170
(11.3-11.7)
≥844
( ≥10.6)
≥1592
247-271
(31-34)
35SH
1170-1220
(11.7-12.2)
≥876
( ≥11.0)
≥1592
( ≥20)
263-287
(33-36)
38SH
1220-1250
(12.2-12.5)
≥907
( ≥11.4)
≥1592
287-310
(36-39)
40SH
1240-1280
(12.5-12.8)
≥939
( ≥11.8)
≥1592
( ≥20)
302-326
(38-41)
42SH
1280-1320
(12.8-13.2)
≥987
( ≥12.4)
≥1592
318-342
(40-43)
45SH
1320-1380
(13.2-13.8)
≥1003
( ≥12.6)
≥1592
( ≥20)
342-366
(43-46)
28UH
1020-1080
(10.2-10.8)
≥764
( ≥9.6)
≥1990
( ≥25)
207-231
(26-29)
180 ºC
30UH
1080-1130
(10.8-11.3)
≥812
( ≥10.2)
≥1990
223-247
(28-31)
33UH
1130-1170
(11.3-11.7)
≥852
( ≥10.7)
≥1990
( ≥25)
247-271
(31-34)
35UH
1180-1220
(11.8-12.2)
≥860
( ≥10.8)
≥1990
263-287
(33-36)
38UH
1220-1250
(12.2-12.5)
≥876
( ≥11.0)
≥1990
( ≥25)
287-310
(36-39)
40UH
1240-1280
(12.5-12.8)
≥899
( ≥11.3)
≥1990
302-326
(38-41)
28EH
1040-1090
(10.4-10.9)
≥780
( ≥9.8)
≥2388
( ≥30)
207-231
(26-29)
200 ºC
30EH
1080-1130
(10.8-11.3)
≥812
( ≥10.2)
≥2388
223-247
(28-31)
33EH
1130-1170
(11.3-11.7)
≥836
( ≥10.5)
≥2388
( ≥30)
247-271
(31-34)
35EH
1170-1220
(11.7-12.2)
≥876
( ≥11.0)
≥2388
263-287
(33-36)
38EH
1220-1250
(12.2-12.5)
≥899
( ≥11.3)
≥2388
( ≥30)
287-310
(36-39)
28AH
1040-1090
(10.4-10.9)
≥787
( ≥9.9)
≥2624
( ≥33)
207-231
(26-29)
230 ºC
30AH
1080-1130
(10.8-11.3)
≥819
( ≥10.3)
≥2624
223-247
(28-31)
33AH
1130-1170
(11.3-11.7)
≥843
( ≥10.6)
≥2624
( ≥33)
247-271
(31-34)