product name Permanent Sintered NdFeB Magnet
Permanent Sintered NdFeB Magnet
NdFeB Magnet is mainly made of neodymium, iron and boron.
It is the third generation product of the rare-earth permanent magnets.
So far,Sintered NdFeB is the strongest permanent magnet in the world.
1. Material: Sintered Neodymium-Iron-Boron.
2. Sintered NdFeB Magnet have high continuous stability of different batches which will benefit customer a lot to their final products quality.
3. Advanced techniques: We have new Sintered NdFeB magnet techniques and
equipment such as strip casting,HDDR technology in our factory to allow us to
make high performance NdFeB possible.
4. Grade:N35 to N52,N35M to N50M,N35H to N48H,N35SH to N45SH,N30UH to N40UH,N30EH to N38EH.
5. Good anti-demagnetization with Hci,over 30MOe. Ndfeb magnets lose less than 0.15% of Br/°C and less than 0.01% of Hcj/°C.
6. The Excellent anti-corrosion property stand for SST-500hours.
7. High working temperature above 200°C.
8. The surface coated (Ni-Cu-Ni) , Epoxy, Zinc (Zn), Gold (Au), Silver (Ag), and so on.
9. Various shape and size according to clients' requirement.
* Fast reply: all your enquiry will be replied within 12 hours.
* Reasonable price: we are factory and able to offer better price.
* Good quality: We are OEM suppliers and we are experienced in quality control.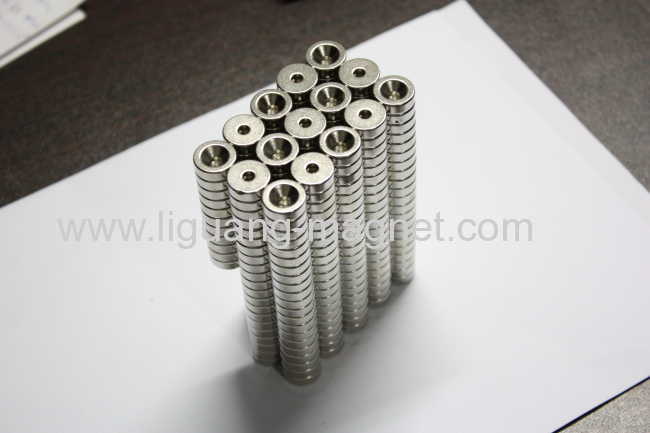 Our Services
1. Provide free samples . 2. Custom-made dimension .
Super Strong Sintered Neodymium Magnets Wholesale Price Manufacturer
1. Materials
Neodymium magnet
2. Grades
N33-N52 33M-48M and so on
3. Shapes
Others available: Block, Cylinder, Block, Disc, Arc, Customized
4. Size
You could choose freely according to your plan
5. Coatings
Others available: Ni-Cu-Ni, Zinc, gold, silver, epoxy, parylene, etc.
6. Orientation
Axial magnetized
7. Quality
Our expert quality control department ensures magnets are high quality
8. Applications
Sensors, motors, rotors, wind turbine,wind generators, speakers, loudspeakers, magnetic filters, etc.
9. Directions of Magnetization:
1. )Thickness Magnetized
2.) Axially Magnetized
3.) Diametrally Magnetized
4.) Multi-poles magnetized
5.) Radial Magnetized
6. )Customzied specific requirements magnetized
7)Service: Provide test report and BH curves for each item magnets, and also we could do the PCT test ,salt spray test report, aging test report and so on according to our customers'
Grade
Br
Hcb
Hcj
(BH)max
(Tw)
mT
(kGs)
kA/m
(kOe)
kA/m
(kOe)
kJ/m3
(MGOe)
N35
1170-1220
(11.7-12.2)
≥868
( ≥10.9)
≥955
( ≥12)
263-287
(33-36)
80 ºC
N38
1220-1250
(12.2-12.5)
≥899
( ≥11.3)
≥955
287-310
(36-39)
N40
1250-1280
(12.5-12.8)
≥907
( ≥11.4)
≥955
302-326
(38-41)
N42
1280-1320
(12.8-13.2)
≥915
( ≥11.5)
≥955
318-342
(40-43)
N45
1320-1380
(13.2-13.8)
≥923
( ≥11.6)
≥955
342-366
(43-46)
N48
1380-1420
(13.8-14.2)
≥923
( ≥11.6)
≥876
366-390
(46-49)
N50
1400-1450
(14.0-14.5)
≥796
( ≥10.0)
≥876
( ≥11)
382-406
(48-51)
N52
1430-1480
(14.3-14.8)
≥796
≥876
398-422
(50-53)
30M
1080-1130
(10.8-11.3)
≥796
≥1114
( ≥14)
223-247
(28-31)
100 ºC
33M
1130-1170
(11.3-11.7)
≥836
( ≥10.5)
≥1114
247-263
(31-33)
35M
1170-1220
(11.7-12.2)
≥868
( ≥10.9)
≥1114
( ≥14)
263-287
(33-36)
38M
1220-1250
(12.2-12.5)
≥899
( ≥11.3)
≥1114
287-310
(36-39)
40M
1250-1280
(12.5-12.8)
≥923
( ≥11.6)
≥1114
( ≥14)
302-326
(38-41)
42M
1280-1320
(12.8-13.2)
≥955
( ≥12.0)
≥1114
318-342
(40-43)
45M
1320-1380
(13.2-13.8)
≥995
( ≥12.5)
≥1114
( ≥14)
342-366
(43-46)
48M
1360-1430
(13.6-14.3)
≥1027
( ≥12.9)
≥1114
366-390
(46-49)
50M
1400-1450
(14.0-14.5)
≥1033
( ≥13.0)
≥1114
( ≥14)
382-406
(48-51)
30H
1080-1130
(10.8-11.3)
≥796
( ≥10.0)
≥1353
( ≥17)
223-247
(28-31)
120 ºC
33H
1130-1170
(11.3-11.7)
≥836
( ≥10.5)
≥1353
247-271
(31-34)
35H
1170-1220
(11.7-12.2)
≥868
( ≥10.9)
≥1353
( ≥17)
263-287
(33-36)
38H
1220-1250
(12.2-12.5)
≥899
( ≥11.3)
≥1353
287-310
(36-39)
40H
1250-1280
(12.5-12.8)
≥923
( ≥11.6)
≥1353
( ≥17)
302-326
(38-41)
42H
1280-1320
(12.8-13.2)
≥955
( ≥12.0)
≥1353
318-342
(40-43)
45H
1300-1360
(13-13.6)
≥963
( ≥12.1)
≥1353
( ≥17)
326-358
(43-46)
48H
1370-1430
(13.7-14.3)
≥995
( ≥12.5)
≥1353
366-390
(46-49)
30SH
1080-1130
(10.8-11.3)
≥804
( ≥10.1)
≥1592
( ≥20)
223-247
(28-31)
150 ºC
33SH
1130-1170
(11.3-11.7)
≥844
( ≥10.6)
≥1592
247-271
(31-34)
35SH
1170-1220
(11.7-12.2)
≥876
( ≥11.0)
≥1592
( ≥20)
263-287
(33-36)
38SH
1220-1250
(12.2-12.5)
≥907
( ≥11.4)
≥1592
287-310
(36-39)
40SH
1240-1280
(12.5-12.8)
≥939
( ≥11.8)
≥1592
( ≥20)
302-326
(38-41)
42SH
1280-1320
(12.8-13.2)
≥987
( ≥12.4)
≥1592
318-342
(40-43)
45SH
1320-1380
(13.2-13.8)
≥1003
( ≥12.6)
≥1592
( ≥20)
342-366
(43-46)
28UH
1020-1080
(10.2-10.8)
≥764
( ≥9.6)
≥1990
( ≥25)
207-231
(26-29)
180 ºC
30UH
1080-1130
(10.8-11.3)
≥812
( ≥10.2)
≥1990
223-247
(28-31)
33UH
1130-1170
(11.3-11.7)
≥852
( ≥10.7)
≥1990
( ≥25)
247-271
(31-34)
35UH
1180-1220
(11.8-12.2)
≥860
( ≥10.8)
≥1990
263-287
(33-36)
38UH
1220-1250
(12.2-12.5)
≥876
( ≥11.0)
≥1990
( ≥25)
287-310
(36-39)
40UH
1240-1280
(12.5-12.8)
≥899
( ≥11.3)
≥1990
302-326
(38-41)
28EH
1040-1090
(10.4-10.9)
≥780
( ≥9.8)
≥2388
( ≥30)
207-231
(26-29)
200 ºC
30EH
1080-1130
(10.8-11.3)
≥812
( ≥10.2)
≥2388
223-247
(28-31)
33EH
1130-1170
(11.3-11.7)
≥836
( ≥10.5)
≥2388
( ≥30)
247-271
(31-34)
35EH
1170-1220
(11.7-12.2)
≥876
( ≥11.0)
≥2388
263-287
(33-36)
38EH
1220-1250
(12.2-12.5)
≥899
( ≥11.3)
≥2388
( ≥30)
287-310
(36-39)
28AH
1040-1090
(10.4-10.9)
≥787
( ≥9.9)
≥2624
( ≥33)
207-231
(26-29)
230 ºC
30AH
1080-1130
(10.8-11.3)
≥819
( ≥10.3)
≥2624
223-247
(28-31)
33AH
1130-1170
(11.3-11.7)
≥843
( ≥10.6)
≥2624
( ≥33)
247-271
(31-34)