box feeder powder coating machine

CL-151S-B is a copy model Manual powder coating equipment, box feed easy to chage colors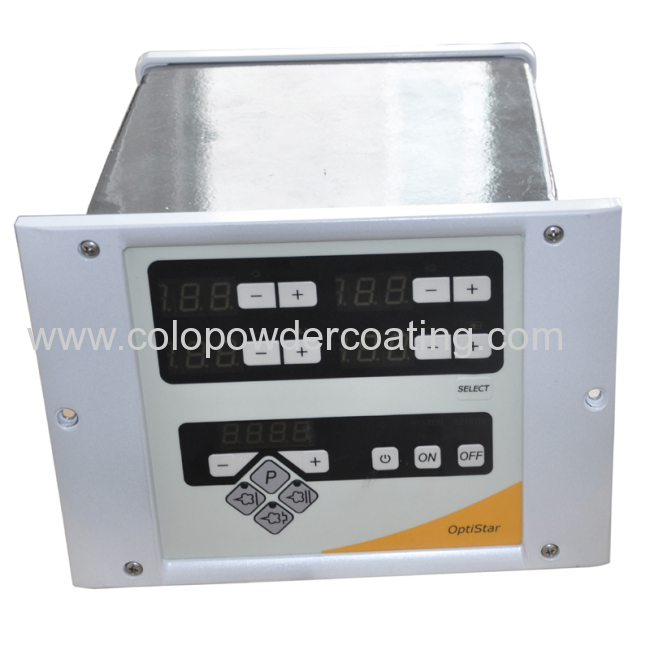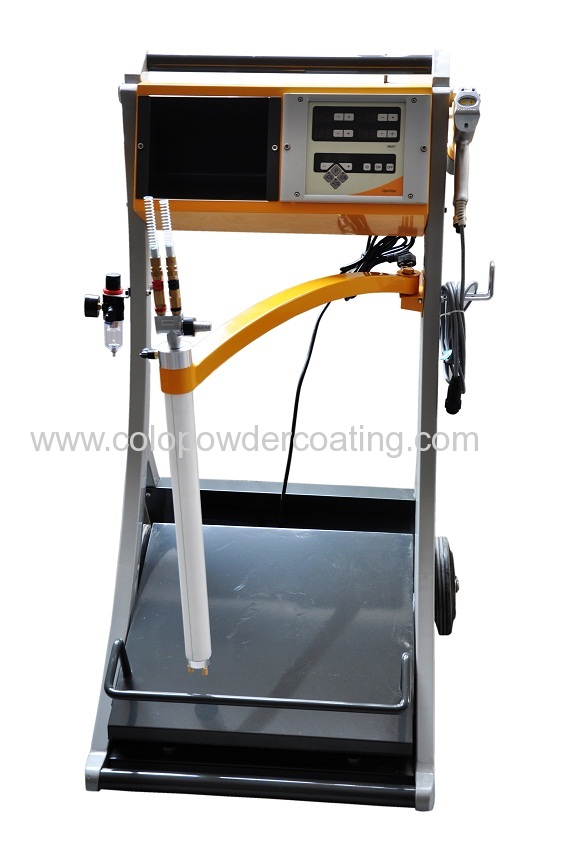 Host: colo-STAR, intelligent
Electrostatic spraying: COLO-SELECT manual spray gun
Powder barrels: spraying powder barrels of 50 l

The machine warranty for one year, life-long maintenance
Suitable for spraying complex workpiece, high efficiency greatly save powder waste and work time
Suitable for large factory export products processing user use
High-end quality and favorable price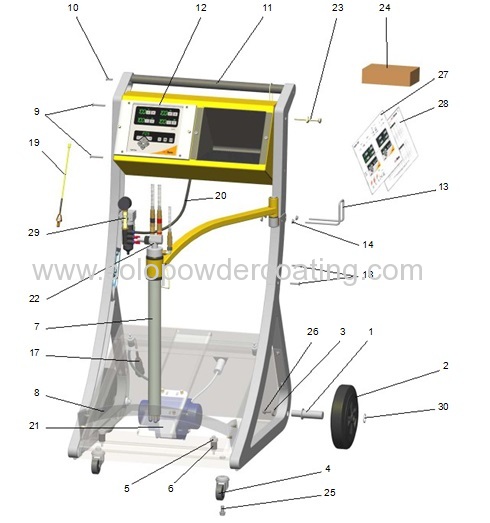 manual coating equipment - spare parts list
1Wheel shaft

2Rubber wheel - Ø 200 mm

3Lock washer - Ø 26 mm
4Swivel wheel - Ø 50 mm

5Spacing ring

6Rubber damper- Ø 20x25 mm, M6/2a 43sh

7Fluidizing/suction unit (see corresponding spare parts list)
8Stop plate
9Countersunk Allen screw - M6x40 mm

10Countersunk Allen screw - M6x20 mm

11Handle bar

12CG07 gun control unit - complete (see corresponding user manual)
13Hose holder

14Hexagon shakeproof nut - M6
Cable connection fitting for vibrator cable - M16/1/6-10.5 mm, brass (not shown)
17Cable plug - 4 pins, male
18Countersunk Allen screw - M6x30 mm
19Grounding cable - complete
20Plastic hose - Ø 8/6 mm
21Vibrator motor - 220-240 VAC, 50 Hz
Vibrator motor - 120 VAC
22IG02-V Injector - complete (see corresponding user manual)
23Gun retainer
24Spare parts set - MB02, consisting of:
Insert sleeve PTFE
Injector plug gauge
Fluidizing pad - 1/8"a
O-ring - Ø 16x2 mm
Fuse - 4 AT
Fuse - 2 AT
Fuse - 0.1 AT
Cable tie - L=100x2.5 mm
25Ribbed cylinder screw - M10x20 mm
26Hexagon ribbed cylinder screw - M8x16 mm
27Short instruction sheet OptiStar CG07
28Program table sheet OptiStar CG07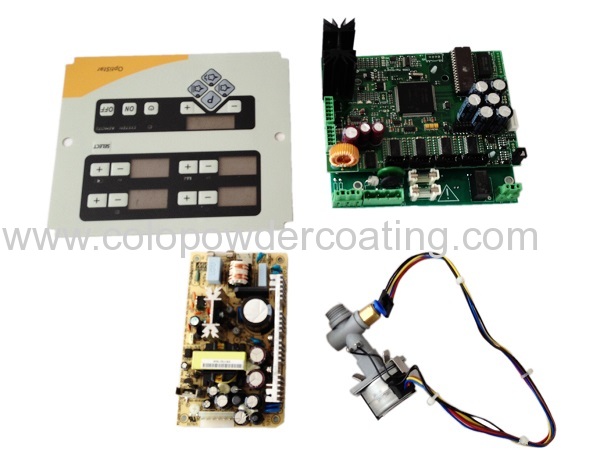 Color change
When a color change takes place, the individual components of the ma-
nual coating equipment must be cleaned carefully. Thereby, all powder
particles of the former color must be removed!
Procedure:
1. Clean the fluidizing/suction unit
2. Clean the powder hose:
Strip the powder hose from the hose connection on the
injector
Point the gun into the booth
Blow through the hose manually with a compressed air
gun
Fit the powder hose again to the hose connection on the
injector
3. Dismantle and clean the powder gun (see therefore the user ma-
nual of the OptiSelect manual powder gun)
4. Clean the injector (see therefore the user manual of the OptiFlow
injector)
5. Prepare the manual coating equipment with new powder for
start-up
Connection guide‍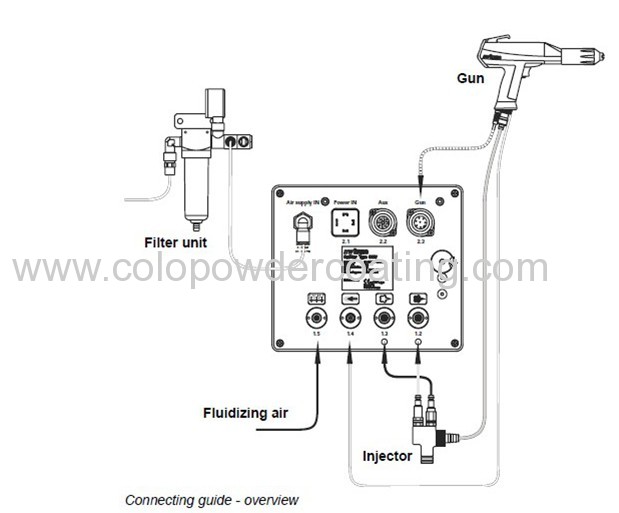 You also could know how to connect from the video.

powder coating gun
Good for coating workpieces with complicated shapes,1.light weight, 2. highly efficient working, 3. 0-100V output in the gun


Technical parameter(high voltage module):
Input power voltage: Max. 20V (peak-peak value)
Input current: Max. 0.8A
Frequency: 9-30KHZ
Output power voltage: Max. DC-100KV
Output current: Max. 150uA
Polarity: Negative
Weight: 500g
The GUN:
Integrated controls on the gun
POWDER FLOW AND HIGH VOLTAGE:
Adjustable parameter settings: Optimum electrostatic charge
whatever the part to coat and type of powder

Integrated controls on the gun
4 basic preset adjustments in memory
Application with round spray nozzle:
• Increases particles charge
• Better wrap round and higher transfer efficiency
• Very homogeneous pattern on complex or simple shaped parts.
Application with fan nozzle spray:
• Very good coverage and efficiency and flat parts
• Easy coating in deep recesses
• Very good penetration in complex parts.
Application adapted with round or fan spray nozzle:
• Re-coating
• Large thickness of powder (> 100 μm)
• Low conductive substrates (glass, wood,...).
Application adapted with round or fan spray nozzle:
• Suitable for metallic powders
• The voltage (kV) can be increased to improve the transfer efficiency.
Why doesn't the gun control show any Kv reading?
Possible Causes:
Loss of power to the unit.

Failure of LED driver (circuit board)

Internal gun failure (cascade)
Factory: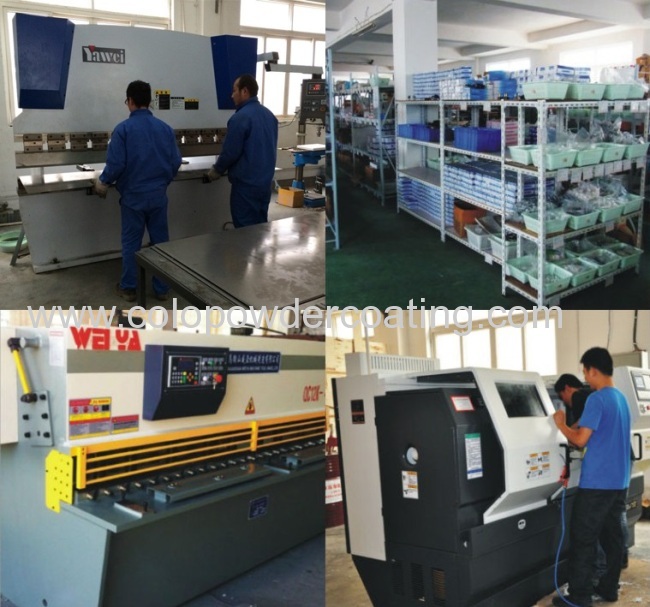 Packing & delievry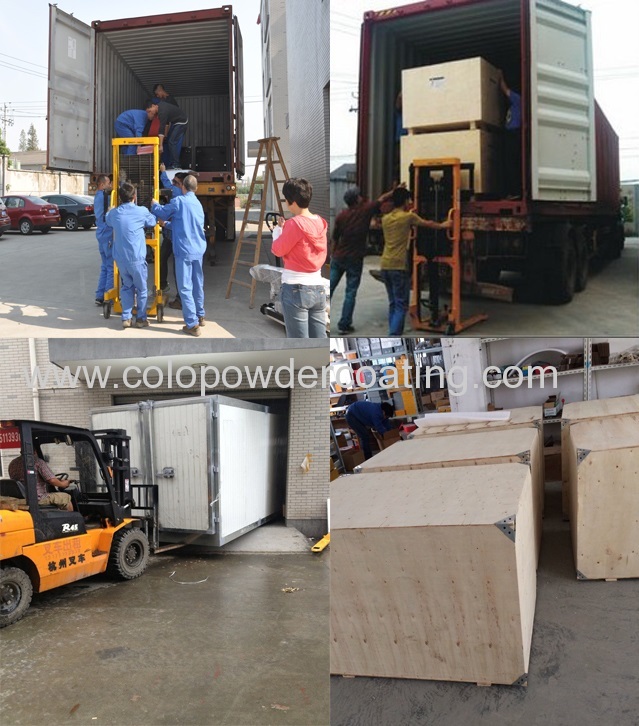 Show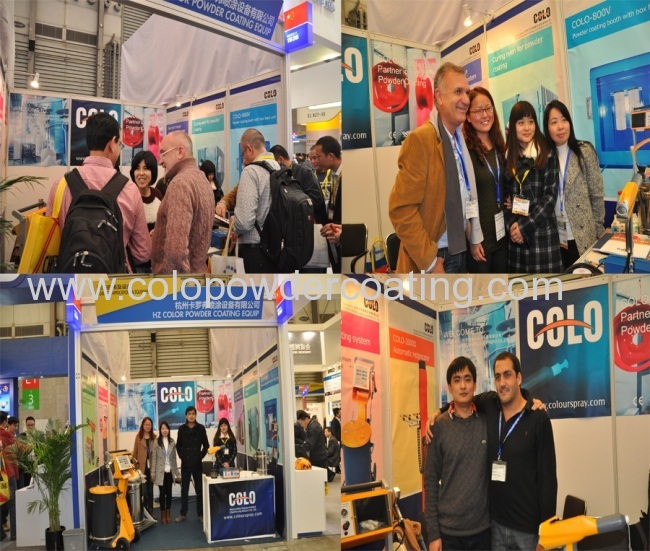 We produce electrostatic powder coating equipments, automatic reciprocator, powder spray booth, curing oven and spare parts for G ,W , N , K famous brand in china for many years ,COLO brand equipments have already exported into more than 90 countries , we promise good quality and after-sale service all the time . We got used to do business by the price of FOB Ningbo or Shanghai,besides we also accept the exceptions for the clients' request. Deliver time will according to your order items and quantity.
Any inquiry, please contact: