High Pressure Straight Pipe
High pressure straight pipes have four different types: pressure seal, non-pressure seal, integral type and welding type. We can provide integral straight pipes in 1"-4" and 1000psi to 15000psi straight pipes with available length 1m, 1.5m, 2m, 2.5m, 2.8m long. We also provide HP straight pipes with other sizes and pressure ratings as per customer's requirements.
Hose Loops
The hose loops are suitable for HP discharge pipeline, water supply lines, well test lines, cementing slurry lines and other HP supply lines. The are comosed of swivel joints and straight pipes, and features by flexibility, stability, quick installation and easy dismantling. They can be easily connected with pumps or other pipes with unions.
We supply three types hose loops, including short reaius flexible manifolds, long radius flexible manifolds and integral type flexible manifolds, with sizes of 1", 1 1/2", 2", 3", 4" and pressures of 5000psi - 15000psi
Features&Benefits
Swivel joints: all steel hoses feature Chiksan swivel joints which provide flexibility, absorb shock and vibration, and maximize flow Characteristics.
Simplifies transportation and layout:
Hoses fold up easily and quickly for transportation and storage
Swivel joints
Various models of swivel joints and their repair kits are available, suitable for normal or low temerature, or H2S environments, with sizes ranging from 1" to 4" and reated WP ranging from 2000psi to 20000psi. We can supply long and short radius swivel joints. Long radius swivel joints can minimize fluid shock, and has better performance of resistance for scouring an derosion. We also need to use short radius swivel joint for low pressure operation due to limited installation space.
Fast installation
Whatever they, wing nuts and right ACME will ensure quick installation or dismantling without special tools.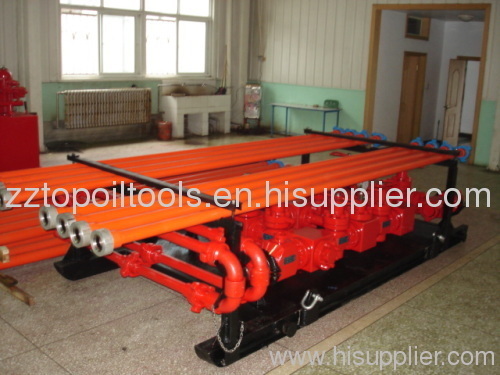 As the manufacturer, we produce below items:
-DST tools- Full bore retrievable packer, circulating valve, select tester valve,safety valve etc.
-Surface well testing equipment - Flowhead, SSV, ESD,Separator etc.
-Wellhead equipment such as BOP, X-mas tree, Choke manifold, kill manifold, drilling spool, casing head and other valve & flanges
-Downhole tools such as stabilizer, stabilizer forging, reamer, X-over sub and etc
As the distributor, we are working with large rig companies and heavy equipment manufacturers for the below products:
-Rig parts from RG,BOMCO,SJ,Hong Hua,KR etc,such as mud pump,rotary table, hook & block, swivel, crown block and consumable parts
- BOP and wellhead parts from Rongsheng,Shenkai
- Pipe- Tubing, Casing, seamless pipe
- Handling tools and Fishing tools