AKER voice clarifying amplifier personal voice amplifier voice enhancer stereo amplifiers home stereo amplifier AK500W
Aker voice amplifier co.,ltd, specialized in voice amplifier manufacturing
ever since 1982. with the strength of lithium battery powered voice amplifiers,with functions of
Voice amplifier,mp3 player,i-phone music player,usb player,for teachers,tour guiders, promotion sales,entertainment(self ktv).
We are willing to service the best goods for our clients,including teachers,tour guiders,in door/out door public addressing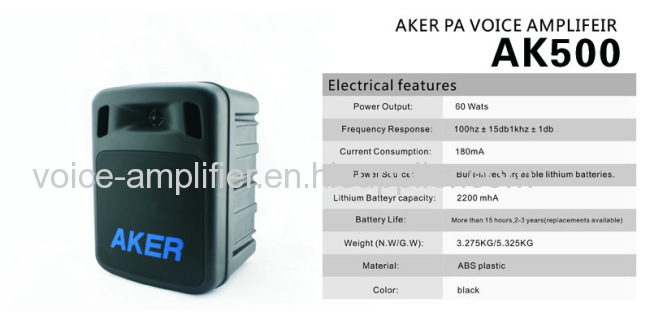 Features:
1.Using class D audio amplifier microchip.
2.High-capacity built in lithium battery
3.Muti functional audio player for USB/TF/SD flash
4.Built in wireless microphone(optional)
5.Audio amplifier of DVD/VCD/PC/CP
6.Intelligent Automatic power management system
7.Huge power,excellent sound effect
8.One-click audio recording/record play
Package Included:
1.Wireless handset microphone 2.Battery charger 3.Mp3(audio) cable(male to male)
4.Adjustable waist belt 5.Carry bag 6.Quality warranty card
Adaptable usage:
1.For band use(outdoor) voice amplifier.
2.For teaching use(indoor) voice amplifier
3.For tour guiders(outdoor) voice amplifier
4.Public address,promotion waistband voice amplifier
5.Mp3,iphone,ipad audio loud speaker
6.FM radio player
7.LCD indicator,Lyric comply display
Advantage:
1.Extremely economic for especially for band, Advertising and entertainment use
2.Professional voice amplifier
3.Excellent soud effect,Echo control adjustable
4.Muti functional audio player,FM radio,Self ktv function
5.Excellent Audio player,Lyric comply display
More
portable pa system / portable amplifier with microphone /
portable amplifier / portable amplifier with headset microphone
portable amplifier system / portable amplifier pa / portable amplifier pa system
wireless portable pa system / pa sound system / outdoor pa system
digital pa system / portable public address system / portable amplified pa sound system
portable microphone speaker system / portable personal amplifier
wireless portable voice amplifier / Voice amplifier for teachers
Voice amplifier with mp3 / Voice megaphone / Wireless voice amplifier
Megaphone / Megaphone 12v / Wireless megaphone / Rechargeable megaphone
Mini megaphone / Portable megaphone / Outdoor megaphone
Small megaphone / Amplifier speaker megaphone / Waistband megaphone
Hand-held megaphone / Powerful megaphone / Portable megaphone speaker
Portable megaphone amplifier / Teacher speakers / Lecture microphone