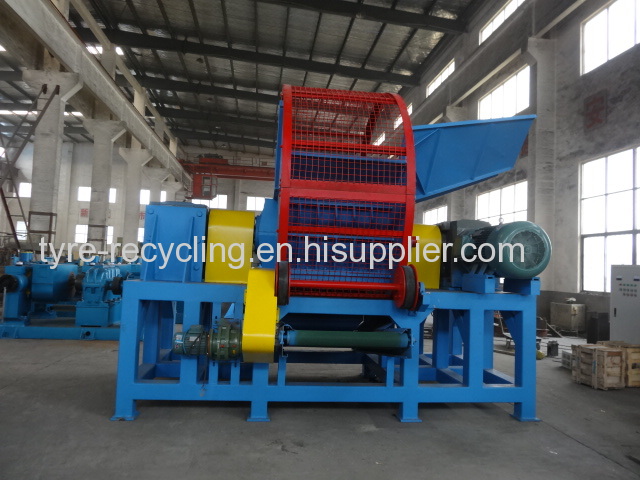 Use:
Can cut off various kinds of rubber piece. Adapt to the cutting off various kinds of rubber ones , such as oblique rubber tire, steel wire tire , rubber lump, etc.
Technical parameters:
| | |
| --- | --- |
| Type | 1200 |
| Size of charge-in (mm) | ≤1200 whole tire |
| Size of charge-out (mm) | ≤50×80 |
| Capacity of waste rubber handling (T/h) | 1.5~3 |
| Power of motor (kw) | 150 |
| Overall size (m) | 5.2×2.8×3.5 |
| Weight (T) | 15.6 |
Structure and Principle
The shredding chamber adopts folio compact structure for easy maintenance;

The shredding blade edges are made of hard alloy after special hardness treatment, wear-proof;

The blade edges are made replaceable without dismantling the machine, blades changing and repairing jobs are made easy and not costly and more, heavy-duty, advanced technology and high output;

The machine adopts low noise, steady and high torque planet-gear speed reducer, easy and safe operation;

The rotary screener is of steel net structure which has large area for screening qualified size of tire chips to discharge quickly. Low consumption and high output with advanced technology.
Finished product: