Since the establishment in 2002, our Shuangsheng brand has obtained good reputation from customers at home and abroad, our small sized series injection molding machines are featured with small, precise, profeesional and stable.
The model SSF700-K5 injection molding machine is widely used by customers to produce all kinds of small plastic parts such as precision gears,color chips, medical care parts and etc, the Parameters of this machine are as below;
Items

Parameter

Unit

Parameter Value (SSF700)

Injection Unit

Screw diameter

mm

A

B

34

36

Screw L/D ratio

L/D

18.8

17.7

shot volumn (theoretical)

Cm3

113

127

injection weight(PS)

g

103

115

plasticizing capacity

g/s

11.6

13

injection rate

g/s

86

96

injection pressure

Mpa

171

153

screw speed

rmp

180

Clamping unit

clamp force

KN

700

open stroke

mm

270

space between bars (W*H)

mm

315*300

max mould height

mm

320

min mould height

mm

150

ejector stroke

mm

80

ejector force

KN

27

ejector number

PC

1

mould align diameter

mm

100

Others

max pump pressure

Mpa

16

pump motor power

KW

7.5

heating power

KW

5.1

machine dimension

m

3.6*1.2*1.65

machine weight

T

2.2

oil tank capacity

L

130
Standard Features
Colorful Techmation controller with optional languages;
Chrome plated tie bars with double-cylinder balanced injection system;
Auto lubrication system;
Mould data memory system, can save 199 set molds data;
Multi-stage pressure &speed injection;
Back pressure adjustment device;
Low pressure mold protection;
Mechanical, electrical safety device;
Automatic mould adjustment function;
T-slot mold platen for machines above 100T;
Automatic purge function.
Available Options
By pass oil filter;
Oil temperature controller;
USB port data connecting;
Hopper dryer;
Mold clamps;
Vickers directional valves;
1PC core valve for SSF380,SSF500,SSF700,
2PCS core valves for SSF900,SSF1180,SSF1480,SSF1680;
2PCS air valve for machine SSF380 and above;
3 Color alarm light;
Ceramic heater bands;
Water flow regulator;
Special screw designs for PA66,PVC,PC production;
Customized color (color sample for comparison required);
Hydraulic safety mechanism.
Spare parts
Manual for machine and controller;
1 Set various O-rings;
1PC extended nozzle;
1Barrel lubrication oil;
Professional tools such as wrench, screw drivers;
1Set crash pad(6pcs)
Clamping unit
Five-point inward moving toggle system ensure high rigidity and precision for mold clamping and also reducing stress and stain effects;
The moving platen is fitted with adjustable slide support system to improve platen parallelism and provide better tie bar and mould protection and lengthen the working lifetime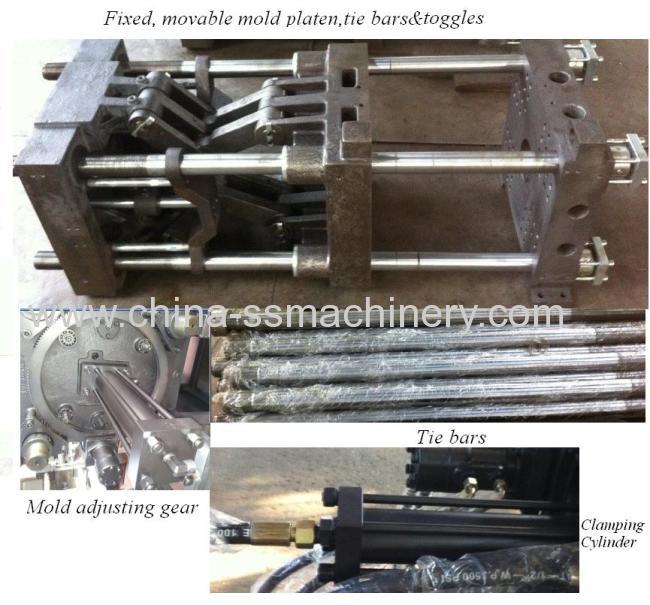 Injection unit
A wide variety of screws are available for different polymer processing requirements. Special engineering materials are used to manufacture the screws to ensure optimal quality and processing life;
The injection unit incorporates a dual-pillar supporting system with balanced twin cylinder injection unit for evenly distributed force and rapid screw motion;
Nozzle alignment is provided using a simple mechanism with fine adjustment for accurate centering;
High quality nitride or chrome plated alloy screw with a nitrogen-treated barrel provided anti corrossion with high wear resistance for an extended working life.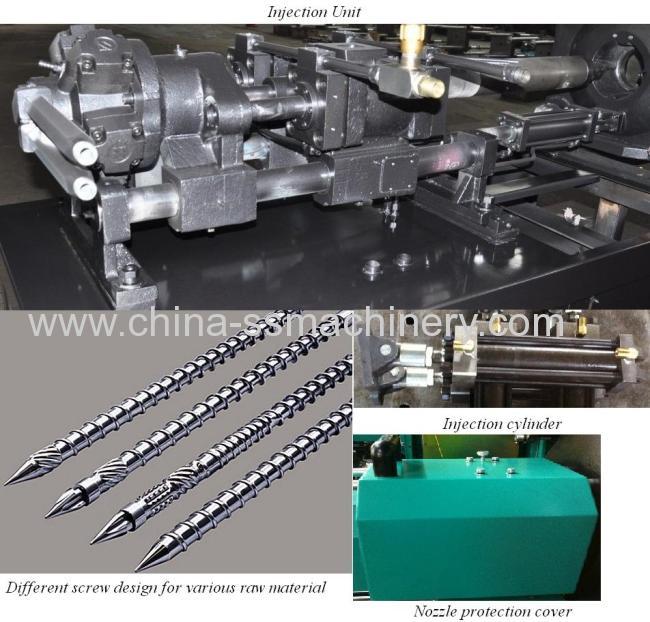 Electrical and hydraulic components;
Major hydraulic components and seals are sourced from world famous manufacturers providing high reliability and interchangeability.
Controller is from Techmation, with multiple language for selection, of including but not limited English, Spanish,Turkish,Persian,russia and etc.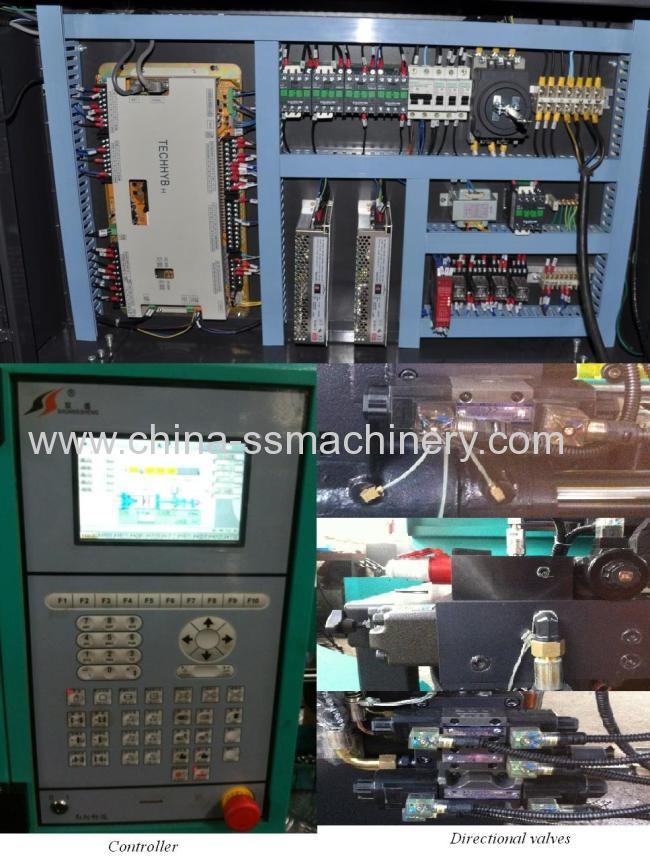 Lubrication system;
The toggle system uses oil-sleeve bushes lubricated by an automatically control central lubrication unit which provides excellent lubrication quality to all points and extends the clamping unit working life.
There are 2 type of lubrication agent, one is lubrication grease, the other is lubrication oil, per customer's final products requirements, medical parts prefer to use lubrication oil to avoid any contamination.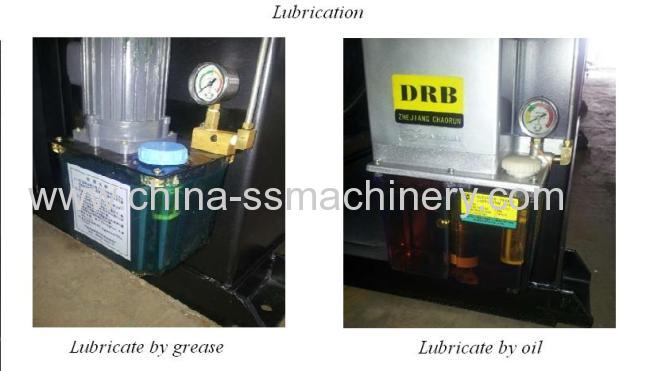 Motors and pumps;
We have 2 series injection molding machine, one is fixed pump, the other is servo motor.
Fixed pump machine is a traditional machine enjoys the features of stable, servo motor enjoys the advantanges of energy saving.
Low noise, below 78db, servo motor almost has no noice when no movement of machine.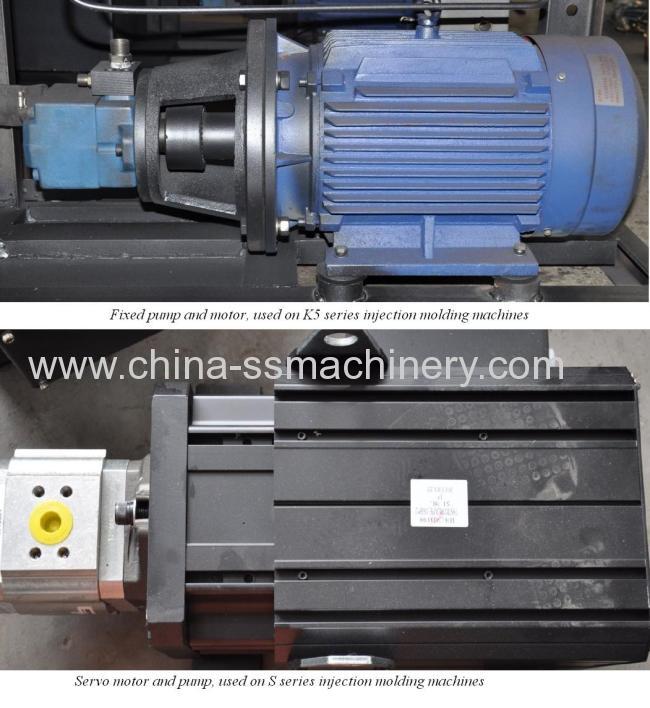 Plastic parts that can be made but not limited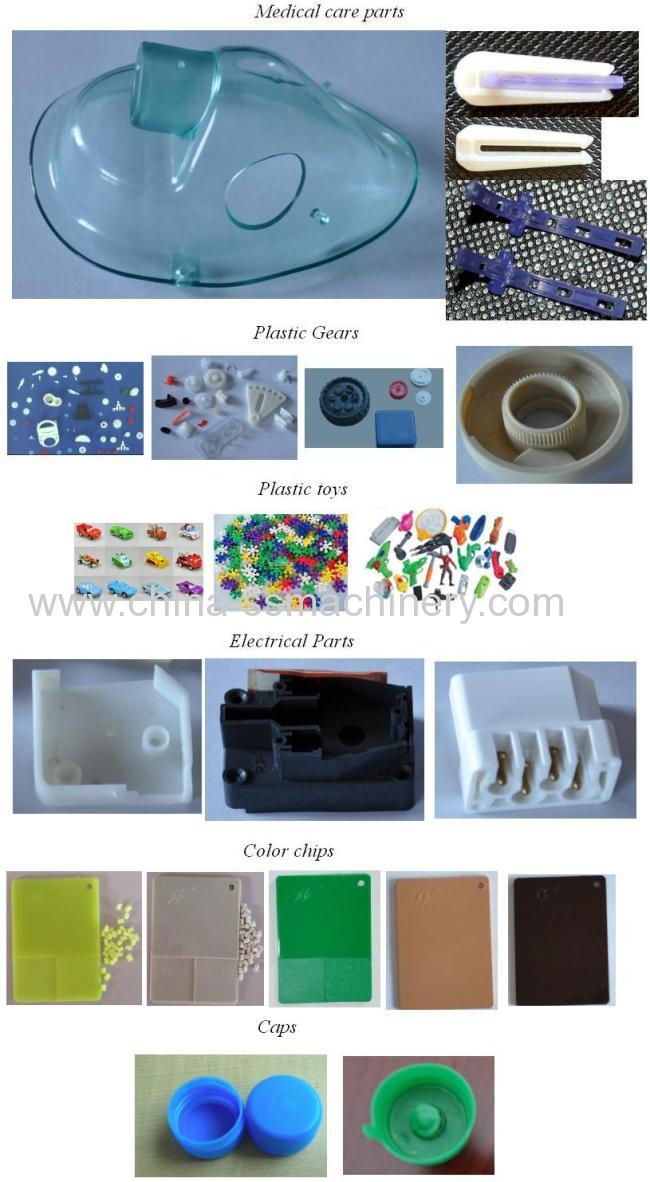 Agent wanted
In order to bring our machines to more customer worldwidely, we are sincerely to invite distributors to get exclusive agency agreement from us.
We have signed agency agreements with distributors in Argentina, Denmark,Poland,Russia,Turkey.
Welcome your join-in.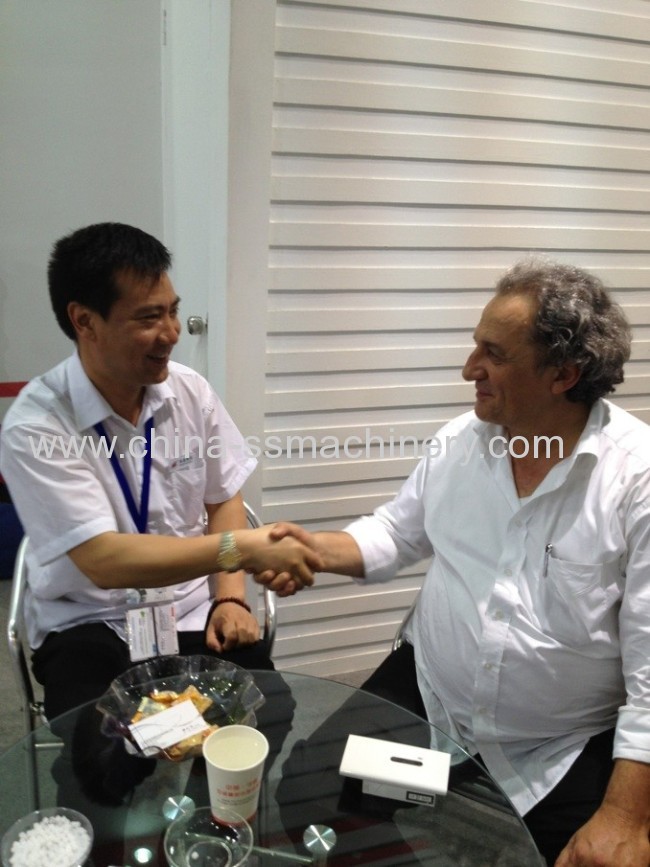 Our Services;