Mixed Metal Oxide Coating Insouble Titanium Anode for Copper Foil



1. Substrate:

Pure titanium Gr1

1) Composition


| | |
| --- | --- |
| C | max 0.08% |
| N | max 0.03% |
| H | max 0.015% |
| Fe | max 0.20% |
| O | max 0.18% |
| Residual | max each 0.1% |
| Residual | max total 0.4% |
| Ti | balance |
2) Coating: Mixed Metal Oxide


2. Parameters

1) Coating Thickness: 12 microns

2) Current density≤12000A/M2
3) PH 0.1~14
4) Max content of Fluoride ion is 200PPM

3. Features

1) High electric catalytic property
2) High anti-corrosion property
3) High current efficiency property
4) Keep the operating voltage stably
5) Long lifetime
6) Different complex geometry design

4. The flow of MMO Titanium Anode

Raw material --- Shearing ---Machining --- Blasting --- Picking ----Automatic coating---Inspection---Package

5. Quality Assurance

The Testing Procedures and Items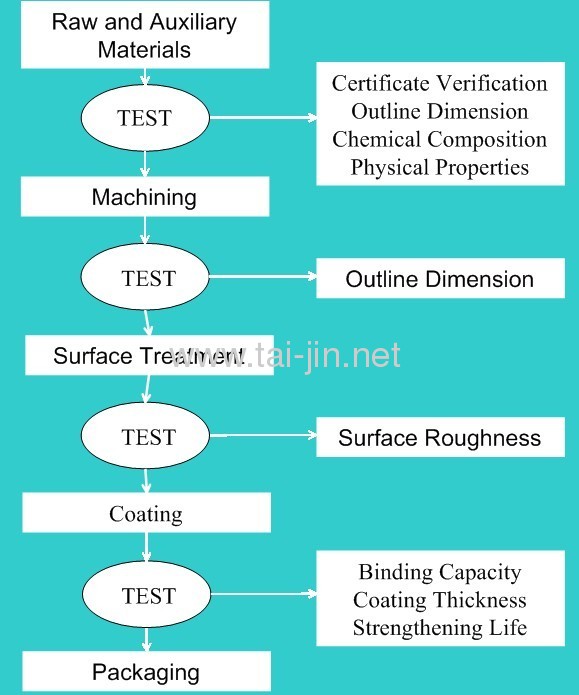 The Certificates of ISO9001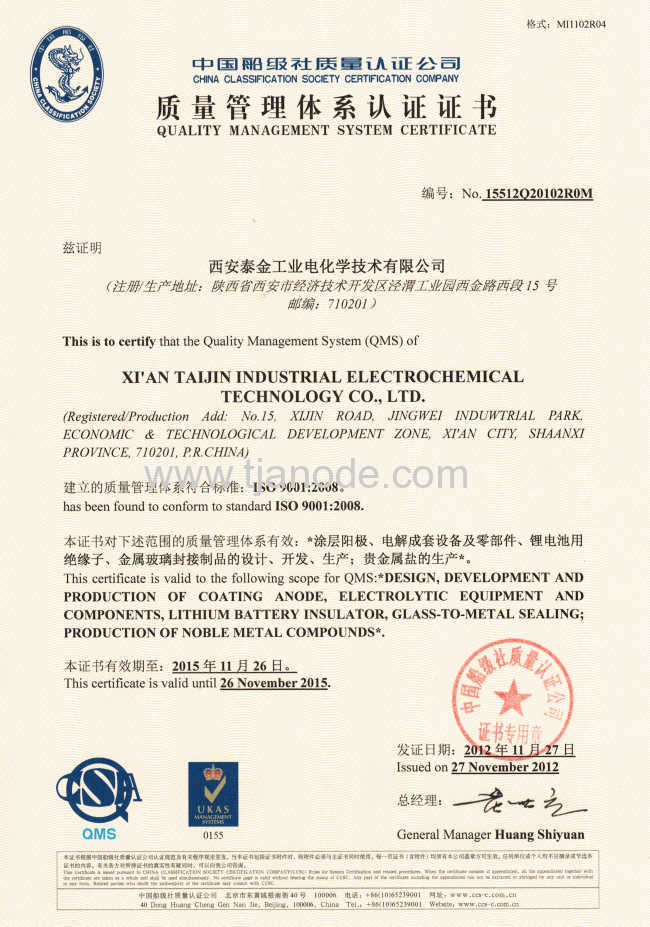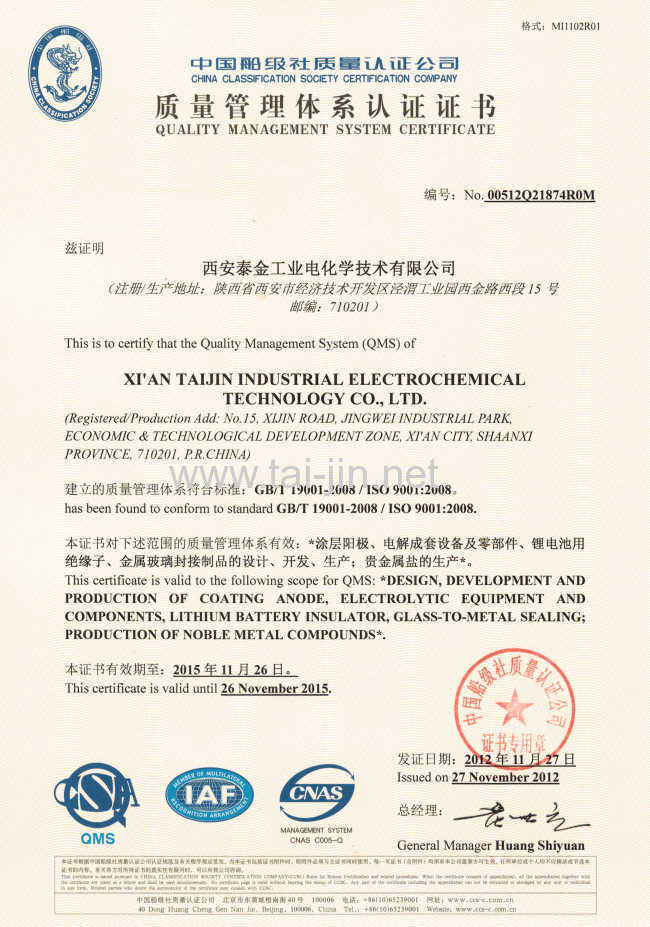 Quality Guarantee:

(1) Main quality indicators: titanium substrate, precious metal ratio, accelerated life, coating binding force to the titanium substrate/coating adhesion
(2) With advanced technology & equipment, abundant experiences and skilled workers,during the production of Titanium Anode, each process must be strictly supervised and tested, including the surface treatment of titanium material, coating quality, coating evenness, coating binding force to the titanium substrate and so on.
(3) We have own R&D, Production and Sales department, we always struggling to supply the product with the most excellent quality and the most favorable price and supply the most efficient service.
(4) Strict Pre-delivery inspection for each order, the original Mill Test Certificate available to attach to the delivery
(5) Warmly welcome you send inquiry to us.

6. Main Export Markets:
Asia

Australasia

Central/South America

Eastern Europe

Mid East/Africa

North America

Western Europe

7. Equipment

Machining Equipment






Precise Temperature Control Resistance Furnace






Coating Thickness Test






8. Products



9. Product Catalogue


1. Anodes Impressed Current for Cathodic Protection


Titanium Anodes


1)Mixed Metal Oxide Ti Wire & Piggy Back Wire Anode

2)Mixed Metal Oxide Ti Ribbon & Mesh Ribbon Anode

3)MMO/Platinized Ti Tubular & Anode string &Canister Anode

4)MMO/Platinized Ti Rod & Probe Anode

5)MMO/Platinized Ti Discrete Anode

6)MMO/Platinized Ti Disk & Sheet & Plate Anode


High Silicon Cast Iron Anode


1)HSCI Rod Anode

2)HSCI Tubular Anode


Cathodic Protection Materials


1)CP Wire and Cable

2)Anode Calcined Petroleum Coke Backfill


2. Galvanic Anode


Magnesium anode


1)MG High Potential Anode

2)H-1 Alloy Mg Anode

3)Pre-packaged Mg Anode

4)Cast Mg Rod AZ-63 Alloy

5)Mg Extruded Rod /Ribbon Anode


Aluminum anode


1)Aluminum Cast Anode

2)Aluminum Extruded Rod Anode


Zinc Anode


1)Zinc Cast Anode

2)Zinc Ribbon anode


3. Titanium Anodes Used in Other Field


1)Mixed Metal Oxide Titanium Anode for Hydrometallurgy

2)Mixed Metal Oxide Titanium Anode for Electrolysing Copper/ Aluminum Foil

3)Mixed Metal Oxide/Platinized Titanium Anode for Sodium Hypochlorite and Seawater Electrolysis


4. Titanium Product


1)Titanium Clad Copper Metal Material

2)Titanium Art Products

3)Titanium Fasteners

4)Titanium Material