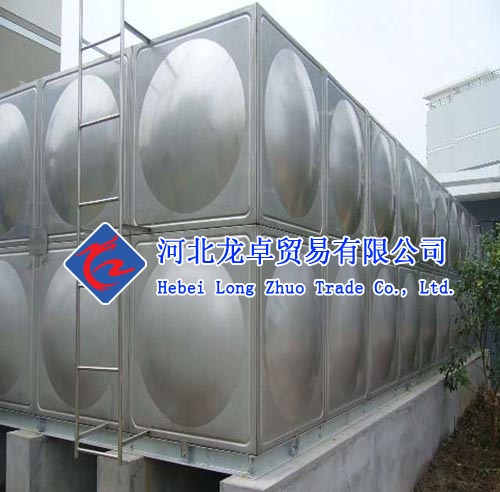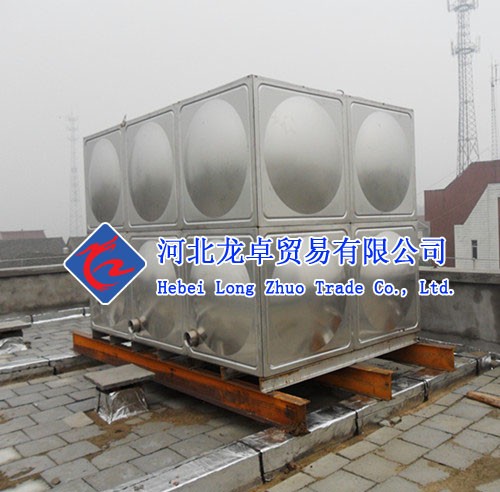 Stainless steel water tank
Material
To ensure usage safety of water tanks, SUS304,SUS316L,SUS444,JYH21CT can be
choosen depending on the water quality and usage environment ,stainless steel
boards are shaped by hydraulic press mold, the standard specification is 1000
x1000mm or 1000 x 500mm, they are welded on site by arc-argon welding machine
with stainless steel welding wire ER308,H0Cr21Ni10,the welding surface is washed
and passivated by acid to ensure the welding parts will not get rusted, and the
base is made by Q235-A steel.

Accessories
Water tank accessories are available, such as feeding pipe, discharging pipe ,over-flow
pipe,draining pipe,ventilation hole, maintenance hole, ladders,bug-stopping
net,floater and water level controller etc.
Application
Construction & fire-fighting water supply
Water storage pool
Water supply for living and production of industry, mining and enterprise
Water circulation system, chilling water and hot water supply system

Advantages
1.Never Rusted
Imported food-grade SUS304,SUS316L,SUS444,JYH21CT stainless steel,unique anti-rusting performance.
2.Never Leaked
Unique structure and all-welding operation, excellent strength.
3.Free Combination
Pattern and capacity can be customized according to actual usage environment, no demanding requirement, especially suitable for upgrading project.
4.Reasonable Structure
Unique board design and press processing, reasonable inside supporting bars and high-strength stainless steel material makes the water tanks have an excellent strength and streamlined outlook.
5.Light & Cost-efficient
Adopting 1.5-3.0mm stainless steel boards, significantly reduce the weight of the water tanks,
make it more cost-efficient.

If you're are interested in the stainelss steel water tank please provide the following parameters: size (length, width, height), material, special requirements (the thickness of the internal material, water temperature), we shall provide you competitive price. Looking forward to our cooperation!