The Discrete Mesh Anodes
The Discrete Mesh Anodes compliments our existing anode product line for the Cathodic protection of steel reinforced concrete structures. It is composed of a precious metal oxide catalyst on an expanded titanium mesh substrate.

The Discrete Anode is available in 100 mm, 150 mm, 200 mm, 250mm , 300mm, 350mm and 400mmlengths that can be combined to meet specific requirements.

1. Substrate& Coating


Titanium ASTM B265 Grade1

1)Composition



| | |
| --- | --- |
| C | max 0.08% |
| N | max 0.03% |
| H | max 0.015% |
| Fe | max 0.20% |
| O | max 0.18% |
| Residual | max each 0.1% |
| Residual | max total 0.4% |
| Ti | balance |

2)Coating:Mixed Metal Oxide-IrO2+Ta2O5

2. Parameter


| | | | |
| --- | --- | --- | --- |
| Dia.25mm * L | Diamond dimension(mm) | Current Rating | Expected Life(Y) |
| 100mm | 2.5 * 4.6 * 0.6 | 4.2mA | 50 |
| 150mm | 2.5 * 4.6 * 0.6 | 6.2 mA | 50 |
| 200mm | 2.5 * 4.6 * 0.6 | 8.4mA | 50 |
| 250mm | 2.5 * 4.6 * 0.6 | 10.5 mA | 50 |
| 300mm | 2.5 * 4.6 * 0.6 | 12.6mA | 50 |
| 350mm | 2.5 * 4.6 * 0.6 | 14.7mA | 50 |
| 400mm | 2.5* 4.6 * 0.6 | 16.8mA | 50 |
| | | | |
| --- | --- | --- | --- |
| Specification | Wire Dia(mm) | Current rating | Expected life (Y) |
| φ25*100mm | φ2 | 2.7mA | 50 |
| φ25*200mm | φ2 | 5.4mA | 50 |
| φ25*300mm | φ2 | 8.1mA | 50 |
| φ25*100mm | φ3 | 2.7mA | 50 |
| φ25*200mm | φ3 | 5.3mA | 50 |
| φ25*300mm | φ3 | 8.0mA | 50 |


The dimension and parameter can be changed according to customer'srequest.

3. Where to use:

1) Bridges.
2) Parking garages.
3) Marine structures.
4) Steel framed buildings.

4. Advantages

1) gas venting: no buildup of anodic gases. Can be installed under fiber-reinforced polymer
(FRP) strengthening systems, membranes, and coatings.
2) embedded installation: no added dead weight or increase to physical dimensions of
structure from thick overlays.
3) Long lasting: 25+ year service life, the longest of any discrete CP anode system.
4) Highest level of protection: satisfies the 100mV depolarization criteria for effective
cathodic protection.
5) Proven technology: field verified performance.
6) cost competitive: compared to other types of ICCP anodes.
7) Deep installation: addresses multi-levels of steel and difficult access.
8) High operating current: suitable for use in areas of high steel density.
9) Versatile: can be used in new construction as a preventative measure.


5. Production Flow of MMO Andoe:


Raw material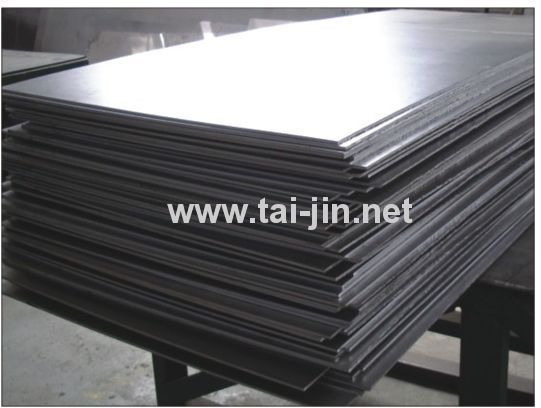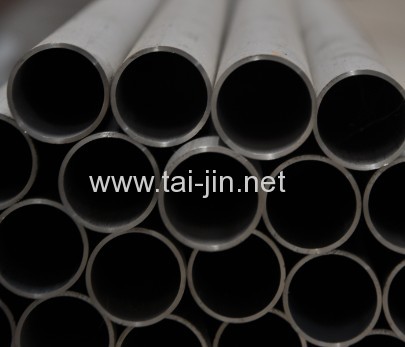 --- Shearing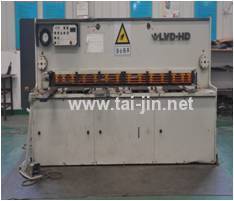 --- Machining




---welding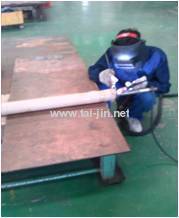 --- Blasting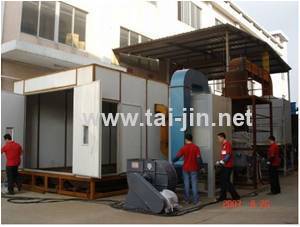 ---Picking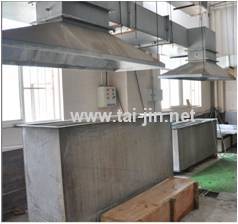 ---- coating

Manual brushing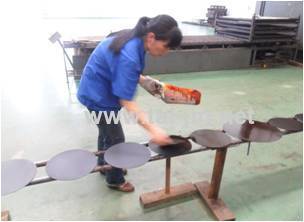 Automatic coating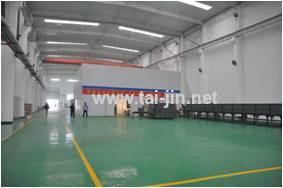 ---Inspection---Package

Accelerated Life Test Coating Thickness Test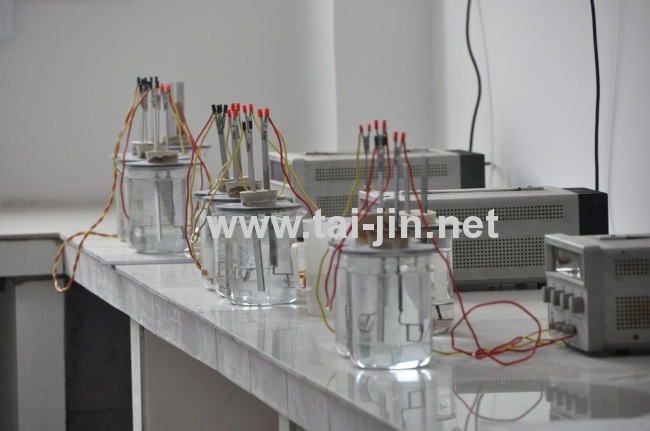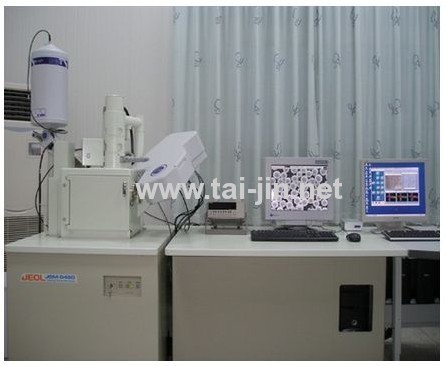 Packaging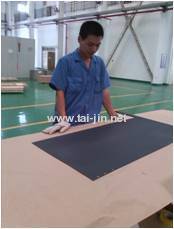 6. The List of Products from Xi'an Taijin



² Anodes Impressed Current for Cathodic Protection

Titanium Anodes

1)Mixed Metal Oxide Ti Wire & Piggy Back Wire Anode
2)Mixed Metal Oxide Ti Ribbon & Mesh Ribbon Anode
3)MMO/Platinized Ti Tubular & Anode string &Canister Anode
4)MMO/Platinized Ti Rod & Probe Anode
5)MMO/Platinized Ti Discrete Anode
6)MMO/Platinized Ti Disk & Sheet & Plate Anode

High Silicon Cast Iron Anode

1)HSCI Rod Anode
2)HSCI Tubular Anode
Cathodic Protection Materials
1)CP Wire and Cable
2)Anode Calcined Petroleum Coke Backfill

² Galvanic Anode

Magnesium anode

1)MG High Potential Anode
2)H-1 Alloy Mg Anode
3)Pre-packaged Mg Anode
4)Cast Mg Rod AZ-63 Alloy
5)Mg Extruded Rod /Ribbon Anode

Aluminum anode

1)Aluminum Cast Anode
2)Aluminum Extruded Rod Anode

Zinc Anode

1)Zinc Cast Anode
2)Zinc Ribbon anode

² Titanium Anodes Used in Other Field

1)Mixed Metal Oxide Titanium Anode for Hydrometallurgy
2)Mixed Metal Oxide Titanium Anode for Electrolysing Copper/ Aluminum Foil
3)Mixed Metal Oxide/Platinized Titanium Anode for Sodium Hypochlorite and Seawater Electrolysis

² Titanium Product

1)Titanium Clad Copper Metal Material
2)Titanium Art Products
3)Titanium Fasteners

7. Products: