The pre shipment inspectioncriteria covering quality, quantity, marking and packing are based on the client's specifications and reference samples, as provided. Upon completion of the final random inspection a detailed inspection report is sent to the client and the inspection certificate issued to the supplier if all findings are positive.
Inspection Item :Miningtype flameproof high-voltage vacuum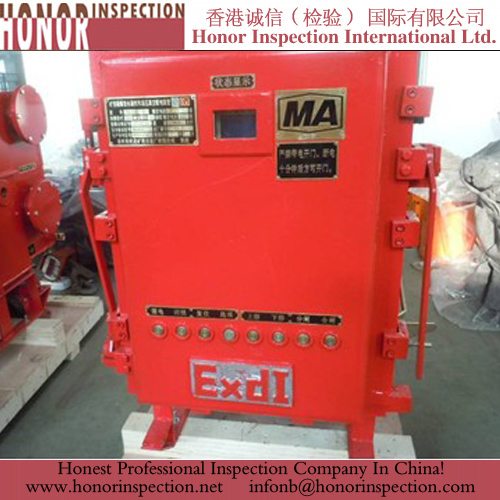 China ProfessionalPre ShipmentInspection Services

Our advantages in the inspection:

Honest inspection company in China.

Although we are not the biggest and most authoritative inspection company, but we are the most honest inspection company. We can ensure that our inspectors fair, integrity; Our inspection report true and accurate. To achieve this goal, we strictly selected inspectors, and formulate the perfect inspection process and system.
Please choose us, we will be your most honest and reliable friend
Professional inspectors' team.

Most of our inspectors have more than 5 years work experience; all senior engineers have more than 10 years work experience.
Before inspection, we will make a professional inspection checklist for each client's different products.
15 branches in China
We have inspectors in almost all Chinese major cities!
(Ningbo, Shanghai, Suzhou, Yangzhou, Guangzhou, Shenzhen, Xiamen, Chongqing, Hefei, Qingdao, Tianjin, Zhengzhou, Hainan, Changsha, Wuhan and 1 branch in Taiwan.)

We can provide the best inspection for you !