Specifications
1.Go-Chess pieces in Titanium Gr2/Gr5
2.Dia.10~35mm x Height
3.Polished treatment,Colored
4.OEM Service ok
5.MOQ: 1 set
Black Go-Games Pieces
1. Material: Titanium and Titanium alloy : Gr1,, Gr2, Gr3,Gr4, Ti-6Al-4V, Gr7, Ti-3Al-2.5V, Nitinol alloy
2. Titanium content: 99.7% Min
3. Size: Round Dia.10~35mm x Height or as per your requests
4. Surface treatment: Polished, Machined, Picking, Anodised, Color burnt, Homogenization heat treatment,
5. Characteristic: Non-magnetic, light Weight, high strength, excellent corrosion resisting
6. Packing: 180pcs/bag, 140bags/CTN
7. Ordering instruction
-a. Welcome to visit our company. And our company refute ro supply the price list of products. We offer as customer's detailed size and quatity.
The valid of offer is 10 days.
-b. .Inquiry must note Product grade, standard, size,technical requirements and quantity.
-c. For the machining parts: purchaser must supply the drawing.
-d. The delivery time of normal products is within 30days
-e. We take full responsibility of the quanlity of our products, welcome the customer give us a suggestion and advice to improve our quanlity and sevice.
| | |
| --- | --- |
| Item No.: | TJC |
| DESCRIPTION: | chess games |
| Packaging: | wooden case |
| QTY./CTN.: | 1 set |
| Product size: | 20mm |
| | |
| SIZE OF CTN.: | 47*39*23 cm |
| G.W/N.W: | 25.5/23.5 KGS |
| | |
Quality Guarantee:

1,Titanium Chess
2,For 2 couples of people entertainment
3,popular in China
4,MOQ:1 sets

5,ISO9001-2008
The Certificates of ISO9001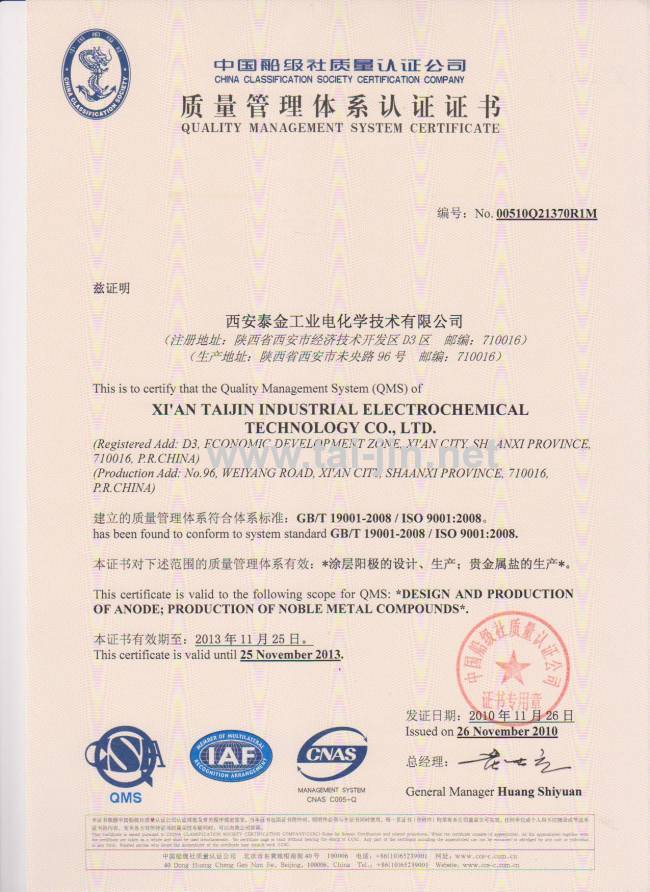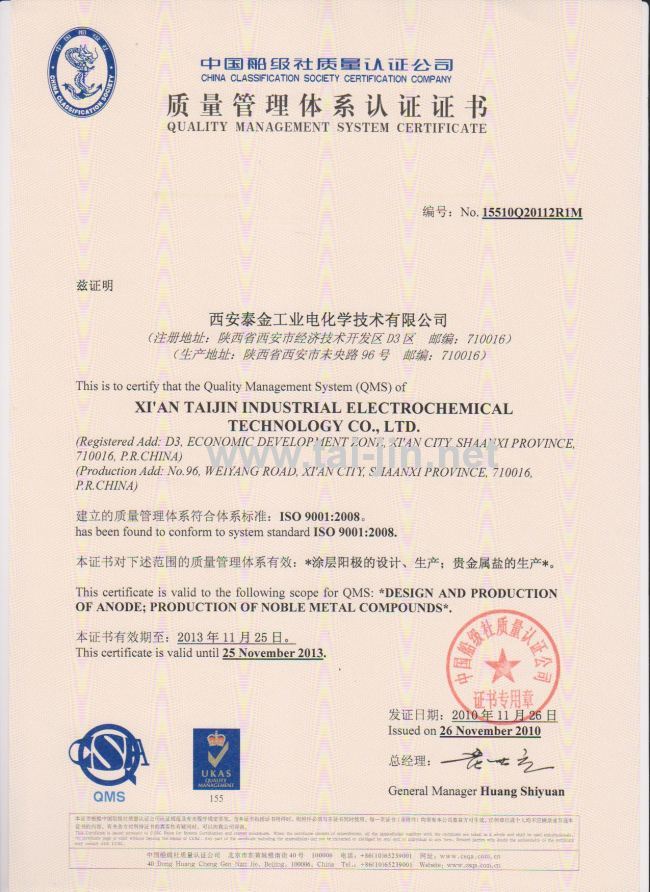 The List of Products from Xi'an Taijin


² Anodes Impressed Current for Cathodic Protection

Titanium Anodes

1)Mixed Metal Oxide Ti Wire & Piggy Back Wire Anode
2)Mixed Metal Oxide Ti Ribbon & Mesh Ribbon Anode
3)MMO/Platinized Ti Tubular & Anode string &Canister Anode
4)MMO/Platinized Ti Rod & Probe Anode
5)MMO/Platinized Ti Discrete Anode
6)MMO/Platinized Ti Disk & Sheet & Plate Anode

High Silicon Cast Iron Anode

1)HSCI Rod Anode
2)HSCI Tubular Anode
Cathodic Protection Materials
1)CP Wire and Cable
2)Anode Calcined Petroleum Coke Backfill

² Galvanic Anode

Magnesium anode

1)MG High Potential Anode
2)H-1 Alloy Mg Anode
3)Pre-packaged Mg Anode
4)Cast Mg Rod AZ-63 Alloy
5)Mg Extruded Rod /Ribbon Anode

Aluminum anode

1)Aluminum Cast Anode
2)Aluminum Extruded Rod Anode

Zinc Anode

1)Zinc Cast Anode
2)Zinc Ribbon anode

² Titanium Anodes Used in Other Field

1)Mixed Metal Oxide Titanium Anode for Hydrometallurgy
2)Mixed Metal Oxide Titanium Anode for Electrolysing Copper/ Aluminum Foil
3)Mixed Metal Oxide/Platinized Titanium Anode for Sodium Hypochlorite and Seawater Electrolysis

² Titanium Product

1)Titanium Clad Copper Metal Material
2)Titanium Art Products
3)Titanium Fasteners
Titanium Materi
Our related products: