battery powered sprayer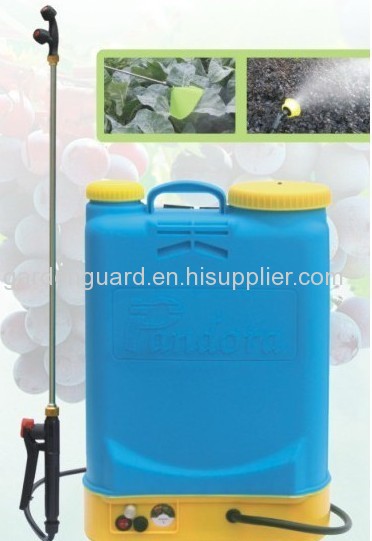 B. Product details:
Available colors for choosing:
1. Blue tank+yellow base; 2. Blue tank+black base; 3. White tank+red base
Battery:
SEALED-LEAD-ACID BATTERY
12V8AH/20HR
CAUTION
AVOID SHORT CIRCUIT
NOT CHARGE A SEALED CONTAINER
Battery charging time:
8AH: 8 hours (1.0A charger)
10AH: 8 hours (1.5A charger)
12AH: 8 hours (1.5A charger)
Pump:
Volts: 12V (9-14.4V)
AMPS: 2.1A
Flow: 0.7GPM (2.6LPM)
Press: 70PSI (4.88Bar) Cutoff
Note: BBRG, Thermal protected
Charger:
Input: 110V-240V AC
Output: 12V 1.0A DC
Note:
1. Mare sure that whether the current of output voltage corresponds to the battery and poles.
2. The indication lamp is red when charge, and green when be full of electric or float charging.
3. Please keep moist-resistant and shock resistant, the surrounding is required with
goodventilation when charge.
4. Please don't detach it because ints inside has high voltage, only use it in dry place indoors.
5. Please read carefully the directions of product before use.
Continuous working time:
4-5 hours within 8AH battery, 2.6L pump.
6-7 hours within 10AH battery, 2.6L pump.
7-8 hours within 12AH battery, 2.6L pump.
Nozzles(standard for each sprayer):
2-hole nozzle for fog, spraying diameter near 140mm.
4-hole nozzle for fog, watery, spraying distance can be adjust according to demand.
Spraying diameter(fog) near 100mm, spraying distance 0-3.5M.
5-hole nozzle for wide range, good atomization effect, spraying diameter near 130mm.
Note: our company have more than 300 nozzles for customers to choose. Brass nozzles, plastic
nozzles,adjustable nozzles,1-hole-multi-head,1-head-multi-hole, flower nozzles, shield nozzles,
annular nozzles,garden sprinklers,...etc.Details can refer to our catalogue.
If users want to spray for high crop or trees,we can change parts to spraying gun or make the
pressure more high(change high-pressure pump).
Material:
100% new material, PP(Injection mould), PE(Blowing mould).