Introduction
1. QJ series submersible motor deep well pump is an equipmet mainly used for groundwater extraction and also widely used in field irrigation, drainage of factory enterprises and domestic water supply of plateau mountainous area.
2. QJR series submersible hot water pump, adopt special material and structure , used for extraction of underground hot water.
3. Submersible deep well pump joins pump body and motor into one.
4. With graphite bearing, it's very wear-resisting.
5. Applies new design theory and new design technique,its efficiency has been improved 20% than traditional water pump
6. Easy installation, safe and reliable operation, convenient maintainance.
Working condition
1. Water temperature ---- QJ model:≤20°C, QJR model: ≤90 °C
2. Sediment concentration in water can not exceed 0.01%.
3.380V voltage deviation is no more than ±5%, frequency is 50HZ, three -phase power deviation is no more than ±1%.(Adjusted per customer's detailed demand)
4. Motor cavity must be filled with water.
5. The first stage impeller of the pump should be more than 2mm below the moving water surface, pump unit should be less than 70m below the static water level.
6. The distance from the motor bottom to the bottom of well must be more than 3m.
7. PH value of water 6.5~8.5
Parts material
Impeller: Cast iron HT200,or stainless steel
Pump bowl: Cast iron HT200,or stainless steel,such as ss304 ss3016
Pump shaft: Cold-drawn steel with chrome plating,or stainless steel ss304 ss316
Motor Seal: Rubber O-ring seal,mechanical seal
Motor regulating sleeve: Rubber
Structure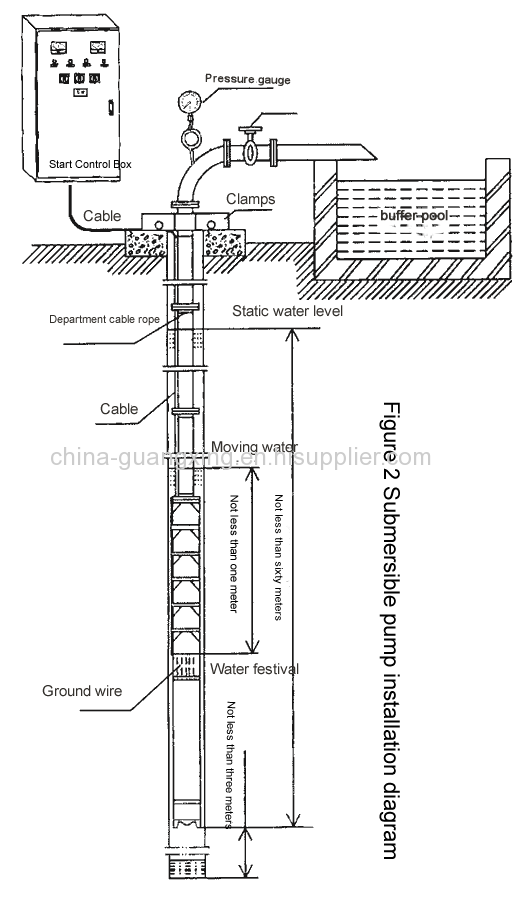 Overview of our company