AH36001-05A.05.00
Upper Valve guide and lower valve guide
For Mud pump RS F1600

Specification

Model

RS-F1300

RS-F1600

Rated Input Power

956kw(1300HP)

1180kw(1600HP)

Rated Stroke per minute

120/(120SPM)

120/(120SPM)

Stroke

304.8mm(12″)

304.8mm(12″)

Gear Ratio

4.206:1

4.206:1

Max. Operation Pressure

34.5MPa

34.5MPa

Valve Chamber

API #7

API #7

Max. Liner Dia.

7″

7 1/4″

Max. Liner Mud Pressure

18.5MPa

23.3MPa

Dia. Of Suction Manifold

305mm(12″)

305mm(12″)

Dia. Of Discharge Manifold

5 1/8″ flange(5000psi)

5 1/8″ flange(5000psi)

Dia. Of Pinion Shaft

215.9mm(8.5″)

215.9mm(8.5″)

Key

50.8x50.8mm(2x2″)

50.8x50.8mm(2x2″)

Overall Dimension

4684x2413x2063mm

4684x2413x2063mm

Weight(Main body)

24572kg

24751 kg
2.Structure Character
2.1 Power End
2.1.1 Frame
Frame is weld structure and transmission shaft & bearing seat of crankshaft are cast steel. After rough machined, it is welded with the shell. Bearing seat of crankshaft is strengthened with ribs. Anneal treatment is adopted to release weld stress to improve rigidity and strength.
2.1.2 Crankshaft
Crankshaft is cast alloy steel. Large gear rim, pitmen and bearings are mounted on the crankshaft. Gear type of large gear rim is integrated herringbone. Inner hole of large gear rim and crank are interference match, and are fastened with bolts & lock nuts. Large ends of pitmen are mounted on the three eccentric axils of crankshaft through single-raw short cylindrical roller bearings. While small ends are mounted on the crosshead pins through double raw long cylindrical roller bearings. Crankshaft is supported by two double raw annular ball bearings.
2.1.1 Pinion shaft
Pinion shaft is forge alloy steel. There is a herringbone gear, which is middle hardness.
In order to easy to repair, single raw long cylindrical roller bearing is adopted, which is no baffle. The two ends of pinion shaft extend to outside of the shell and pulley can be mounted on each end of it.
2.1.2 Crosshead
Crosshead is spherical graphite cast iron and has good wear resistance performance to
realize longer usage life. Top and bottom guide plate are adopted in mud pump, and concentricity can be adjusted through bottom plate plus spacer. Connection between crosshead and central pull rod is flanged which is pin matched hole. This rigid connection can ensure concentricity between central rod and crosshead. The central rod is connected with piston rod through hub and this light hub can ensure reliable connection between them.
2.1 Fluid End
2.1.1 Cylinder
Cylinder is forged by alloy steel and the three cylinders on mud pump can be exchanged. Thorough structure design, which is valve on valve, can reduce cylinder volume and to improve volume efficiency. Cylinder surface can coated nickel to improve its corrosion resistance performance if clients require. Discharge compressor, shear pin safety valve and discharge filter screen are mounted on each discharge outlet of three cylinders. Discharge outlet is 5 1/8″5000psi flange
2.2.2 Valve Assy.
API 7# valve is used both for F-1600 & F-1300 mud pump. Suction valve and discharge valve can also be exchanged.
2.1.2 Liner
Liner can be processed with double metal layer which inner layer is wear resistance cast
iron with hardness HRC60~65, also has good corrosion resistance performance and finish.
2.1.3 Piston and piston rod
Piston and piston rod is sealed through cylinder surface and rubber ring. Lock nuts are used to prevent piston loosen and seal.
2.2.5 Spray System
Spray system includes spray pump, cool down water tank and spray pipe. It is used to cool and wash liner and piston to improve their usage life.
Spray pump is centrifuge pump and can be driven through belt which pulley is mounted on the extend end of the inlet shaft or electrical motor directly. Water is adopted to cool and lubricate it.
Spray pipe is mounted on the hub which connects middle pull rod and piston rod, and can move reciprocally together with piston. Cool fluid can always spray the contact surface between piston and cylinder because nozzle is very near piston. Stationary spray pipe can also be adopted and has long usage life.
2.2.6 Lubrication System
Pressure lubrication combining splash lubrication is adopted for power end. Pressure oil pumped by gear oil pump in the oil tank is transmitted to crosshead, middle pull rod, crosshead guide and bearings through lubrication pipe line. Working condition of gear oil pump can be watched from pressure gauge in the back of the shell.
2.2.7 Suction System
Suction system is used for preventing air block due to low air pressure of pump inlet. Suction system is composed by base, butterfly valve and manifold. Suction pump on the suction manifold can be driven by electrical motor or by belt on the inlet shaft of mud pump to reduce power consumption.

Mud pump spare parts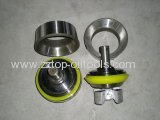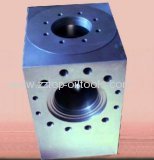 ZZ TOP supplies the mud pump parts from BOMCO, HongHua, Rongsheng with competitieve price.