product name magnetic tile for high performance motor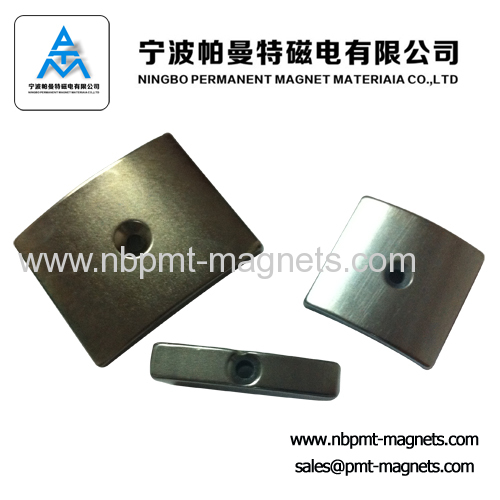 Quality Assurance of Black Zinc NdFeB Magnets Manufacturer1). Our quality assurance system in factory meets the requirements of ISO9001:2008 as certified by BM TRADA & UKAS. Our products meet RoHS standard as per test reports issued by an internationally recognized laboratory SGS. Please check the relevant certificate, reports in our website.
2). QC team consists of more than 10 professional people to ensure 100% products high quality.
Detailed Product Description:
• NdFeB Magnets:
1.Material: NdFeB, Neodymium, rare earth magnet.
2.Technology : Application of new sintered NdFeB magnet techniques and equipment like casting, HDDR technology
3.Magnetic properties: high coercive force, high energy product and high performance/cost ratio.
4.Coating:Ni,Zn,Ni-Cu-Ni,Gold, or Epoxy coated,etc.
5.Grades: N35-N52, 35M-50M, 30H-48H, 30SH-45SH, 30UH-40UH and 28EH-38EH
6.Maximum working temperature: 250°C
7.The arc segment magnet, we can machining on the basis of customer's specification.
8.Applications: NdFeB magnets are widely used in many fields such as audio instruments, meters, motors, aviation, electronics, instruments,medical instruments and the like, especially suitable for the development of high-performance, compact and light products.
9.Packing&delivery :
Packing detail:eight boxes in a carton;carton with Pallet or wooden box
Delivery Detail:10~15days
10.Parameters: Grade, Size or Drawing, Coating, Quantity, Etc.