Anti-corrosion Steel Pipe Production Line Process Flows :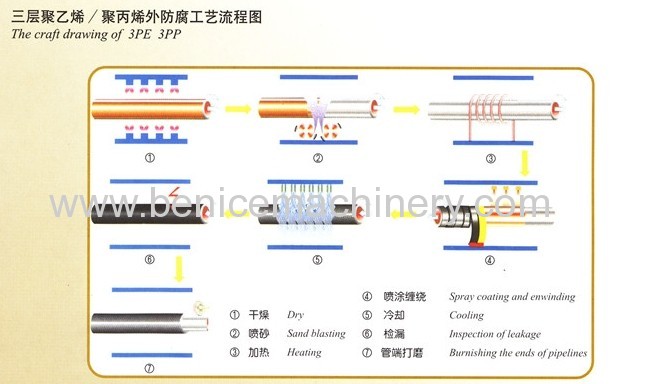 Steel tube inspection→Steel tube surface skim→Steel tube intermediate frequency preheating →Peen-forming derusting→Internal and external dust sweep→ Derusting check→ Dust processing→ Medium frequency induction heating→Epoxy powder coating→AD adhesive coating→PE coating → Inspection
The Photo of 3PE Anti-corrosion Steel Pipe Production Line :
The 3PE Anti-corrosion Steel Pipe Production Line include as following equipment :
1. Peen-forming derusting equipment
2.Intermediate frequency heating equipment
3.Epoxy powder thermal spray equipment
4.Adhesive coating equipment
5.Polyethylene coating equipment
6. Water Cooling Equipment
7.Pipe mouth processing equipment
3PE anti-corrosion steel pipe machine features:
3-layer PE technique adopts epoxy powder to spread, and use PE & adhesive to wind or coat, which is one general corrosion resistance process used at hour country and abroad, it is also applied for the gas transportation from west to east, skype is benicexiaofei mail is fair at benicemachinery dot com. oil or gas conveyance of oil fields as well as urban water or gas supply.
Epoxy powder is thermosetting & non­poisonous coating and could form high molecular crosslinked coating after solidifying, it features excellent chemical anti-corrosive property and good mechanical performance, especially for its abrasion resistance and adhesive force. The coating is of 100% solids, free from solvents & pollution with its powder utilization rate up to 95%. So, it is an optimal anti-corrosive coating for the ground-buried steel pipe.
Steel pipes after treating of anticorrosion process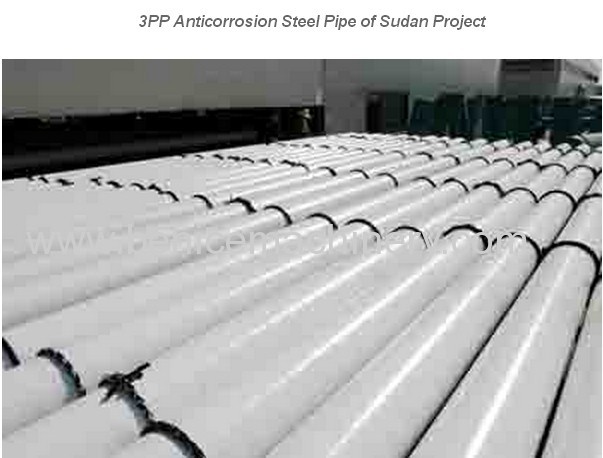 3PE anti-corrosion steel pipe machine keywords:
3PE anti-corrosion steel pipe machine, 3PE anti-corrosion steel pipe coating machine, 3PE anti-corrosion steel pipe machine, 3PE anti-corrosion steel pipe coating line, 3PE anti-corrosion steel pipe coating production machine, 3PE anti-corrosion steelpipe making machine, 3PE anti-corrosion steel pipe coating extrusion machine, 3PE anti-corrosion steel pipe coating making machine