Wall Mounted Ohmeda Standard Medical Gas Outlet
The OHMEDA Wall Type Medical Gas Outlet shall be gas specific for the services indicated and accept only corresponding OHMEDA-Type Quick Connect Adapter.
GuangZhou C&H Medical Gas Outlets shall be CE listed,All outlets shall be tested 100% for flow, leaks and connectivity. The pressure gas outlets providing both primary and secondary check valves. The outlets shall be cleaned for Nitrogen service prior to shipping. A complete medical gas outlet shall consist of a gas-specific rough-in assembly and a matching gas-specific finishing assembly.
1.Medical gas outlet for different gases are different in color and structure so that they are easily distinguished.
2.Each gas outlet we supply has passed gas tightness test
3.The pipeline for gas input can gyrate freely within 360 degrees.
4.Ohmeda medical gas outlet is manufactured in strict accordance with CE.
5.We provide two years warranty .
6.OEM and customer brand is accept
More details~
| | |
| --- | --- |
| Name | Medical gas outlet |
| Standard | Ohmeda standards |
| Material | Brass,Copper,Stainless steel,ABS |
| Medical gas | O2,Vacuum,N2O,CO2,AGSS |
| Advantage | Competitive price under scale economy |
| Quality | High qualtiy.all parts are produced by us with strict controlling |
| Distinguish | Different pin index designed and used for different gases |
| Apperance | Beautiful apperance with high quality |
| Gas standards | Ohmeda,Chemetron,Puritan-Bennett,DISS American stnadards;French,DIN,British standard |
| Certification | Produced according NFPA99:2005 standard.Comply with ISO9710,HTM2033,C11 standards |
| Pipeline | O.D.10mm K Type with copper pipline |
| Test | 100% air tightness test accroding to NFPA99:2005 standard |
| Parts | Include service valve,Convenience for maintenance |
| Producing equipment | Include CNC<8 sets="">,Stamping Machine<10 sets="">,Automatic welding machine<2 sets="">,Metal treatment set |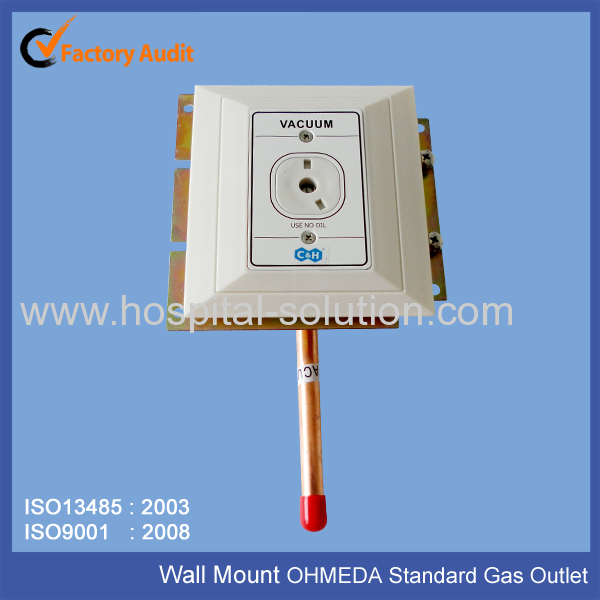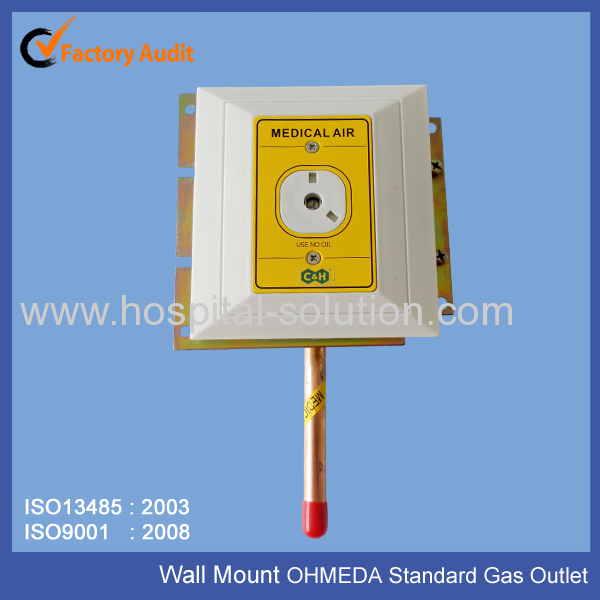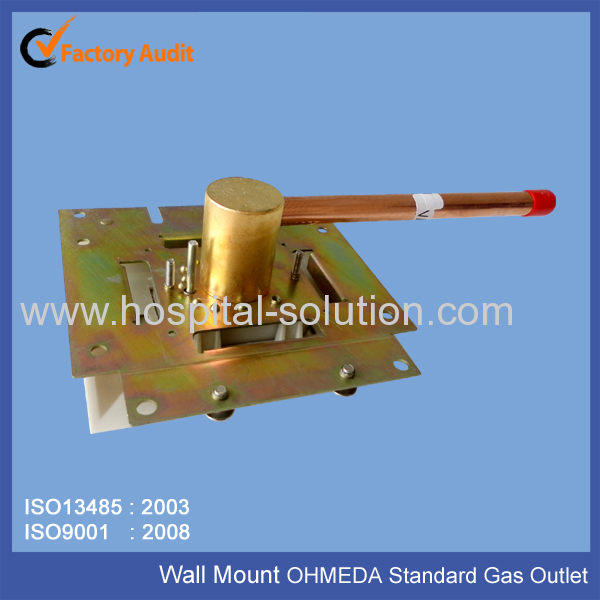 We produce different standards of Medical Gas Outlets for O2, Vacuum, Medical Air, Compressed Air, N2O, CO2, AGSS, etc.;
The standards of Gas Outlets include: British Standard, German Standard, French Standard, South African Standard, Metric Standard, Ohmeda Standard, DISS Standard, Chemetron Standards, Puritan-Bennett Standard, etc.;
What advantage do we have:
1, Original Manufacturer: all the Gas Outlets and the Gas Outlet Adapters are produced by our own factory;
2, Certificate: ISO13485 (issued by SGS), CE (issued by SGS);
3, Producing Equipments: the producing equipments for the Gas Outlets include CNC (8 sets), Stamping Machine (10 sets), Automatic Welding Machine (2 sets), Metal Treatment Set (1 set, large scale), etc.;
4, Material: all the products are made of original material;
5, Quality: all parts are produced by ourselves with strict quality controlling;
6, Cost: we have competetive cost advantage because of the scale economy;
7, Perfect appearance of the gas outlets and adapters;