Parallel twin screw and barrel for Plastic machines
Tell us your machine brand and model,we will find drawings for you!
Advantages of Parallel twin screws:
1.Good at feeding,especially for powder.And also have the superiority in bad heat-stability plastic materials and mixture palstic materials.
2.Compare to single screw barrel,It is better than single screw barrel in the followings: mixture materials,exhausting,self-cleaning.
3.Compare to conical twin screw, Parallel twin-screw and barrel is widely used in PVC products processing, especially for the production of PVC products with the output over 350Kg / h, because the parallel twin-screw and barrel costs less than conical twin-screw and barrel while it has more mature technology.
4.Application:Parallel twin-screw and barrel is successfully applied in PVC plate, pipe, profile, pellet and mould, at the same time, it solved the technical problem of low foaming, high foaming, high filling, wear and corrosion.
5.Other advantages:Good plasticization, high productivity, small shear force, stable pressure,less wear and tear and low cost.
We also could produce unconventional parallel twin screw barrel,and our engineer could design the screw according to your plastic material and products.
And our manufactory even have many parallel twin screw barrel designs of word-famous brand: such as CINCINNATI,BATTENFELD,KRUSSMAFFEI,BAUSANO,WEBER,AMUT....
So dear customer,if you are need to change your parallel twin screw barrel recently,please contact us! we could satified you.
Detailed Technical Information:
| | |
| --- | --- |
| Hardness after Hardening&tempering: | HB280-320 |
| Nitrided Hardness: | HV900-1050 |
| Nitrided Case Depth: | 0.5-0.8mm |
| Nitrided Brittleness: | Less than Grade 2 |
| Surface Roughness: | Ra 0.4 |
| Screw Straightness: | 0.015mm |
| Surface Chromium-plating's Hardness After Nitriding: | ≥900HV |
| Chromium-plating Depth: | 0.025~0.10mm |
| Alloy Hardness: | HRC56-65 |
| Alloy Depth: | 0.8~2.0mm |
| Bimetallic Thickness: | 2-5mm |
| Bimetallic Hardness: | HV950-1100 |
We also serive for parallel twin screw barrel extruder machine manufactory,as a qulified supplier,our products' quality is always better than customers expect.
The following picture shows our factory now is processing some sets of parellel twin screw barrel.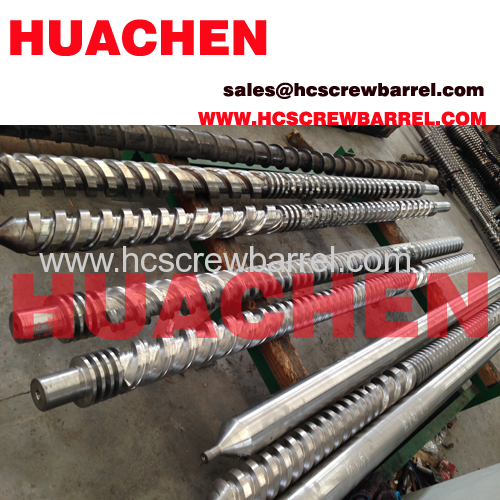 All our parallel twin screws we will spary bimetallic on the extrusion lines,and if you want,we also could spay bimetallic on the total screw flights,and do the whole barrel bimetallic.
We-HUACHEN bimetalilc standard:
1. Standard grade: 38CrMoAlA + nitriding 140 hours
2. Bimetallic grade: 38CrMoAlA + bimetallic alloy
3. HC-A grade: Tungsten carbide 40%
4. HC-B grade: Tungsten carbide 25%
5. HC-C grade: Tungsten carbide 15%
Parallel twin screws show: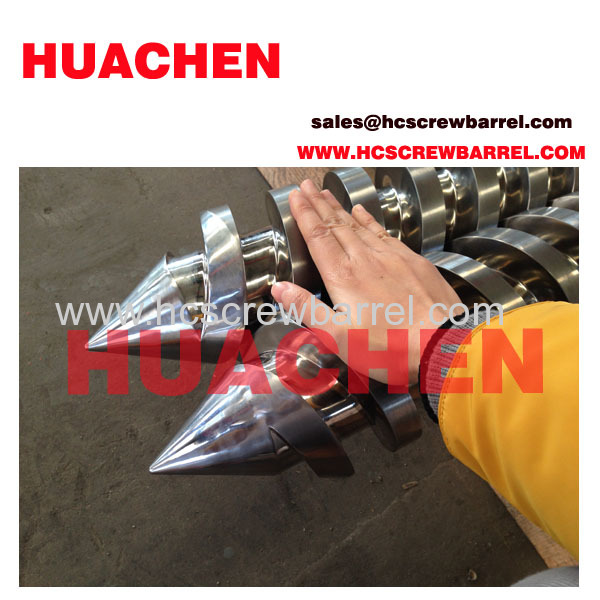 Parallel twin barrel show: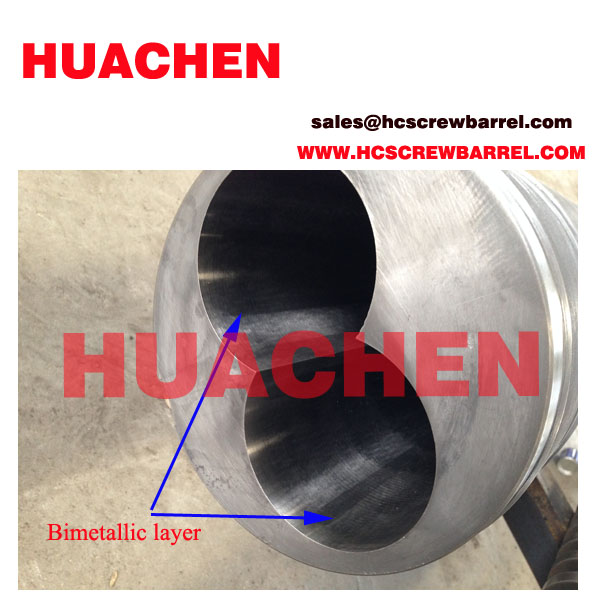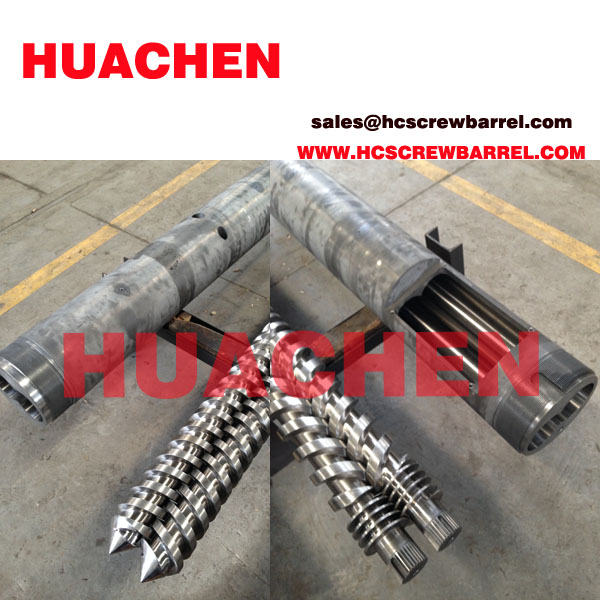 Our screws&barrels surface hardness is around HV 1020-1070,the bimetallic hardness is around HRC 62-68. If you also use our bimetallic barrel, the service life will be at least 2 times better than common bimetallic screw barrel( make around 300-500mm bimetallic on the extrusion section)
This is our factory,more than 7000m²,If you want good quality and prompt delivery, we suggest you choose supplier like us,a big company with big factory.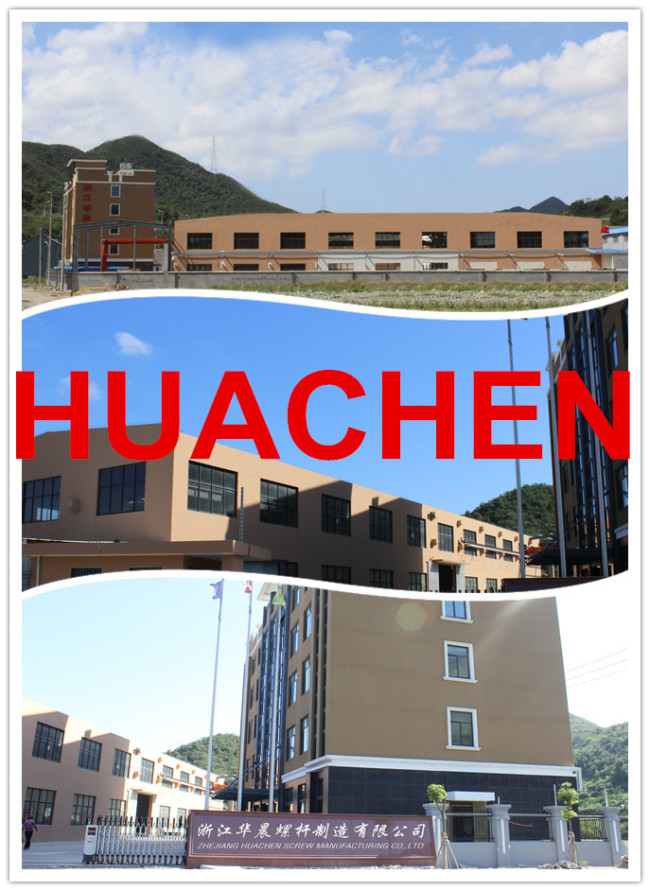 Dear customers,if you are looking for parallel twin screw barrel,please don't hesitate to send us mail,tell us your plastic material like PVC PP WPC XPS or others,and your final products like pipe sheet profile...
The most important is don't forget your size..
And we not only could provide you our domestic extruders screw barrel,but also Amercian,German and other forign brand extruder parallel screw barrels.like Cincinnti,Weber,Krauss Maffei....
Besides the parallel twin screw barrel,our parallel twin screw barrel,single extruder screw barrel and injection screw barrel also are very good!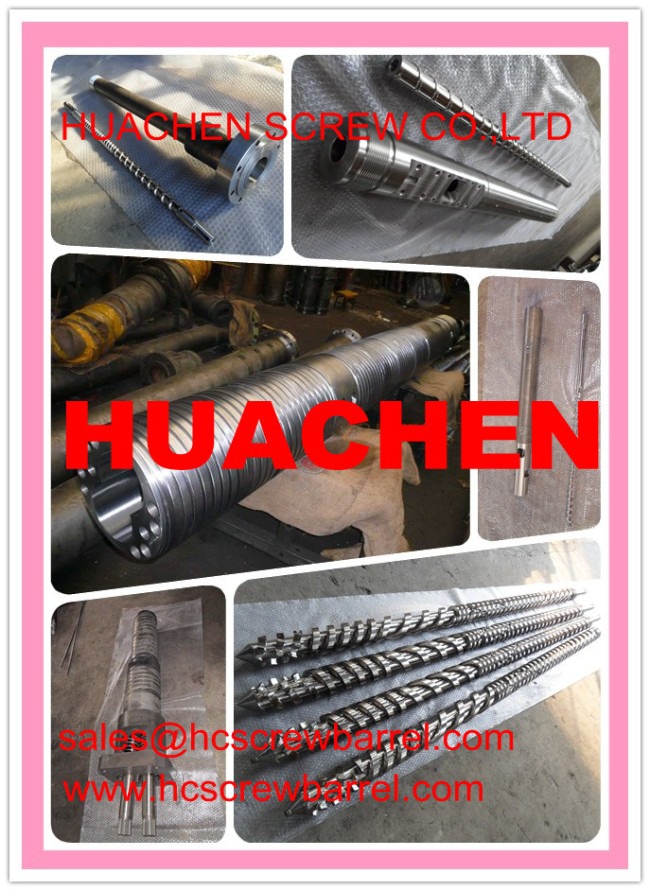 We always welcome you to call us!
My phone:0086 18768075565
Wechat/WhatsApp:8618768075565