Product description:
Winter and spring weather is dry , dusty , prone to bacterial and damage to human health ! If you have one in the car ,against dust and water , it is a good choice with this section strong power, very powerful , and with a duckbill tube can breathe anywhere ! can also absorb water, beverage or other liquids spilled in the car do not worry ! Low noise , strong power . Inserted into the 12V cigarette lighter power supply to use, convenient power wire 2.5 meters love you clean every corner of the car . This vacuum cleaner is can absorb water, sprinkle water or drink in the car can be easily removed.
Product Features :
1 Transparent removable front cover , with a special filter, easy to be cleaned
2 With a transparent storage warehouse,
3 , with a special corner of the adsorption flat head , can absorb dust corner , a strong attraction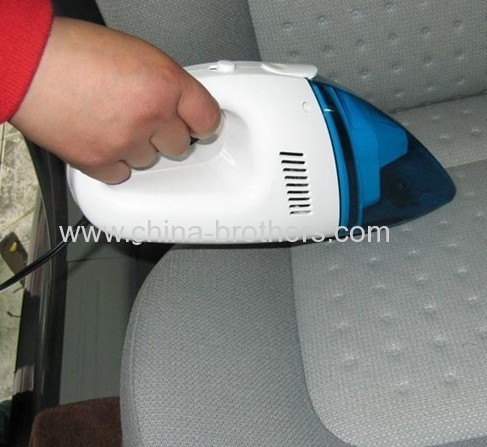 Usage:
1, the power supply into the car cigarette lighter socket
2, the top of the handle has a power switch control key , push the control button to the ON position to use, push to stop using OFF
3 , depending on the use of different occasions to replace the nozzle , 2.5 -meter-long cigarette lighter cable, enough to cover the interior of the vehicle anywhere in the dust ;
4, power control key device in front of a front shell button , press down detachable front shell , when you are finished or necessary cleaning , clean the filter before the open shell to prolong life, be sure to clean the filter away from the eyes and ears, use the product is not available for adsorption combustible materials , such as the burning of the cigarette butts and the like. It should be noted and moisture absorbent material , note the height of the front cover of blocking pipes (capacity ) , suction height must not exceed the amount of resistance pipes. ( Before continuing to use ,IT must be shut down before opening the hood ,pouring liquid then put it back )
Note:
1 The use of the filter must be installed on
2, Do not use in high temperature and pressure
3 , Do not wipe the body with gasoline or volatile strong detergents
IF you like this product,please contact me freely.
Jane
General manager assistant
Co.:http://www.china-brothers.com/
MAIL:sales@china-brothers.com
Skype:janeking291