waste truck/van/bus tire recycling plant to mulch rubber and wire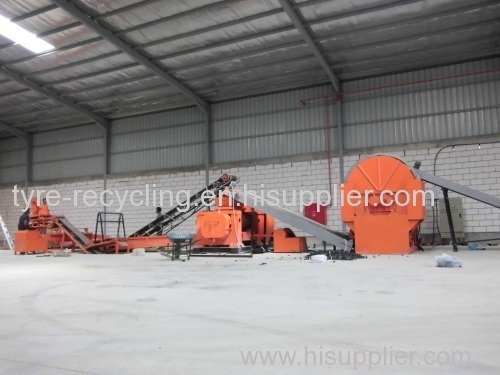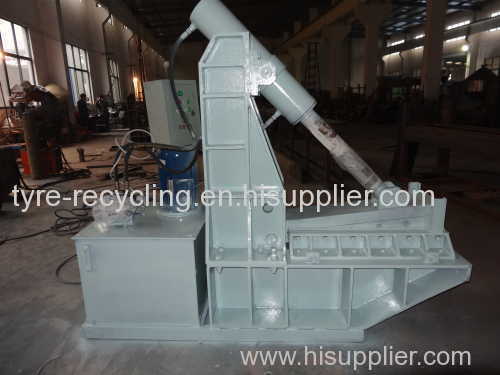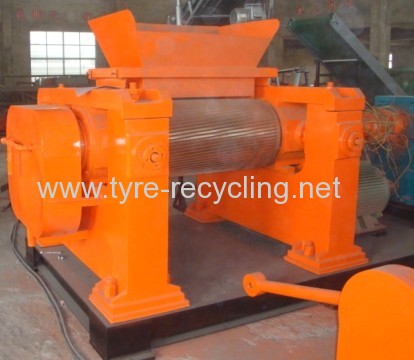 The below is the technical parameter of each machinery:
Detail Information of this line:
1. Use wire drawing machines to pull out the wire of the inner circle.
2. Use cutting machine to cut off the tires which are removed inner circle steel wire.
3. Put the tires into the tire breaker to crush, until the rubber block is 5cm*5cm.
4. Put the 5cm*5cm rubber block into the rubber crusher for milling again and again, until the powder is 5-25 mesh. According to the slotted screen blanking, and then sort powder and the fiber and wires.
5. In the pure wire tires, there are 25% wires in them. And there is 5% fiber and 20% wires in the radial tires.
Tire debeade

The first step in tire recycling procession

Heavy duty body

Hooks and cross pulling die made of 45# steel, tempered and quenched

Equipped with protection frame avoiding the dangers during working

Two series: hydraulic one and mechanic one

Easy to operate and change spare parts (hooks and cross pulling die)

Tire cutter

Cutting tires into pieces before shredding

Small tire pieces are easier to process in shredder

Knives made of YG-20 steel, long using time

Hydraulic control

One clamping cylinder and one cutting cylinder

Equipped with a roller platform to process big tires

Tire shredder

The high-capacity shredder was specially developed for direct size reduction of tires into cleanly cut tire chips, size 50x50 mm. cutting shafts for the production of larger tire chips are available high torque at low speed cut even the strongest tires into pieces.

All construction characteristics are designed for continuous operation in order to achieve highest throughput rates at lowest costs.

Extremely precise tolerances between the cutting knives produce cleanly cut tire chips at low energy consumption.

The cutting knives made of high quality alloy steel can be re-sharpened and reused which increases the service life and reduces the operating costs.

The complete cutting chamber is lined with hard wear plates.

Large doors allow for easy access into the cutting chamber.

Tire cracker

The shear between the two rollers will make tire chips into powders as well loosen rubbers, steels and textiles

Roller body made of cast steel

Surface of roller made of alloy steel, welded when worn out

One flat surface roller and one teethed roller, high throughput of powders

Bottom made of cast iron

Emergency stop when overload

Distance between the two rollers can be adjusted.

Hard gear gearbox

Equipped with screening machine, magnetic separator and fiber separator, 99% purified rubbers will be got.

Finals: 8-30 mesh

Magnetic separator

Muti-stage belt style magnetic separator can reach more purified rubbers

Separated steels will be in one place, easy to collect

Permanent magnet, no more power consumption

Fiber separator

After the grinder, the nylon wires will be grinded into fluff; According to centrifugal force, density difference, the fluff will be separated.

The spin fans inside the cyclone barrel driven by the motor throw the compounds to the wall
scrap tyres/tires to rubber powder making machine