Advantages:
1) High capacity and high energy density
2) Low inner resistance
3) Long cycle life, chargeable up to 500 times
4) Low self-discharge
5) IEC standard
6) Fast charge available
7) Provide both single cells and battery packs
8) All products are inspected strictly with the match of capacity
9) Good performance at low temperature, can work at ambient temperature -20 to 55°c
10) Maintenance free, simple operation as dry battery, but can't over-discharge or overcharge
11) Stable performance
12) No memory effect
13) Environmental friendly
Quality control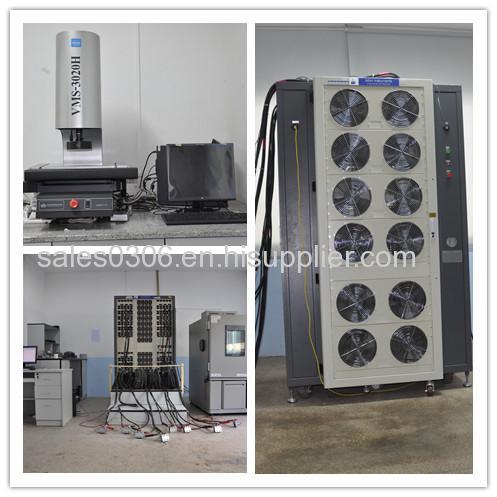 Quality management system: The Company establishes the quality management system according to the ISO9000 Standard,
specifying each management responsibility and work flow, continuously and effectively controlling each link that has
influence on the product and service, which stabilizes and increases product quality and service quality
and ensure that all works can have rules to follow.
Quality guarantee: There are 5 frames in the structure of Quality Department, including frame of QC inspection,
frame of quality engineering improvement, frame of measuring system, frame of system monitoring,
frame of test system. These five frames ensure the discovery mechanism, correcting mechanism
and prevention mechanism in the process of development and manufacturing, which ensure the product quality and consistency.
Quality improvement: With the concept of "continuous innovation", the Company develops activity of continuous innovation
and continuous improvement in each level like development and manufacturing, increasing process quality,
product quality and service quality, which ensures the effectiveness of quality management system.
Quality responsibility system: It strengthens quality awareness, improves sense of responsibility and meticulous work style,
establishes quality responsibility system, strengthens professional skills training for each position and strictly conforms to operating specification.
Quality policy: Pursuing excellent quality, stick to continuous improvement and surpassing
client expectation are the quality policies of the Company. We are striving to become the leader of battery field.