outdoor wicker furniture wicker rattan sofa set
CNS-003
1*2-seater Sofa
133*73*71 cm
2* Single Sofa
74*73*71 cm
2*Footstool
50*50*39 cm
Qty in 40'HQ
70 Sets


Total 5 PCS, Corner Set, KD style, Powder-coated Aluminum Frame 1.2 mm,
PE Wicker with UV resistance, Polyester fabric (water & dust proof), 10 cm seat cushion with blue border. 4 pcs big pillows. Cushion for footstool. Change the grey wicker into dark grey wicker as the show room. Lower the height of Pillow with 12cm. Pillow with blue border. The length for pillows of 2-seater sofa should add 4cm. Extra grey cushion cover & pillow cover.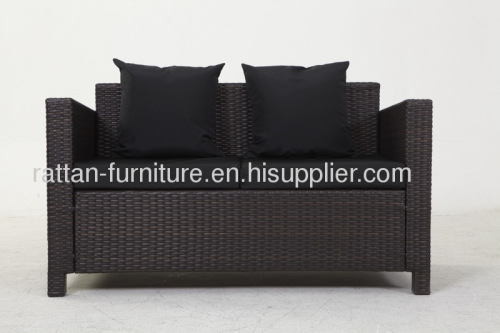 Material Used:
1. Weaving Material: Durable PE rattan/wicker with high UV-Resistance, no colorfast problem sort is on your side. 2 years'-5years'(named by its guarantee period of quality)
2. Inner supporting frame: ALU with powder coated and no rusty problem (1.2mmand1.5mm are commonly used, other specification is also available.)
3. Material of Cushion: Water-proof polyester fabric with sponge filling and PA coated (specific color and shape are optional)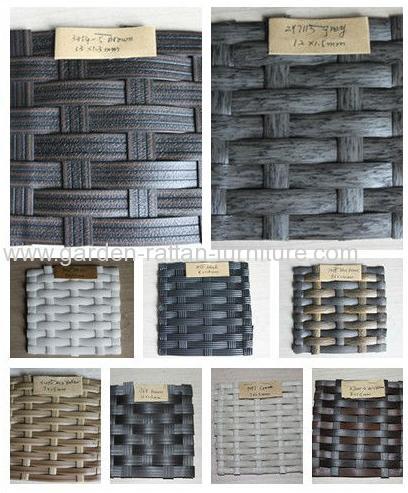 Perfect Advantages:
1) Popular and modern design
2) Strong powder-coated Aluminium frame, SGS tested PE rattan
3) Good UV radiation,high temperature resistant, weather resistant, color fadeless
4) 100% hand-woven by skilled craftsmen
5) Both suitable for indoor & outdoor place
6) High quality environment-friendly products with most competitive price
7)OEM or ODM available
8)All products offer at least 2 years guarantee
9)PE rattan &cushion&pillows color as you like.
10). with water repellent comfortable cushions for option.
11) Professional sales team. we like our job and we are very glad to serve you at any time, all the time.

PE rattan color available: black, brown, grey, silver, white Color etc is optional.
Cushion color available: aniseed, turquoise, raspberry, mastic, chocolate, emerald, anthracite, white,etc.
Rattan color and cushion color can be optional.
Fabric for choice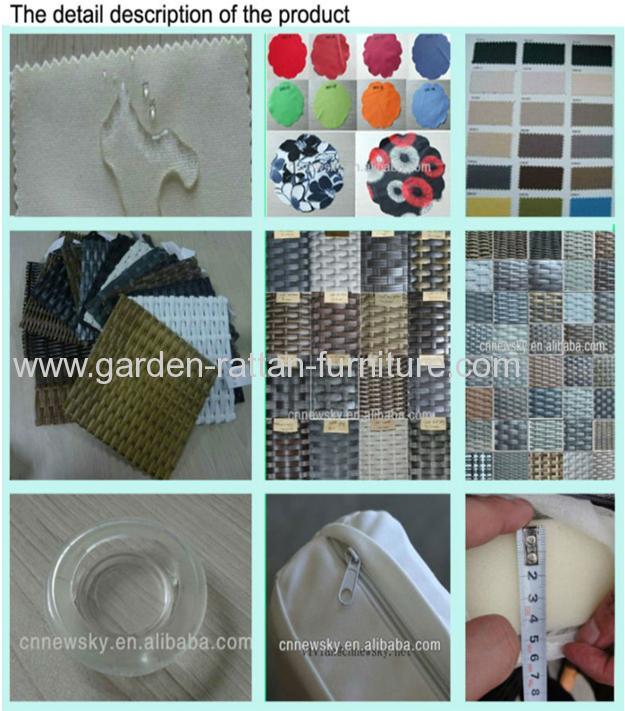 Company profile:
We are manufacturer of wicker furniture with more than 7 years experience. There are 500 workers in our factory.
Our goods have high quality,every year export more than 700*HQ to European and Aus,US,UK and so on.
Our biggest agent is in Germany,we have cooperated with them for more than 4 years,every year they will order about 400 containers from us,we growing up together.You can visit their website,all the rattan furniture are doing by us,then we took photos for him.You are obviously satisfied with our quality.