Forged Orange Picker 6"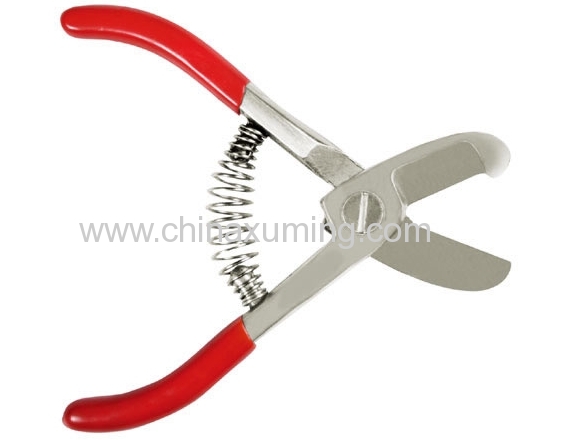 ***Products Features:
1.Trust Forged
After a long time using of the tools,you will find the forged pruners can be still working.That is because of the forged technique can bring the tools a better fastness and very tenacious.Also the strong sculpt let the user more comfortly.
2.Steel of Using
We use the high quality carbon steel or stainless steel for our Drop-forged pruners.Sometimes,we use the Japanese SK-5,SK-8,US1040,Taiwan steel for the pruner's blade according to customer's request.
3.The Heat Treatment
We choose the mesh-belt furnace and vacuum firing furnace to guaranteed the hardness of every starmax pruners. Now our techs requests the hardness of the 55# high carbon steel have to reach HRC52-54.Allthe hardness have to requests customer's standard.
4.We are sharp!
Yes,we are sharp. We use the automatic sharper machine for making the balde.Our techs will 100% do the test of cutting the newspaper in 45 angle.If the pruner can cut the newspaper easily,we will consider this piece eligibility.
5.Spare Parts
The spring,screw and nuts. All the spare parts can currency assemb in the same item.
| | |
| --- | --- |
| Code No.: | XM-8117 |
| Material of body | Whole forged high carbon steel |
| Blade | 65Mn steel for blade |
| Heat treatment | HRC50-52 |
| Surface | Fine polished |
| Color | Black |
| Appling to | Garden,Fruit trees |
| MOQ | 10 pcs |
| Packing | Bulk or paper card |
| Export area | All over the world |
***Our Prudcts:
We offer about 10 kinds of different garden tools, they are the below:
Drop forged pruners
Heavy duty pruners
Rosewood pruners
Aluminium handle pruners
Ratchet pruners
Garden loppers
Hedge shears
Garden knifes
New wooden pruners
Garden tool set
Also we are very welcome customer give us the design, we do the manufacture.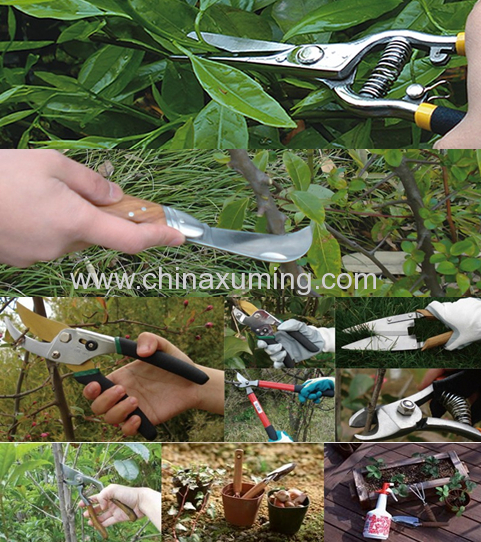 ***Drop Forged
Using the high quality tool steel and delicate drop forged machines,we make the standard workparts.Every hand pruners,need to have more than 30 process of working. Such as:drop forged,face lifting ,pruning,4 times sharpen the blade,assemble,washing and packing.All the parts have the highly experience empoyees on it. Based on this teches and company culture, we make and long time using.
**R&D and Quality Control
CAD programs are used for creating graphic images and industrial drawing.
Random samplings will be processed in the beginning,middle and at the end of production.A thin cross section of stainless steel will be extraced from the samples and undergo strict test for molecular consistency and hardness.If samples test fails, the related production will be re-done.
***Work with US
Business culture: High Quality,Good Price,Best Service.
We win customers by high quality,good prices,best services.Every pruner offered by us meets Taiwan quality but is sold at China mainland prices.
We keep developing new products and every year 30 new items will be added into our business range.
Work with us,you will also benefit from:
*Fast samples delivery,OEM samples in one week.ODM samples in two weeks.
*Professional R&D teams for designing,tooling and sampling.
*15 years in manufacturing and 8 years in international business.
*Complite in-house manufacturing with strict rules.
*Compliance with ISO9001 and GS standards.