Company Introduction
Being dedicated in the field of Glass Drinkware and Smoking ware for more than one decades, C&C Glass wish to introduce itself to you as one of the leading manufacturers specialized in Borosilicate Double Wall Glasses (Double wall glass cups and double wall glass teapots), Glass Teawares (glass teapots, glass teacups, glass tea warmer,etc);Glass Coffee wares(glass coffee pots, glass coffee cups); Wine Glasses and Bar Glasses(Martini glasses,Cocktail glasses,Champagne glasses and beer glasses);Glass Decanter,Glass Carafe; Glass Storage Jars; Glass Cruets; Glass Oil&Vinegar Bottles; Glass Water Pipes; Glass Bongs; Glass pipes; Glass Bubblers,etc
With a team of well-trained and disciplined employees. our products are superb in quality and design by virtue of sophisticated hand made/mouth blown craftsmanship.Right now,most of our products were exported to numerous overseas countries.And in the process of doing business with foreign customers,we have learned the habits and trends of markets.Therefore,our products has met with warm reception and quick sale in most European and American countries.
To make a better future,we would like to express our desires to establish business relationship with all interested partners from both at home and abroad on the basis of superior quality,equality and mutual benefit
Borosilicate Glassware Features and Advantages
1,they are heat resistant,suitable for use in microwave,dishwasher and stove
2,offer a variety of application possibilities: baking and cooking, preparing and serving, cooling and freezing (down to -35°C/-31°F)
3.show a high resistance to sudden temperature changes with a temperature difference of 140°C/284°F(three times as high as normal glass or lead crystal glass)
4,are produced from clear borosilicate glass which is free of smell and flavor,does not discolor and show high chemical and mechanical resistance
5,do not give off any substances and therefore are suitable for allergy sufferers
6,are easy to clean and hygienic in use through the pore-free surface
7,come in superior and functional product design for an optimal preparation of beverage and meal
8,are most suitable as an individual and creative gift idea
Production Flow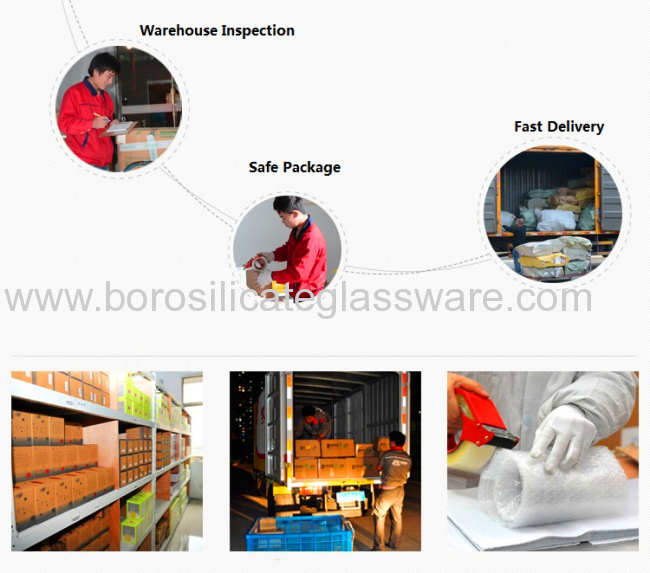 Why Us ?
1. All our products are able to endure sudden temperature changes from -20°C to 150°C in extremely short time
Questions: Are this kind of glass wares safe ? Does they easily broken and fragile ?
Answers: Borosilicate glasses are known for having very low coefficients of thermal expansion(-20°C--150°C), making them resistant to thermal shock, more so than any other common glass.In addition,it is much lighter in weight but more solid in molecular structure,thus even with small thickness,it also could reach high strong intensity and so more durable than traditional soda lime glass.
C&C Glass uses high quality borosilicate glass and pay more special attention to the thickness of products,make them thicker but firm and comfortable when you hold them.Therefore,C&C products are one of the most safest and popular products in the market
2.Sophisticated Hand Blown Craftsmanship,Uniform Mold
As a more advanced glass material,Borosilicate glass were widely used in Chemical and Medical industry and High end Kitchenware in most European and American countries.With sophisticated mouth blown craftsmanship,workers needs to constantly rotate the glass embryo in order to heat the glass uniform.This is the most significant special features of hand made glasswares compared with other glasswares
3.Clear borosilicate glass which is free of smell and flavor,does not discolor and show high chemical and mechanical resistance.Therefore it is eco-friendly and safety to human body
Present market Glasswares Grades
Top Quality High borosilicate glass: is approximately 80% silica, 13% boric oxide, 4% sodium oxide, and 2-3% aluminum oxide. It show high resistance to sudden temperature changes with a temperature difference of 170°C(-20°C---150°C)
Recycled borosilicate glass: with less than 20% silica,and contaminated to environment and human body
Normal Glass:contains too many complicated impurities and with machine mass production
C&C Glass products are all made of top quality high borosilicate glass,with superior heat resistant and eco-friendly quality