Ultrasonic cleaning motherboards for kitchen KD-6001
Features:
● No Scrubbing! The Ultrasonic food washer uses principle of ultrasonic and reactive oxygen to remove 98.9% of agricultural chemicals from fruits and vegetables easily and effectively
● The ozone eliminates odors, chlorine, and other chemicals, viruses and germs. Use it on fruits, vegetables, kitchenware, baby toys, and more
● Operates using a silent vibration with no splashing over the rim. The unit sits on the counter top or fits directly in any kitchen sink
● Repeated use of the Samson Multi-Purpose Ultrasonic Washer will revive the original color of your dishes and kitchenware



Ultrasonic cleaning:

The ultrasonic cleaning process provides high quality cleaning and exceeds, by ease of use and end result,
conventional cleaning methods.
The tiny microscopic bubbles generated by the transducers provide cleaning of very difficult,
irregular and complex parts.
Even inaccessible areas can be cleaned without any trace of physical cleaning (scratches, etc...).


The ultrasonic cleaning is applied in a diverse number of sectors:
Vegetables and fruits—To remove 99% pesticides .
Rice—Remove pesticides and disinfection.
Meat—Remove clenbuterol .
Fish—Sterilization and cleaning.
Kitchen utensil cleaning: chopping board, knife, fork
Other cleaning: jewelry, metal, watch chain, glasses, shaver, denture, baby articles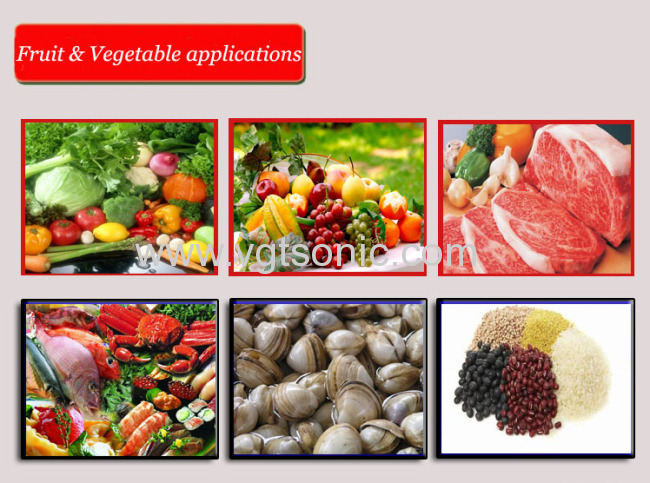 Specifications:
Model
KD-6001
Voltage
AC100~120V, 60Hz
AC220~240V, 50Hz
OSO capacity
≥ 200mg/h
Ozone consume power
≤10W
Ultrasonic consume power
50W
Ultrasonic frequency
40KHz
Capacity
12.8L
Time Setting
3-6-9 minutes, 5-10-15 minutes, 8-16-24 minutes
Drainage
Have
Cleaning basket
Have
Packing Information:

| | |
| --- | --- |
| Tank size(mm) | 330×300×145 (L×W×H) |
| Overall size(mm) | 415×375×230 (L×W×H) |
| Unit G.W | 5.5KG |
| 20 GP | 380pcs |
| 40 GP | 800pcs |
| 40 HQ | 980pcs |

360° perfect protection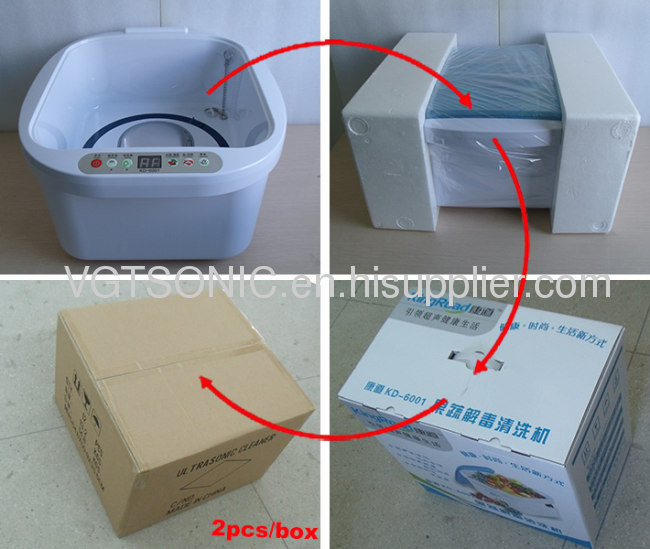 Exhibitions:Meet GT SONIC Everywhere
GT Sonic publicizes its products via 7 exhibitions every year.
GT Sonic fixed exhibitions in HK as following:
1. HK Spring Electronic Fair April 13th-16th
2. HK Autumn Electronic Fair October 13th -16th
GT Sonic fixed exhibitions in China mainland as following:
1. Guangzhou Dental Fair March of each year
2. China Dental Fair in Beijing June of each year
3. Beijing Optical Fair Sep of each year
4. Canton Fair April 15th-19th of each year
5. Canton Fair November 15th-19th of each year
Company view:
Products Story:
Over years, we continuously improve production technology, our quality control system has been standard and ISO quality system has been seriously execute. Now our products have been widely accepted by occupation and customer.We offer OEM/ODM service for the Germany customer for a long time, and OEM for the US brand in the last two years.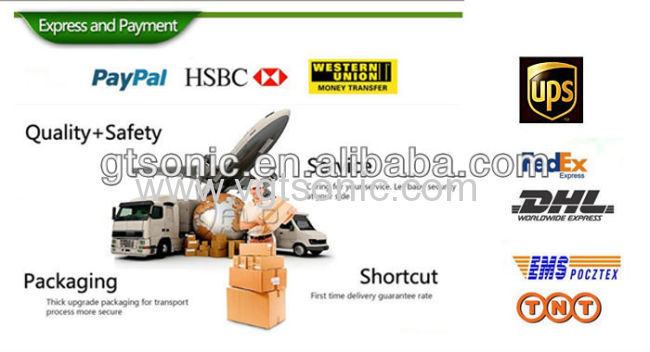 We have other models of different volumes to meet various cleaning requirements.
Any question pls feel free to contact us, find our contact information at the contact us site