This easy to read digital tire pressure & depth gauge is ideal for regular tire pressure & tire tread depth monitoring.Accurate tire pressure reduces risk of damage to tires through wear and tear,rips and also improves fuel consumption.Ideal tire pressures can generally be located in the car or within the cars manufacturer information booklet.

Ideal for cars,SUVs,trucks,motorcycles etc.
Detailed specifications.:
--2 IN 1 DIGITAL TIRE DEPTH GAUGE
To measure tire pressure and tire tread depth accurately.
Specifications:
Pressure range:0-100psi,0-6.85bar
Tire tread depth range: 0-15.8mm
Pressure unit: psi/bar
Resoloution:0.5psi/0.05bar
Power:CR2032 3V lithium coin cell
On/off key
Auto shut off
Keyring
Accuracy:≤±1.5psi F.S.+0.5psi
≤±0.3mm
Each in sliding blister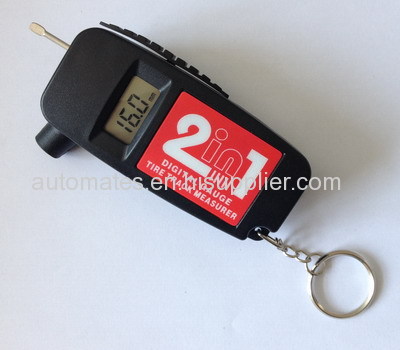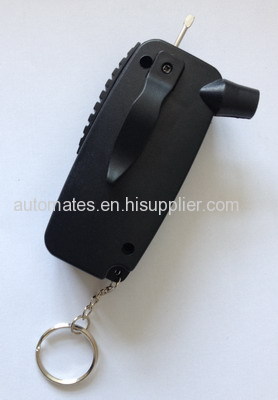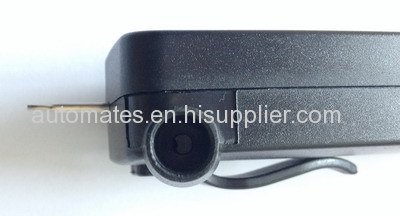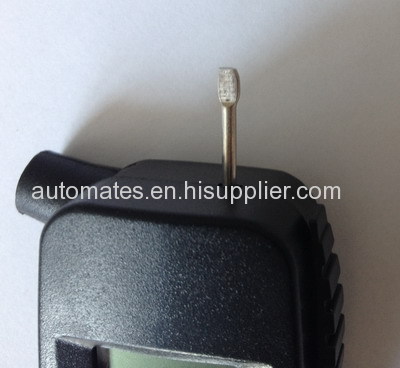 Operations:

To switch on, pull the slide downwards and then release. The unit beeps and displays 888.Wait LCD reads 0.0PSI or 0.00BAR. Unit is now self-calibrated and ready for use.
To check PRESSURES: Check screen display in PSI or BAR. To change PSI or BAR, pull slide down and release. Put air nozzle onto tire valve, wait one second then remove and check the value.
To check TREAD DEPTH: Push slide upwards until probe is extended. Put the probe into the tread and then push the unit downwards until it rests on the tire. Lift carefully away from the tire and read the depth in millimeters and tenths of mm. At 1.6mm and below the display will flash to warn of illegal tire in UK.
The unit will auto off after 90 seconds, or hold slide down until unit switches off.