Specifications:
Digital tire pressure gauge with back light
Pressure range: 0-100psi, 0-6.85bar,0-690kpa
Pressure unit:psi, bar,kpa(optional)
Resolution:0.5psi/0.05bar
Back-lit LCD and light on gauge's head
Power: 4 x AG13 battery
On/off key
Auto shut off
Accuracy:≤±1.5 psi F.S.
Instructions:

Press "ON" button and select PSI or BAR setting.

Place the nozzle of the gauge over the tire valve.Press firmly to ensure good seal and prevent air escaping.
Hold gauge on the valve until the reading on the LCD display locks.
Remove the gauge quickly from the valve and read pressure.
To retake the reading simply place the nozzle over the tire valve again and repeat.
Gauge will automatically shut off 30 or 90 seconds after use.
Gauge can be manually turned off by holding the "ON" button down for more than 3 seconds.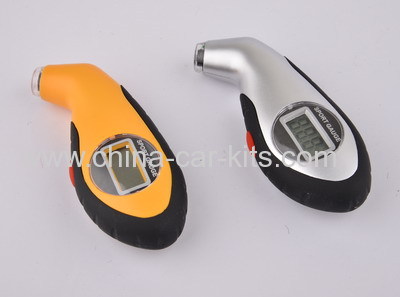 With light at gauge nozzle