JXK-E6
The main chip from CSR, small size for easily carries, let you enjoy wireless stereo high quality of music. It is the best companion for your mobile life.
It can be clamped on your cloths neck,pocket.you can use it to enjoy real stereo music of your mobile phone by bluetooth.And use it to answer,end,reject any call any time.
it's a good parter of you in your life.
Applicable locations
office,home (in house),in car,in lorry,in truck
Applicable people
officer,white - collar on commercial affairs,housewife,car,lorry,truck drivers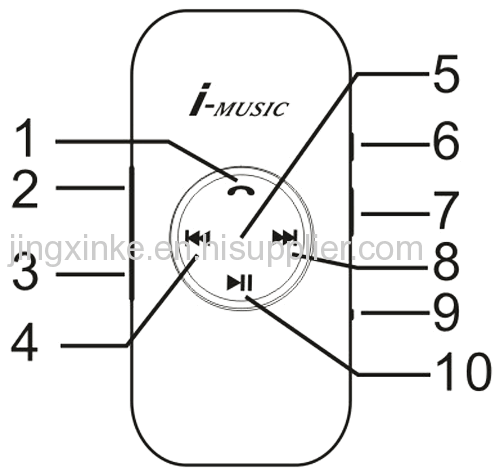 1. MFB (muti-function button)
A: In off state, press and hold multi-function button till blue and red LED flashes alternately: pairing mode
B: In off state, press and hold multi-function button till blue LED flashes: power on
C: Press one time while a call incoming: answer call
D: Press one time on call state: end a call
E: Press two times quickly when an incoming call is received: reject a call
F: Power on mode, double press the multi-function button: redialing last out dialing number
G: Power on mode, press the multi-function button one time: enter voice dialing
H: Power on mode, press and hold till red LED light flashes two seconds: power on
2. Volume +
3. Volume –
4. Play the last song
5. Working LED light
6.5V-IN charging port
7. Stereo voice out
8. Play next song
9 .Microphone
10. Play /pause
Product feature:
1. Real A2DP stereo voice Bluetooth, audiophile sound quality
2. Enhanced digitalized mega bass technology
3. AVRCP Bluetooth control technology
4. Superior clear call voice
5. Special radiation elimination technology, keep your mobile away from call radiation
6. Connection automatically while power on
7. Compatible with mobile phones, laptop PC, iPad, PS3, language chat etc other Bluetooth equipment
8. Low power consumption, Long stand-by
9. Built-in Li-battery and microphone
10. Working while charging
Pairing with your Bluetooth phone
Need to pairing Bluetooth earphone with mobile phones while the first time to use.
l Ensuring the headset is off, press and hold multi-function till blue and red LED flashes alternately: paring mode
l Open mobile Bluetooth, search and find" E6"
l Connect this equipment, Enter passkey"0000",then press "yes" or "ok", mobile will show already connect E6(old style mobiles need to confirm connection)
l After succeed paring, red LED light off, blue LED light will be on once several seconds.
Once Bluetooth earphone paired the mobile phone, then it will connect automatically
Charging
While Low voltage, the red LED will light two times after several seconds, you will hear "DUDU", it means to need charge for the earphones.
l Put one side of the standard charge cable into charge port, the other side USB into 5V mobile charger or PC USB port. While charging, red indictor light will long bright, after finishing charge, blue light will long bright.
Cautions:
1. Standard earphone cable is customized for the item, using other earphones may decrease voice quality.
2. Charging voltage must standard DC 5V, if damaged by the over high voltage used, we will charge some cost according to the circumstances.
3. If it can not connect automatically while in wrongly used, you can delete the equipment and re-search and re-connect it, it can be back to normal.
4. This item is precise electronic digital product, without water proof, please make sure no water into the equipment while using.
5. If damaged by improper action, we will not provide warranty service.
Accessories
USB charging cable,
stereo earphones,
user guide.
main part
JXK-E6's Feature

Product Name

radio wireless stereo headset earset

Material

plastic

Use

all people (universal)

support

all mobilephones

Bluetooth version

V2.1+EDR

Support Bluetooth

HSP/HFP and AVRCP agreement

Receiving distance

0-10 M

Working frequency

2402MHz~2480MHz ISM Band

Charging voltage

DC 5V

Charging current

100MA

Charging time

less than 2 hours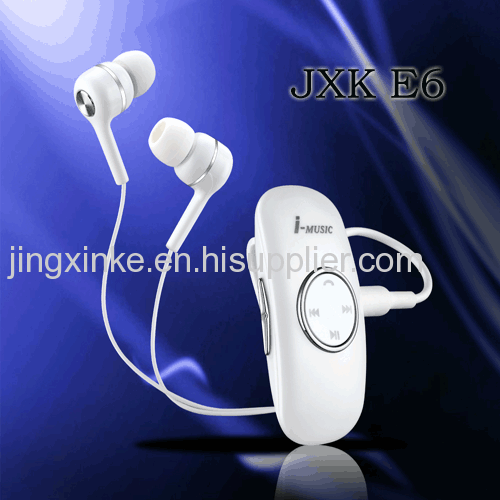 JXK clamped on cloths neck stereo music bluetooth earset earphone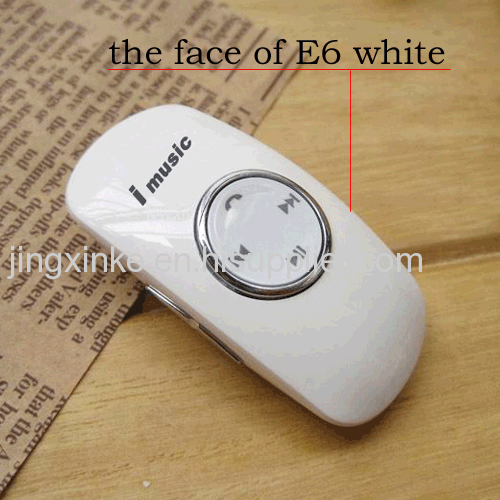 the face of JXK-E6
stereo bluetooth earset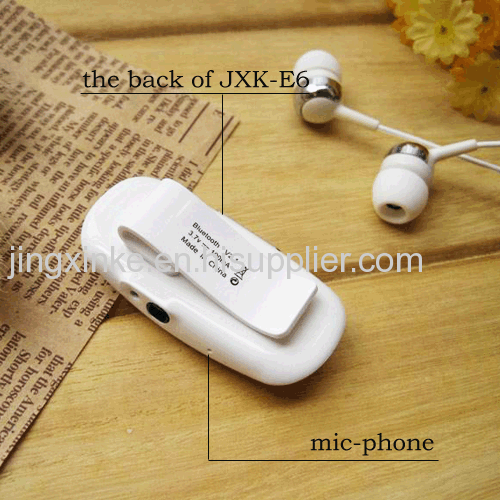 the back of JXK-E6
real stereophonic bluetooth earset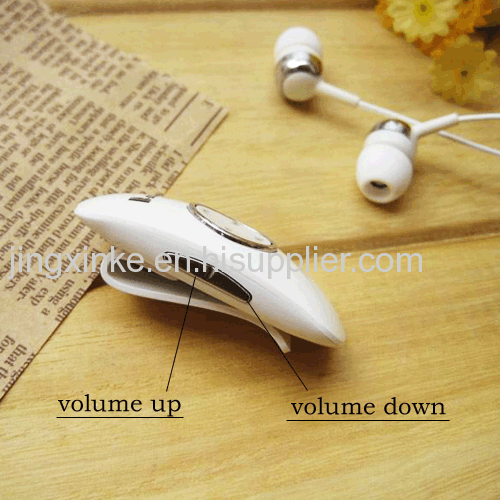 the left side of JXK-E6
stereophonic bluetooth headset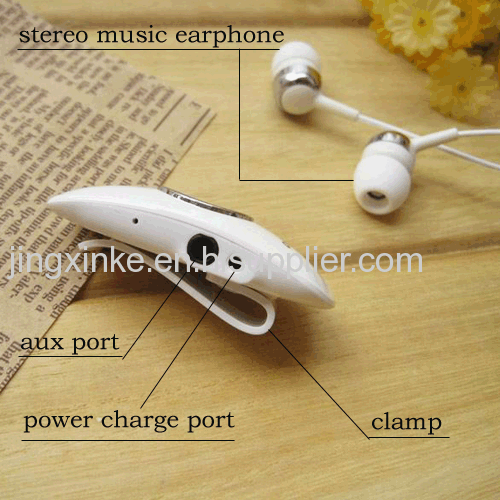 the right side of JXK-E6
The best bluetooth headset