JXK-M378
This is a MP3 player with Bluetooth car kit, bulit-in FM Transmitter & MP3 decoding chip, which can transmit audio files from USB disk, TF card and any portable audio devices to car FM stereo system; Bluetooth Handsfree function.
It is a product that can help you enjoy stereo music of TF card and U disk in car for all taxi car lorry truck automobile drivers.
you can use it to connect with your mobile phone by bluetooth.At this time,it is your handsfree bluetooth car kit.
when phone is ringing,you can answer and reject call by pressing the buttons of the steering wheel rf remote tele-control.
handsfree bluetooth mp3 music player car kits with steering wheel rf wireless tele control
Applicable locations:
in 12V 24V cars /in 24V lorries/ in 24V trucks
Applicable people:
12V 24V car drivers/12V 24V lorry drivers/12V 24V truck drivers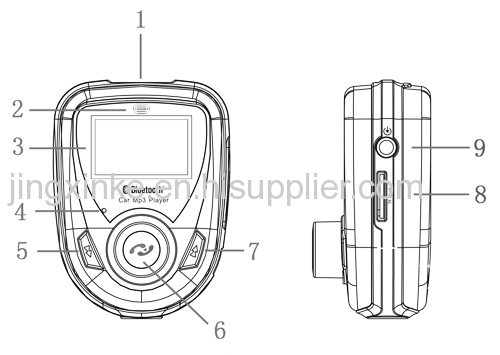 1. USB slot
2. IR Receiver
3. LCD screen
4. Bluetooth microphone
5. Previous song, cell phone / Bluetooth phone switch, speaker ON / OFF switch
6. Encode sw Play / pause, answer/end calling, volume adjustment, frequency adjustment
7. Next song, reject a call, switch to SD / TF
8. TF Card
9. Auxiliary Input jack
Product features
◆ Rotable metal hose, suitable for all vehicles
◆ Unique rotating code switch, more convenient operation
◆ Support USB disc, TF Card
◆ Frequency ranges: 88.1 ~ 107.9MHz
◆ LCD displays the songs' serial number, frequency, volume and EQ mode;
◆ Auxiliary Input: Transmits audio files from any portable CD/MP3 audio devices to car FM stereo system;
◆ DC9~26V wide power supply suitable for variety of cars;
◆ The current song, frequency, volume and EQ mode could be memorized automatically even power off;
◆ With standard digital remote control & steering wheel remote control;
◆ Bluetooth Handsfree function: Full Duplex, DSP(Digital Signal Processing) Technology, CVC technology for echo cancellation and noise suppression, Caller ID displays
Operational instruction
1. Choose frequency
As soon as plug this player device into car cigarette socket, LCD displays the transmitting frequency point; keep press key enter to transmit frequency status, then rotation encode SW to Adjust transmit frequency from 88.1~107.9 MHz or press "CH +" or "CH-" key on remote control to adjust the frequency, please make sure your car radio frequency is same as this car MP3 player device;
2. Play songs
Once connected power and plug in USB disc & TF card,
the player detects MP3 files inside USB disk or TF card and plays songs ordinarily. Press "5" or "7"to play the previous or next song; shortly press "6" to play or pause,
3. Volume adjustment
Rotation the encode SW to adjust the volume while playing, and you will see the volume changes on LCD screen;
Bluetooth Handsfree Operational instruction (For the model with Bluetooth function)
1. Pairing
When this player device is power on, activate your cell phone Bluetooth and search "BT-MP3"
2. Enter connection password "0000".
3. Select "BT-MP3" -- "Connection" -- "Connect with handsfree device". After finished code connection, you will see icon changes from "FM" to "B" on LCD screen.
4. Use Bluetooth hands-free function (make sure your car radio is turn on and the frequency is same as this device).
● Make a phone call: In connection status, dial phone number on cell phone directly,
● Answer a call: Press 6
● End a call: Press 6
● Reject & transfer a call
Press to reject a call, to swicth to cell phone mode
● Reconnection
Exceed Bluetooth connection distance or power off May leads disconnected. It will be reconnected automatically if back to normal distance as long as cell phones bluetooth is activated (Note: The automatically connection way may be different for some cell phones).
Standard remote control
1."4" Play/Pause, answer phone call
2. CH-: Decrease frequency
3. CH+: Increase frequency
4. "2"Shortly press to play last song, long time press to last folder
5. "3" Shortly press to play next song, long time press to next folder
6. EQ: Press this key plus "+" or "-" to choose different EQ.
7. - Decrease volume
8.+ Increase volume
9.: "1"Answer/end call
10. :the right and low button:Transfer calls
11. Digit key 0~9: Choose frequency or songs
12. MODE: Switch file source from SD/USB
steering wheel remote control Installation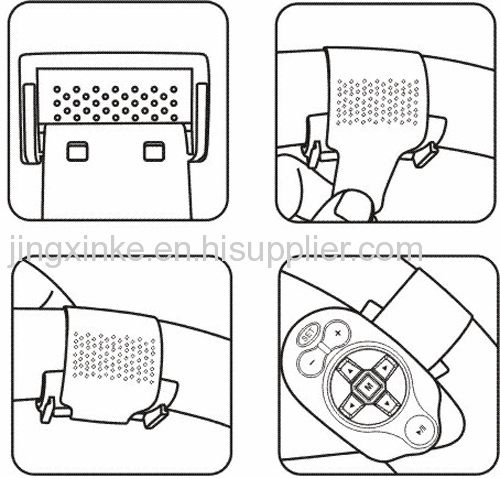 Specifications
| | |
| --- | --- |
| Frequency channels | 88.1~107.9MHz |
| Transmit distance | 5M |
| Songs Bit rate | 480~920k bps |
| SNR | 68dB |
| Distortion | <0.1% |
| Frequency response | 20Hz-15Khz |
| Left and right channel separation | >60dB |
| Bluetooth version | Bluetooth 2.1+EDR |
| Operating voltage range | DC 9~26V |
| Power consumption | <1W |
| Operating temperature | -10~70 Degree |
| Working humidity | 0~95% |
| Product Dimension | 21.5(L)*4.5(W)*3(H) CM |
| Net weight | 67g |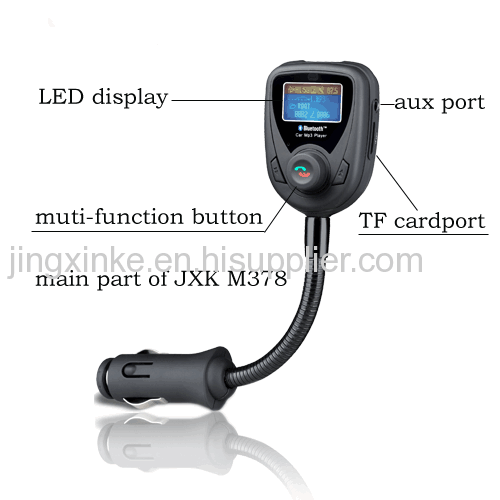 the face of JXK-M378 MP3 music player with bluetooth car kit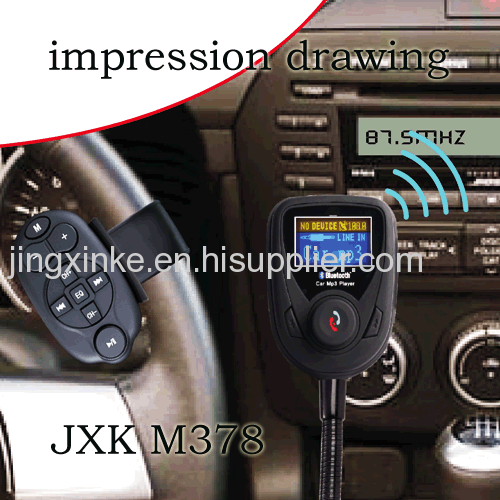 inpression drawing of JXK M378
car mp3 player built-in bluetooth module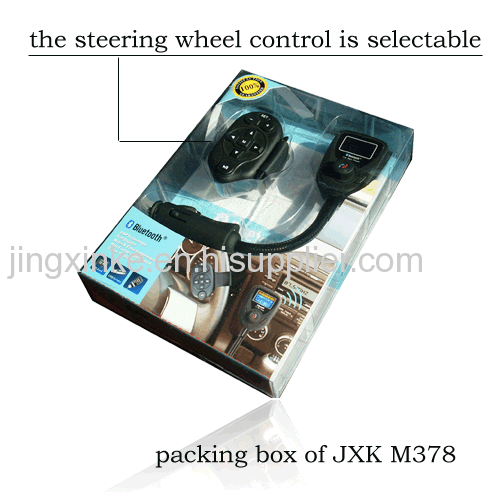 the packing box of JXK M378
the best bluetooth car kit mp3 music player with fm transmitter