JXK-606C-C
Car parking sensor system
no display screen humen voice alarm speaker parking sensor system with 4 sensor probes
personal requires OEM supported
english/chinese/spanish/japanise and so on
if you want to change anything of this product ,you could connect with us.
the rated voltage
the lenth of lines of any part
the size of any part
the language (english,spanish,germany,fransh,chinese,japanise,korea...)
Details of JXK 606C-C
4 sensor probes (diameter:22 mm / the lenth of the line:250mm)
1 mian part box built-in dual cpu for accurate working
1 humen voice speaker
1 power line
1 3M for voice speaker fix
1 3M for main part box fix
1 drilling bit for sensor probes installation
drivers always collide when they are parking,especially new drivers.because they can not see bodies near behind their car.at this time ,they need parking sensor system:bibibi buzzer alarm parking sensor system JXK-606B-C
first you need to choose 4 position for the sensor probes(about 55-70cm height from ground)
drill 4 holes on your car bumper with the drilling bit
second,in the same way,you must choose 2 position for the 2 sensor probes in the front of your car.
take the 4 sensor probes into these 4 holes and connect their lines with the ports on the main part box inside of your car,and take another 2 sensor probes plug into the other 2 ports of the main part box.
then take the plug of the voice speaker into the port on the main part box.
the same,choose a best position for the voice speaker to fix it in your car with the 3M.
at last,take the power line plug into the main part box ,and connect the red line with the positive pole of back-up lamp of your car,connect the orange line with the positive pole of car's brake lamp,connect the white line with ACC of your car,and make the black line ground connection
so it's all for installation of all parts
when you take reverse gear,the humen voice speaker parking sensor system would be woke.these 4 sensor probes will sense all bodies back of your car.and will sound alarm voice when the bodies are between 0.3-1.5m far from your car back.when you take out of reverse gear status,the front 2 sensor probes would sound voice to alarm since any body is between 0.3-1.5m far away from your car.when you brake,the front 2 sensor probes would work for you too,you can control car's brake at the right time.
all is keep you safe.
JXK-606C-C's Specification
Product Name
car humen voice alarm parking sensor system
Type
security product for drivers
Material
plastic
Use
12V car use
support
car taxi
probe number
6
Rated voltage
12V
Rated current
10mA ~ 150mA
Detection distance
0.3 ~ 1.5m for rear
Ultrasonic frequency
40KHz
Working temperature
-30ºC ~ +80ºC
Warning
80dB
Display form
NO
Alarm form
humen voice(sex and language are selectable)

personerly OEM service
| | |
| --- | --- |
| diameter of sensor probes | 22 mm |
| lenth of the sensor probes | 250 mm |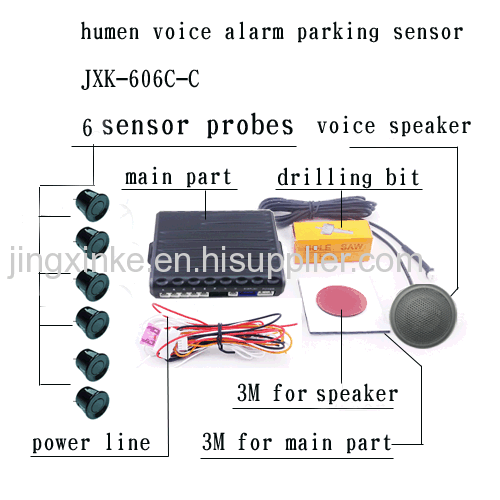 all parts of humen voice alarm no display screen car parking sensor sysetem JXK-606C-C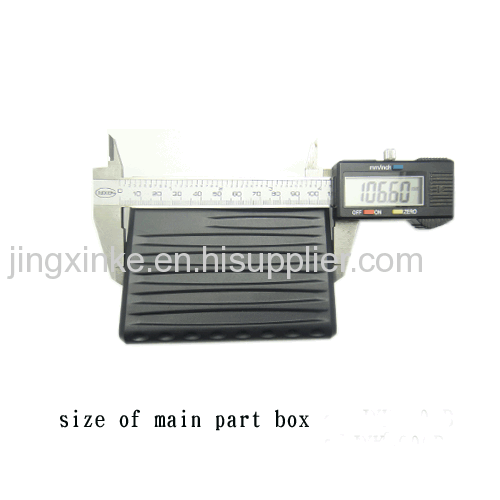 size of main part box of humen voice alarm car parking sensor sysetem JXK-606C-C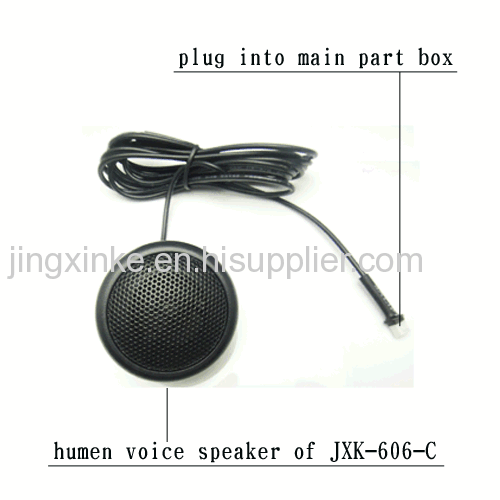 the voice speaker of humen voice car parking sensor sysetem JXK-606C-C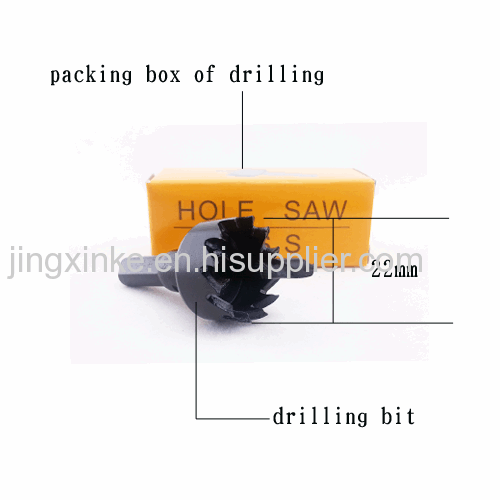 drilling bit of voice alarm car parking sensor sysetem JXK-606C-C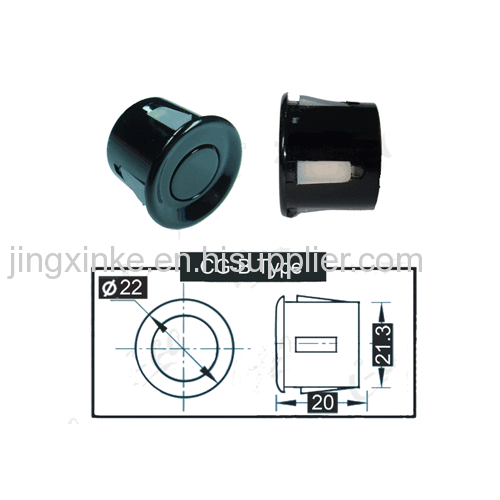 sensor probes of car humen voice alarm parking sensor sysetem JXK-606C-C